Reign game breakdown
In a crisp display of how the Reign can play when all cylinders are pumping in rhythmic unison, Ontario controlled Tucson from start to finish in a 5-0 victory on Sunday in Ontario. Jonny Brodzinski had two goals and an assist and the Reign used a first period in which they outshot the Roadrunners 23-6 to set a strong pace of play. Kurtis MacDermid opened the scoring at 9:06 and that was followed by Brodzinski's first of the game and a 2-0 lead after 20. In the second, Michael Mersch scored a breakaway goal and Brodzinski scored again. Patrick Bjorkstrand capped the scoring in the third and goalie Jack Campbell stopped all 22 shots he faced for his third shutout of the season.
Best quote
Brodzinski, on the dominating performance snapping a three-game skid: "Yeah, I mean, it's tough when you have a few games and you're not playing your best hockey or you're playing pretty well one period and then the next period you're the worst team in the league. So it's nice to finally put together a full game. Great shutout by Soupy and I think our defense did a great job getting the pucks up to the forwards. The forwards, I think we had a lot better second opportunities tonight, too. Shots off pads and stuff like that. Yesterday we were throwing them right into his glove so I think a well-rounded game by everybody."
Three stars
–Jonny Brodzinski – In his three-point performance, Brodzinski put his shot on display — a shot that head coach Mike Stothers said after the game that, "should be outlawed." For his mark that made it 2-0, he took a cross-ice feed from Cameron Schilling and roofed a wrister over the glove of Tucson goalie Adin Hill. The forechecking of his linemates Mike Amadio and Brett Sutter helped result in the second one, a shot from the slot after Sutter created a turnover, again, high glove. Brodzinski has now taken over the Reign points lead with 45.
–Michael Mersch – Since his return from a knee injury, Mersch has looked 100 percent, rarely missing a beat in his first six games back and in this one he had a goal and an assist. He took a pass from Teddy Purcell in the second and went in on a breakaway, putting the puck over the pad of Hill. "Well with [Purcell] you've just got to go 'cause he's going to find a lane no matter what," Mersch said. "Had a breakaway against these guys before and I went to my backhand so I just figured I'd shoot it this time."
–Jack Campbell – Solidifying his No. 1 status the goaltender they call "Soupy" didn't have to be brilliant, but he certainly had to be good. A night prior the Reign were guilty of dominating play against the same Roadrunners, only to have a short lapse that consistently resulted in a goal against. He picked up his league-leading 26th win of the season in his third shutout.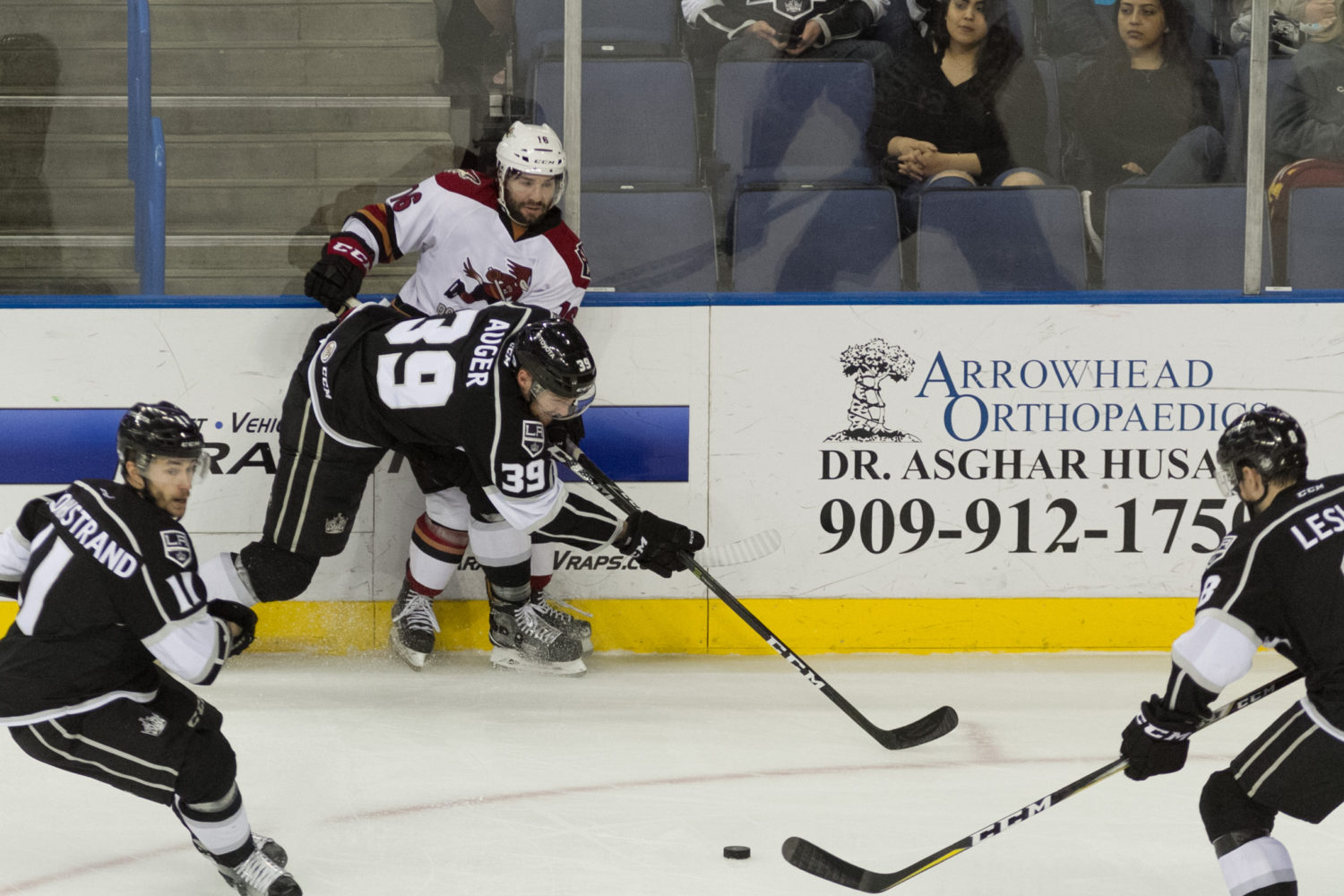 Turning point
How about the start as the turning point? In a carry-over of their third period a night prior, the Reign played virtually the entire opening 20 in Tucson's end, finally breaking through on the MacDermid goal. The burly defender made an incredible individual effort, picking up a Brodzinski rebound while flying into the slot, zig-zagging around defenders before scoring over Adin Hill while falling.
Stat fact
–23 – Shots in the opening period, a new AHL-Reign record for shots on goal in a single period of play.
This and that off-ice
Justin Cummings, 19, and his mother Lynn traveled all the way from Manchester, N.H., to watch the Reign play. The longtime Monarchs season-ticket holders visited with former Monarchs Sean Backman (see below), captain Vincent LoVerde and Michael Mersch.
Next up
Monday is a recovery day for Ontario. They'll practice the rest of the week and hit the road on Thursday as they'll play on the at Charlotte on Friday and Saturday.