Reign game breakdown
For the first time since early November, the Reign have lost three games in a row. On Saturday night against Tucson, they were chasing the entire way in Ontario, eventually losing, 5-4. Ontario surrendered two power play goals (a Jamie McBain backhanded rebound at 5:48 and a Laurent Dauphin put-back at 11:18) and a 5-on-5 goal (Zybnek Michalek from the high slot after a failed clear at 16:12) in the opening 20 and trailed 3-1 going into the second. Brett Sutter scored the Reign's lone goal in the first, a power play redirect of a Mike Amadio pass that made it 1-1 at halfway through. From the second period on though, each time Ontario got within a goal, Tucson was able to answer quickly and put the gap back to two. "That was the hard part. We didn't carry momentum," Sam Herr said afterwards. A Patrick Bjorkstrand redirect in a Reign-dominated middle frame was answered just minutes later when a turnover allowed Jeremy Morin to skate in alone on Jeff Zatkoff and beat him five hole. The Reign outshot Tucson 37-11 in the final two periods, including 22-7 in the third — "I liked our resolve again," head coach Mike Stothers said — but could never get the tying goal. Ontario clipped Tucson's lead to 4-3 in the third on a Herr redirect but like the second period, Tucson fired back and put in a rebound attempt off a rush by Grayson Downing to push to 5-3. Vincent LoVerde converted with Zatkoff pulled in the final minute, but as Stothers noted, "I think we just ran out of time."
Best quote
Herr, on losing three games in a row for the first time since early November: "Obviously it's frustrating. You don't want to lose three games in a row. The thing about our team though is we know we've got so much more. We know we're better than the way we're playing. It's just a matter of coming in ready to go tomorrow, focused for a full sixty minutes to try and bounce back. Yeah, again, it's a little frustrating but we know we're a good team. We know we've got fire power."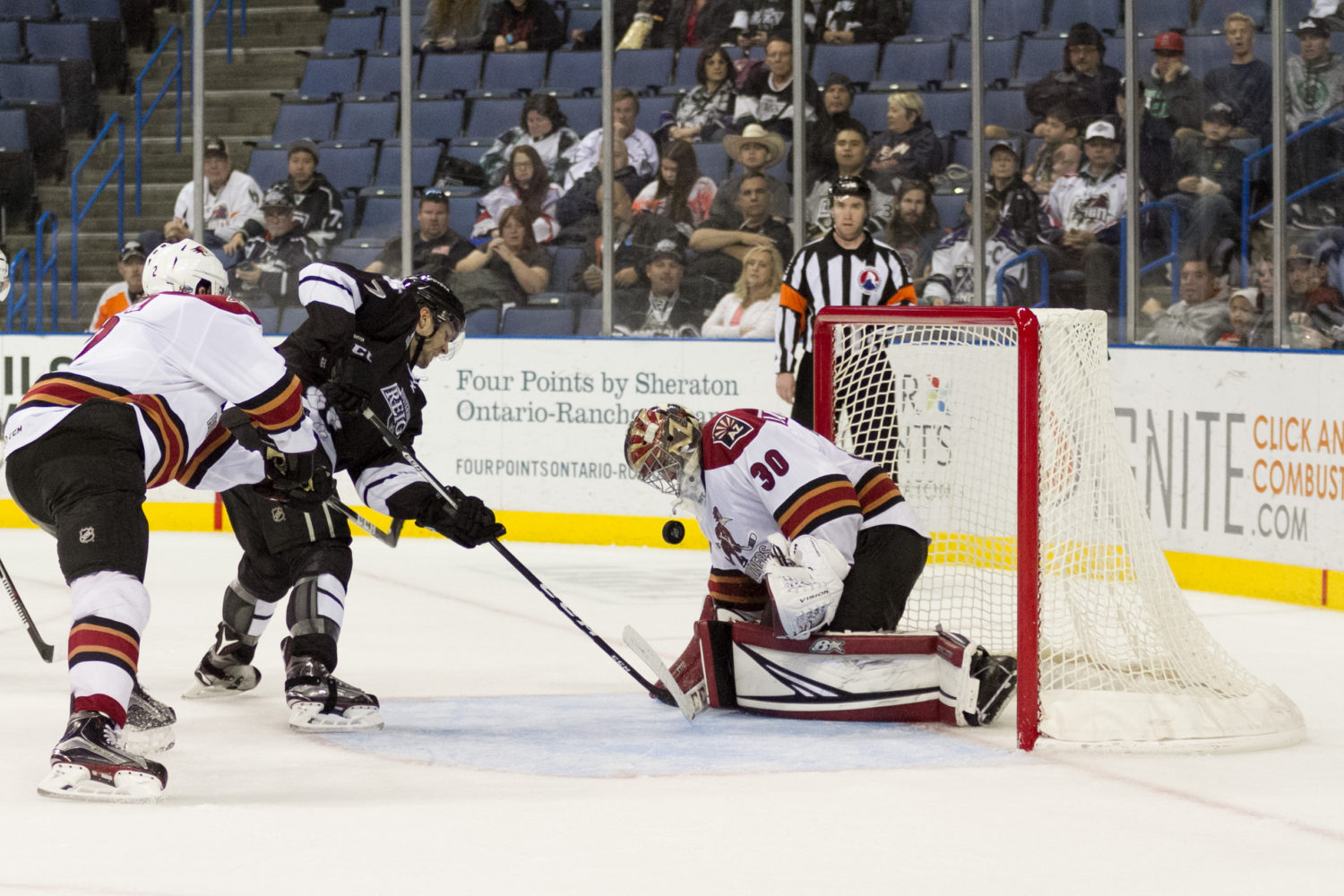 Three stars
–Marek Langhamer – Ontario produced a season-high 54 shots on the Tucson goalie but he stopped 50 of them en route to the win, his first since Dec. 28. Timely saves were key as well. The rush that set up the eventual game-winner started with a pad save by Langhamer on the other end and rebounded puck just skipping over Justin Auger's stick. When Tucson brought the puck up the other way on Zatkoff, Downing tapped in a rebound to deflate the Reign's chances.
–Jeremy Morin – A recent addition for Tucson at the AHL trade deadline from Syracuse, finished the game with a goal and an assist. He scored the ever-deflating mark in the final three minutes of the second and assisted on Downing's game-winner by virtue of him taking the puck off the right wing and into the middle and sliding the puck in at Zatkoff. The rebound went right to Downing and in.
–Sam Herr – The fourth-line winger and his linemates Joel Lowry and Andrew Crescenzi played mostly responsible hockey and provided energy, allowing the Reign to continuously play all of its lines in the contest. Herr broke through in the third for his seventh goal of the season when he put his stick out for Crescenzi on a rush and deflected the centerman's pass on net and past Langhamer.
Turning point
Down 4-2 in the second period the Reign were presented with an elongated 5-on-3. Tucson's Brandon Troock was called for interference and then early in the Reign power play Michael Mersch took a beating in front of the Tucson net, resulting in two Roadrunners in the box with Mersch when tempers flared after a whistle. But halfway through the two-man advantage the Reign got caught with too many men on the ice during a line change and the prime opportunity was over.
Stat fact
–3:45 – The time left on the clock when the Reign initially pulled Zatkoff for an extra attacker.
Lineups and injuries
Forward Devin Setoguchi was a healthy scratch for a second straight game and did not take the ice for warmups.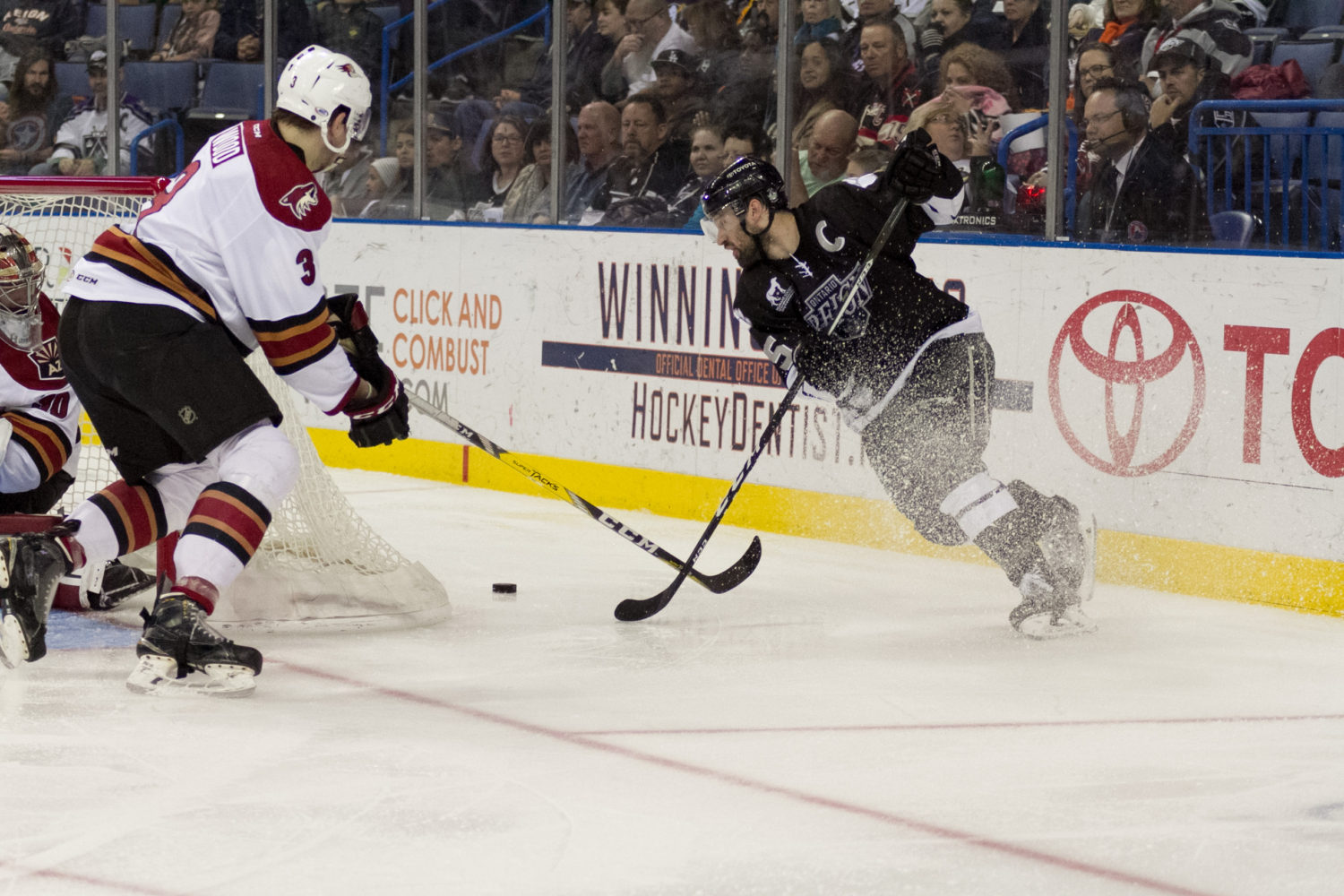 This and that off-ice
Reign forward Paul Bissonnette celebrated his 32nd birthday. The well-liked veteran has missed the last 15 games due to a lower-body injury
Next up
The Reign finish up their final three-in-three today at 3 p.m. against Tucson. "…We come in here [Sunday] and we get the game we end up at .500 for the weekend. Not exactly the way we wanted it to be but it's pretty hard to be disappointed in your players, in their work, when you're generating that kind of an offense. Hey, we'll get back at it tomorrow," Stothers said after Saturday's loss.