Reign game breakdown
Same opponent, much different result. Ontario earned a 2-1 win on home ice against Stockton on Friday, a valiant answer following a dismal 6-2 defeat on Wednesday against Heat. Defenseman Alex Lintuniemi returned from a groin injury and scored his first NHL goal 2:44 into the game. That mark was followed by a Michael Mersch redirect goal nearly five minutes later. It what became a chippy, penalty-filled first two periods, the Reign held on and benefited from the play of goalie Jeff Zatkoff, who made his first start with Ontario and made 28 saves.
Best quote
Zatkoff, on his first start since Jan. 23: "It was fun. It's fun to be able to play. That's why, I think we all play, to be able to play in the games. It's kind of been frustrating for me not feeling like I've been able to get in there so it's nice to play Wednesday and then be able to come back with a start and get the opportunity to play and just be a part of, you feel like you're a part of the team to be able to contribute and ultimately we got the win so that's all that matters."
Three stars
–Michael Mersch — The Reign have been struggling with their identity for the last month and Mersch's return, though he is just one player, should help push the team in the right direction. He now has a goal in each of his first two games back from a knee injury and scored on a high redirect of a Kurtis MacDermid shot to put the Reign up 2-0 in this one. "I was trying to work hard to make sure I can contribute to the team right when I came back. There's still some things away from the puck that you've got to get used to again," he said.
–Alex Lintuniemi — Congrats to Lintuniemi on scoring his first AHL goal. It was evident for him — who's mentioned previously that he likes jumping into the play — that it was a long time coming as he said, "it was nice to get back again with the team and get that goal away." He noticed attention being pulled toward Vincent LoVerde and flew down the left side to bury the captain's rebound to get the Reign going. Overall, the 21-year-old Finn looked comfortable in his skating as well throughout the game. "I just know it was a big goal for us," head coach Mike Stothers said. "He played well. He's worked hard to get back and join his teammates so that's good. Makes us better on the back end, there's no doubt.
–Jeff Zatkoff — The 29-year-old netminder made several quality saves and was very strong in controlling rebounds and challenging shots. His start broke Jack Campbell's streak of 36 straight starts and as the Reign appear they'll make the playoffs if not for a drastic slide, they'll need the services of two quality goaltenders. "Zats, he's looking to prove himself as far as his play," Stothers said. "So good for them. And I think they'll complement each other well and I think it's a good position for us to be in to have two guys that we can rely on and count on and you know what, they're going to be supportive of each other as well."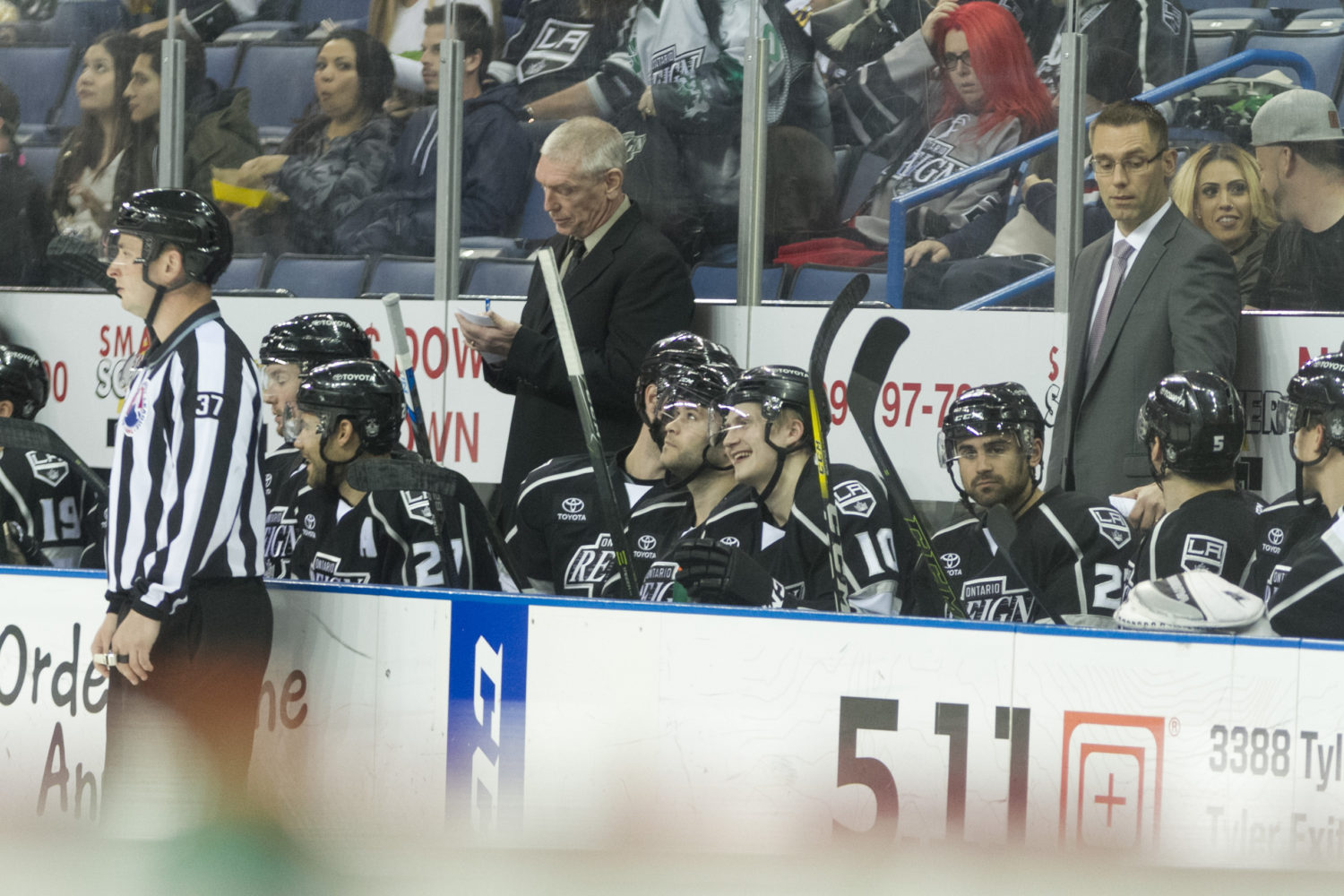 Turning point
The key was the start. After allowing four goals in the second period in a deflating loss on Wednesday, the motivation to get on the right side of this game early was evident and Ontario was able to set the standard in which they would battle the rest of the way.
Stat fact
–54 – PIMs between the two teams in the first two periods. Ironically enough, neither team took a penalty in the third.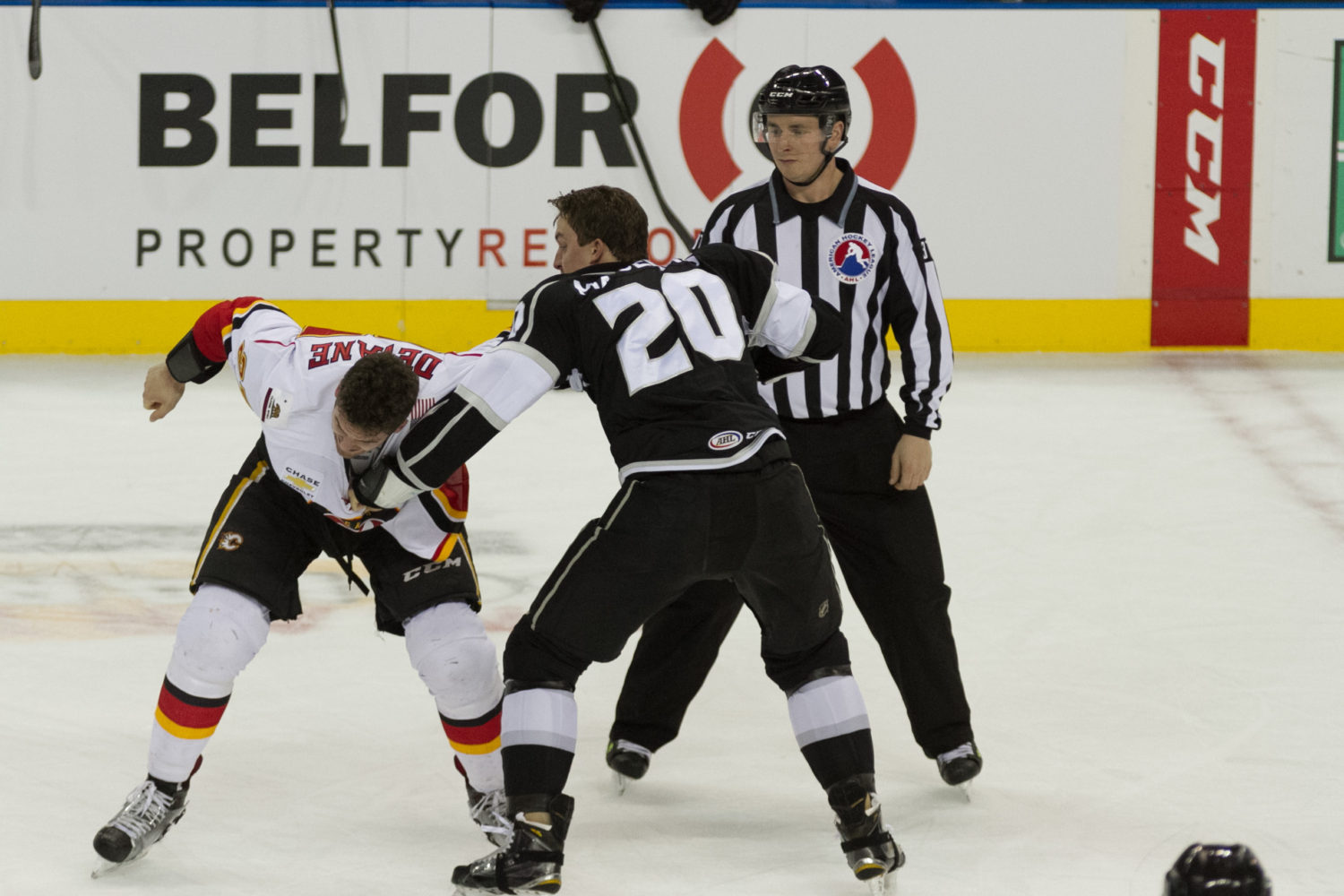 Lineups and injuries
Leading goal scorer Jonny Brodzinski missed his first game of the season and it was learned by ORI that the scratch was due to an injury suffered Wednesday against Stockton.
This and that off-ice
Zatkoff mentioned in his postgame interview that he and his wife are staying this weekend in Ontario as they regularly reside in Manhattan Beach. Many veterans who have been assigned to Ontario — like Teddy Purcell, Rob Scuderi, etc. — have been on the commuting train this season.
Next up
The Reign host Tucson on Saturday night at 6 p.m. to close out their weekend play. They're 4-3-2-0 against the Arizona Coyotes affiliate this season and are undefeated against them at home, going 3-0-0-0.