Reign game breakdown
Goalie Jack Campbell recorded his second shutout of the season in his 39th game overall and 33rd in a row and the Reign defeated visiting Tucson 3-0 on Wednesday night in a win that left head coach Mike Stothers wondering, "why can't we just play like this all the time?" Campbell, who finished with 29 saves, had help from veteran T.J. Hensick who finished with a goal and an assist. Hensick's first period power play goal was followed by him setting up Sean Backman in the second. Mike Amadio capped the scoring in the third.
Best quote
Campbell, on the shutout: "You get to this level and shutouts are tough. I think Budes had a bunch last year but that's impressive. Couple times they've scored with a minute or two left in the game. … Just shows sixty minutes for everybody. Any time you get a shutout it's just a great game by the whole team. It was just nice tonight to do that and more importantly get the win."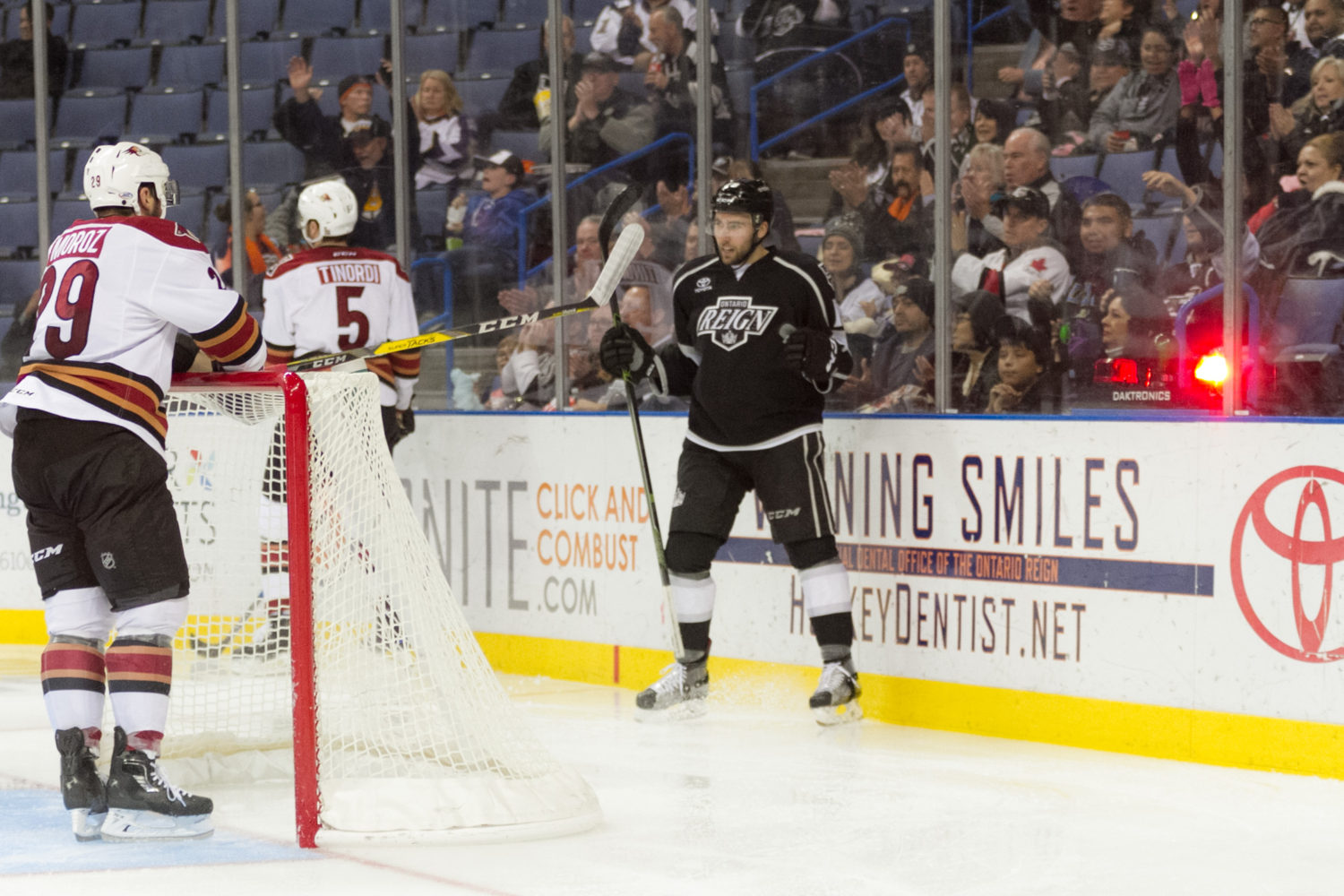 Three stars
–T.J. Hensick — With his goal, assist performance Hensick reached the 40-point mark. "Feels good. Feels like it's been a bounce-back year offensively for me," he said. Sam Herr had his stick slashed out of his hands by Stefan Fournier and Hensick scored just eight seconds into his team's first power play at 4:13 of the first period. It was the Reign's first man advantage goal in three games. Hensick actually lost the offensive zone draw but recovered, taking a Tucson clearing attempt into his body and getting a chance in alone on Adin Hill, out-waiting the netminder for a backhanded goal. On his assist, Hensick came up the left wall and fired a complete dart to a net-crashing Backman.
–Jack Campbell — It's hard to comprehend that with all the success (AHL-leading 24 wins) and the constant work (33 straight starts) Campbell has had this season that this was just his second shutout, especially considering that the first one came back in Game 1 on October 15 versus San Diego. In many close calls — like last week against Iowa when he was 3:08 from the goose egg — he's deserved better. Wednesday was his night. He was tested by Tuscon's high-octane offense and made his biggest stop on the PK late in the second period, a come-across stop on Kyle Wood, who could only resort to getting a good look at the rafters in disbelief.
–Sean Backman — After last Saturday's loss to San Jose, Backman took ownership of the group — "Right now we have a lot of injuries that we're dealing with so it's guys like me that need to step up and do something about it," he said following the 2-0 defeat. It seems Stothers much challenged his veteran group as Hensick mentioned in his interview a recent meeting with the coach and the older core players. Backman, like Hensick, answered on Wednesday. For his 10th goal of the season — a redirect over Hill's glove — he crashed the net, finding the narrow seam in which Hensick could fire his pass to.
Turning point
When Alexx Privitera took a hooking penalty in the Reign zone just 30 seconds into the third, it presented Tucson's power play, which entered seventh in the AHL at 20.6 percent, with a prime opportunity to get back in the game. A Wood chance from the point that glanced off the post was Tucson's best look, but the Reign managed to complete the kill and once Privitera was out of the box Amadio scored — keeping the puck on a 2-on-1 with Devin Setoguchi and beating Hill short side — less than a minute later to extend the lead to 3-0.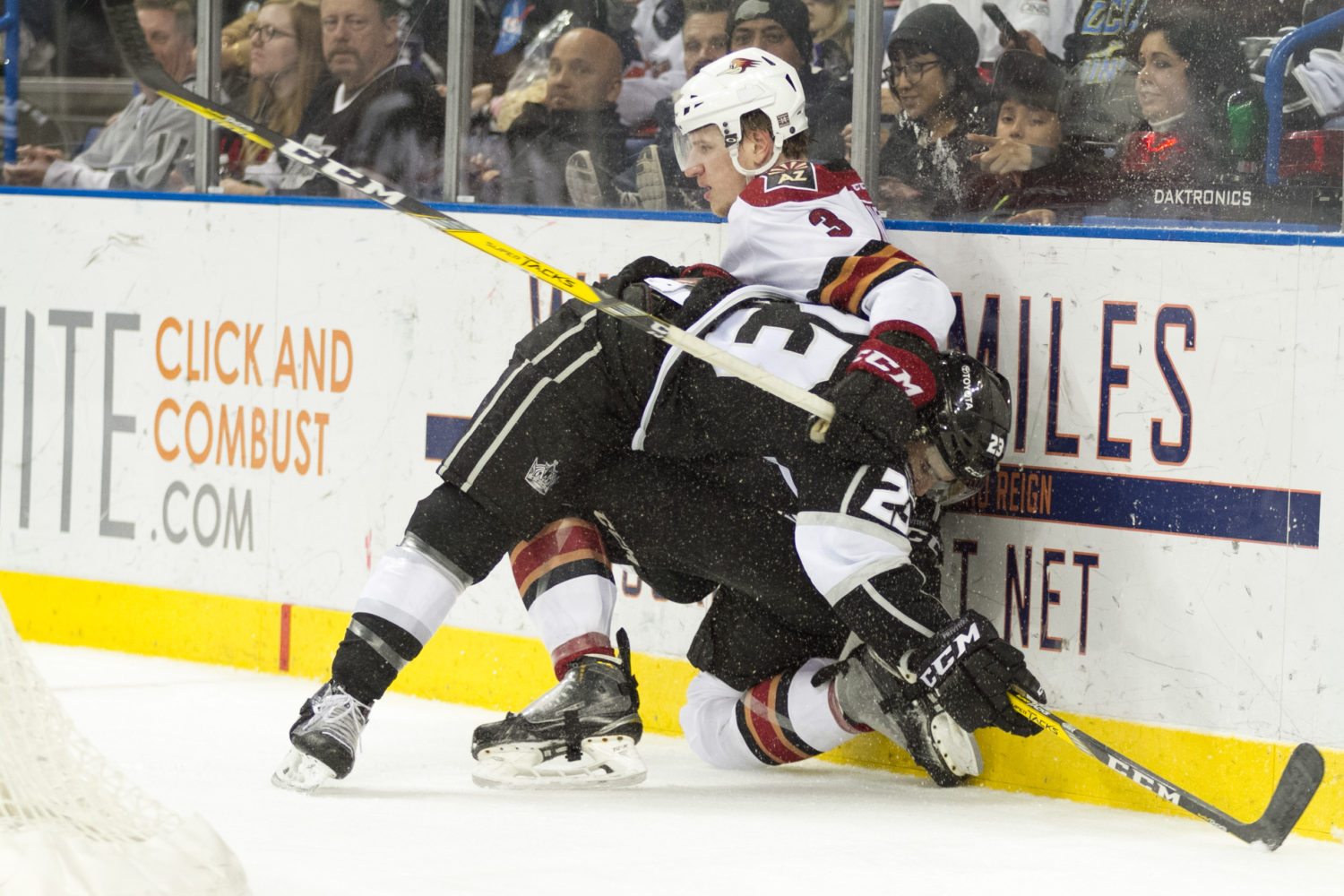 Stat fact
–0 – Shots on goal allowed by the Reign in their final penalty kill with less than five minutes remaining in regulation. The Reign were on point of their need to hold strong defensively for Campbell. "I think you're all aware of it," Hensick said. "You want to play for him as well he's played for us. You want to make sure you can try and get that shutout for him. And I thought we did a good job of limiting their chances. They had that power play late but we shut the door. It feels good to get Soupy a shutout. He's well deserved of it and hopefully they can give him a day off tomorrow because he's earned it."
Lineups and injuries
Defenseman Craig Wyszomirski, up from ECHL-Manchester and playing in just his third game, was injured in the third period after his hit on Mitch Moroz near the benches. Wyszomirski appeared panicked and in obvious pain coming to the bench and went into the tunnel. Stothers had no update on his condition after the game. "I haven't even spoken to Muirsy yet so I don't know. He got jammed up right in front of the bench there. I don't know," he said. "Just chalk it up to what, injury number, or potential body number 10 that can't play?" … Captain Vincent LoVerde (mid-body) took warmups but missed his fifth straight game. The Reign also continue to be without the services other injured players D Alex Lintuniemi, F Paul Bissonnette, F Teddy Purcell, F Michael Mersch, F Joel Lowry and D Zach Trotman.
This and that off-ice
Wednesday was Stothers' 55th birthday.
Next up
The Reign are on the road Friday at Bakersfield for a 7 p.m. start, which will be their first road game in 12 days. Ontario is 5-0-1-0 against the Condors this season, the one loss coming in OT in the Outdoor Classic in early January.