Reign game breakdown
For a second straight weekend the Reign suffered a loss against Pacific Division leaders San Jose in a 2-0 defeat in Ontario on Saturday night. The score didn't much indicate the levels in which Ontario was dominated on the ice. They were outshot 31-20, went 0-for-3 on the power play, and lacked zip and puck possession. Behind goals by Adam Helewka in the first and John McCarthy in the second, the Barracuda grabbed their 11th straight win and handed the Reign, which were playing their third game in the last four days, the loss. "Tonight, our guys tried extremely hard but when you're playing against as good a team as San Jose," head coach Mike Stothers said. "They're the best team in our division. They might be the best team in the league. I can't fairly say that because I haven't seen everybody, but pretty darn good."
Best quote
Veteran forward Sean Backman, on the difference in the game: "We were chasing the puck way too much tonight. They had the puck a lot more than we did and it's tough to win hockey games when you're chasing and we did a lot of chasing tonight."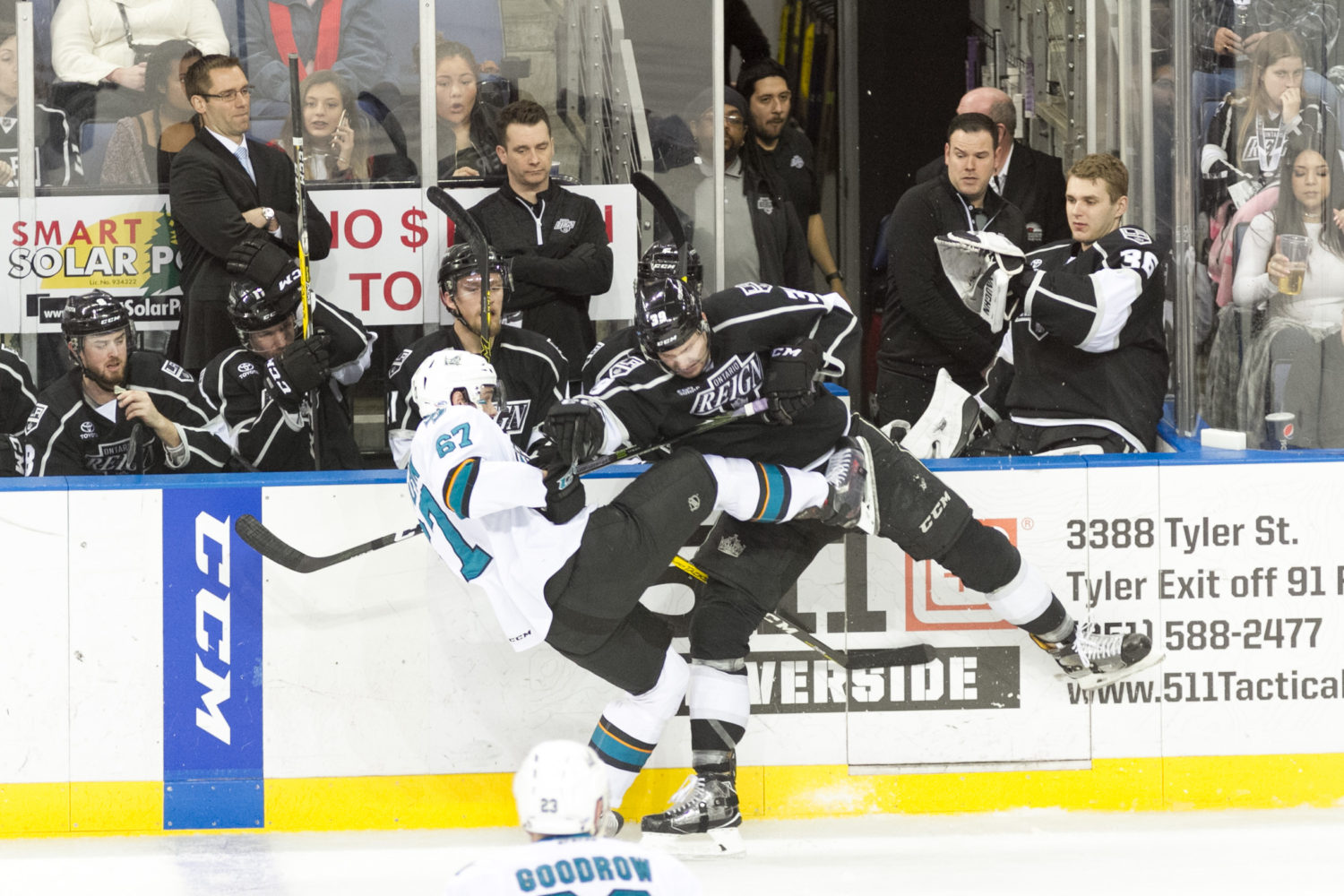 Three stars
–Adam Helewka – For whatever reason it may be, the 21-year-old, 2015 fourth-rounder Helewka brings his best when facing Ontario. He has 12 goals on the season in 35 games and has now scored five of his goals against the Reign. In this one, with San Jose in transition, he crashed in on Campbell's net and took a pass from the right point by Buddy Robinson and used his momentum to deke around Reign netminder Jack Campbell for the opening goal at 9:14 of the first period.
–John McCarthy – Faceoff wins were hard to come by for Ontario and McCarthy had much to do with that. A season ago, Nic Dowd quipped he was one of the hardest centers to play against. He scored his team's second goal off a high redirect (sound familiar, San Jose?) of a Joakim Ryan shot at 11:48 of the second.
–Jack Campbell – With 29 saves on 31 shots, the goalie at least, "kept us in the game, I thought guys played hard, but at the end of the day hard to win games with no goals," Brett Sutter said. Campbell easily outplayed his counterpart Troy Grosenick, who didn't face much in the category of quality chances by Ontario, yet earned his league-leading seventh shutout of the season.
Turning point
With much more jump and punch to their game at the start of the second period, the Reign pushed on the Barracuda. Leftover power play time from the end of the first was a benefit and Ontario kept the puck in San Jose's end for a change. Yet, their efforts went without a puck crossing the goal line and surrendering McCarthy's goal was a back-breaker. "It's about execution for us right now. Difference is we didn't execute tonight where as Friday and Wednesday we were," Backman said. "We had our chances but they didn't go in. It's all about execution."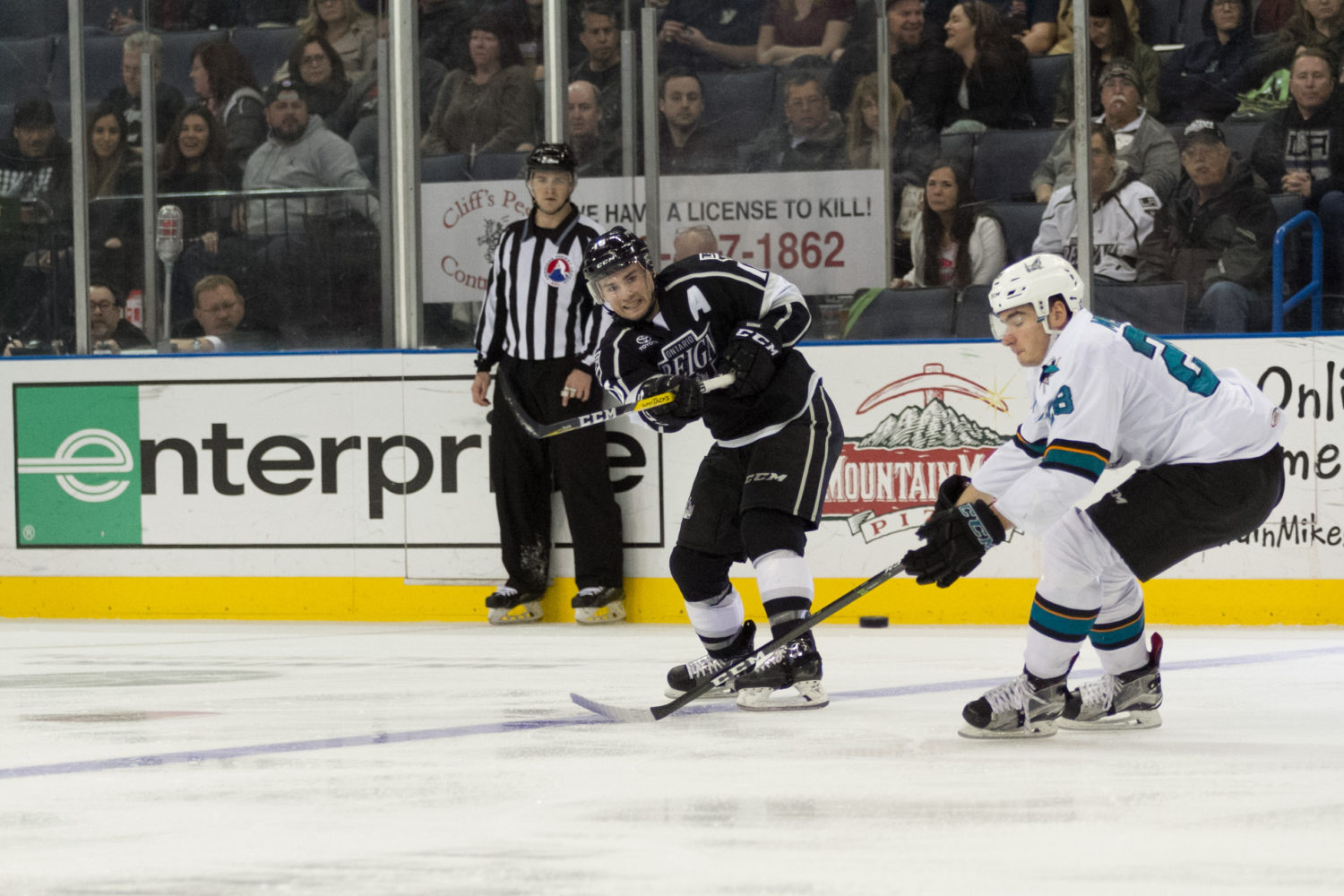 Stat fact
–17-2 – The margin in which the Reign were outshot in the third period.
Lineups and injuries
Ontario continues to be without the services of D Vincent LoVerde, D Alex Lintuniemi, F Paul Bissonnette, F Teddy Purcell, F Michael Mersch, F Joel Lowry and D Zach Trotman.
This and that off-ice
San Jose arrived in Ontario at 4:30 a.m. on game day after busing in from Stockton. Stothers noted this in his postgame interview and refused to use fatigue — as most hockey coaches and players do — as an excuse for his own team.
Next up
Ontario wraps up this four-game homestand on Wednesday against Tucson, a team they defeated by a 4-1 score on Friday night.