Reign game breakdown
Mike Stothers had been looking for this kind of victory from his team. Injury-plagued Ontario had contributions all around and as an end result, defeated Tucson 4-1 on Friday night in Ontario. The Reign got goals from prospects Mike Amadio and Jonny Brodzinski, and a key shorthanded mark by Brett Sutter late in the second period. They shut down Tucson by going 6-for-6 on the penalty kill. "Man, oh, man. You look at who we're missing and we always try to stress the fact that's not about who's not here, it's who is here," Stothers said. "I think tonight was a perfect example of our guys stepping up their play and making contributions. And it was everybody, from Soupy on out. It was good. Our guys from Manchester did a good job for us tonight." Goalie Jack Campbell — aka "Soupy" — had a busy night, making 36 saves and playing shutout hockey after allowing the opening goal 5:05 into the game.
Best quote
Campbell, who was awarded an assist on Cameron Schilling's empty net goal: "I had no idea. I was just happy he scored so we didn't have to watch video on it so Schills didn't get ripped on that by Stuttsy. It was just great. We were all excited for him and excited to get the win."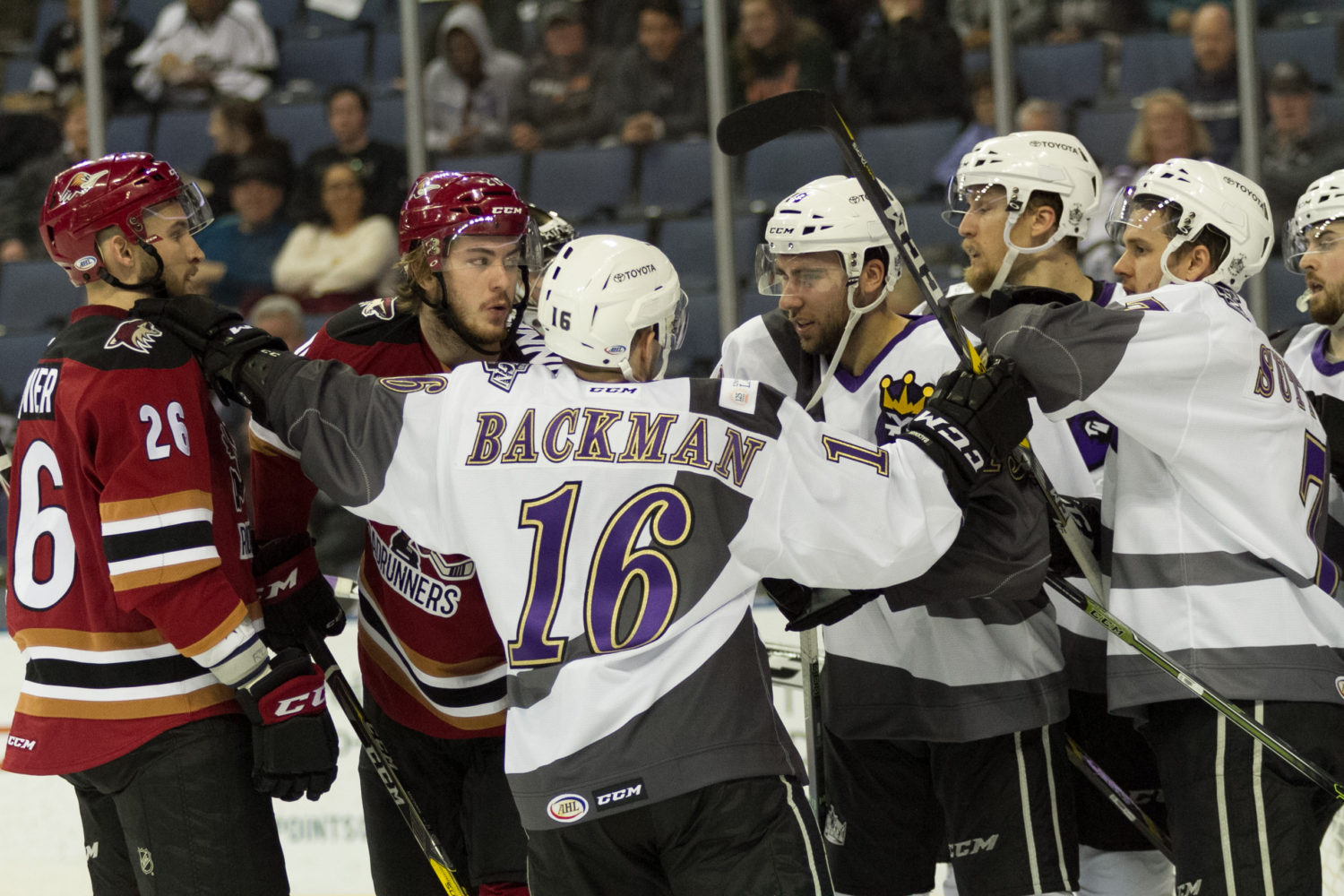 Three stars
–Jack Campbell – In his 31st straight game Campbell picked up his AHL-leading 23rd victory. His 36-save performance tied for the third-most shots he's stopped in a game this season and he also added the assist on Schilling's high-flying empty-netter from the Reign zone. He didn't make much of his Iron Man streak when asked about it, but he's certainly relishing the moment and the season. "I don't really think about it statistically, I just think about it more like what a blessing it is to be able to play this much and what an opportunity," he said. "Obviously it's pretty special for me to be able to play this much." The only goal he gave up was a result of a near 2-on-0, where he made a beauty of a first save with his right pad but was left with little help when Laurent Dauphin put in the rebound. Campbell's next start will mark his 38th, which will be double the amount he appeared in for AHL-Texas last season.
–Jonny Brodzinski – The second-year pro has moved to left wing to accommodate new linemate and veteran right winger Devin Setoguchi and it hasn't fazed him one bit. In 4-on-4 play during the first period he squeezed a cross-ice pass through traffic to set up Mike Amadio, who scored from the right circle for his 10th goal. That tied the game at 1 at the 12:54 mark. His two-point night was capped by his goal in the third period that put the Reign up 3-1. It was a dandy. T.J. Hensick waited for Brodzinski who was flying into the slot and Brodzinski received the pass, went forehand-to-backhand, lifting the puck over Adin Hill for his team-high 20th goal of the season.
–The Reign PK – It was noticeable that the Reign were well-prepared against the Roadrunners' power play, which entered ranked 7th in the AHL. Ontario got its sticks on Tucson's cross-ice attempts multiple times and kept them off the board with the 6-for-6 performance. "They have an extremely good power play so that was something that we honed in on pregame was trying to keep them off the scoreboard on the power play. It worked," Brodzinski said. "We sold out there and we're fortunate to get one on the penalty kill and I think that was probably the biggest goal of the night." (More on that next point).
Turning point
In the second period with the teams tied at 1, the game lost a lot of its flow but the Reign managed to score the go-ahead goal with just 26 seconds left. Sutter intercepted a cross-ice power play attempt by Tucson and carried the puck into the Tucson zone. When he fanned on his own shot, Andrew Crescenzi took a whack at it and Sutter buried the rebound for his second goal in as many games. "Turned out to be the game-winner," Stothers said. "Who would have thought that would have held on to be the game-winning goal? Shorthanded chance?"
Stat fact
–3 – Assists for rookie defenseman Alexx Privitera in the last two games. He was paired with Kurtis MacDermid and played big penalty kill minutes. The 5-foot-11 D-man played with size and was a key part of the Reign's all-around success from veterans to regulars to recent call-ups from Manchester like himself.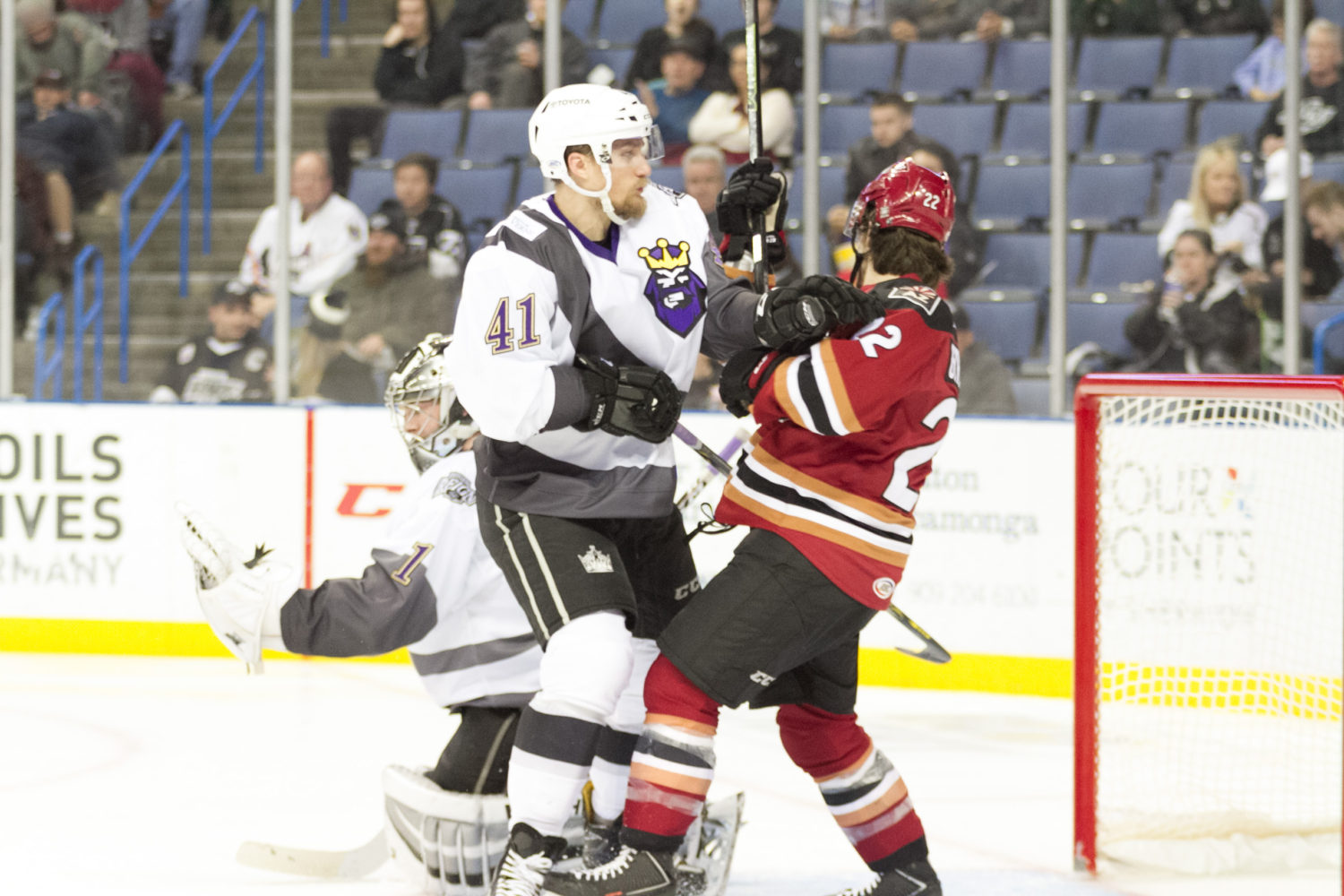 Lineups and injuries
Captain Vincent LoVerde (mid-body injury) took the ice for warmups, but missed his third straight game. "I talked to Vinny about being out there for warmup and being in the room with his teammates," Stothers said. "He's the captain. It's important that he's around the guys. Is he going to play tomorrow? Not likely. But I did put his name on the sheet, so we're getting closer." … Ontario continues to be without the services of other injured players D Alex Lintuniemi, F Paul Bissonnette, F Teddy Purcell, F Michael Mersch, F Joel Lowry and D Zach Trotman. … Defenseman Craig Wyszomirski made his AHL debut after being recalled from ECHL-Manchester and signing a PTO earlier in the day.
This and that off-ice
It was LA Kings Affiliation night and the Kings wore the mid-90s alternate Burger King jerseys, which were auctioned off afterwards. Kings alum Charlie Simmer, of the famed Triple Crown line, dropped the ceremonial puck and did a Facebook Live interview between periods. … Defenseman Damir Sharipzianov celebrated his 21st birthday.
Next up
The Reign go right back to work on Saturday as they host San Jose, the first place team in the Pacific, at 6 p.m. Ontario will look to avenge a 4-1 loss just a weekend ago and improve their head-to-head rating, which stands at 3-2-1-0.