Reign game breakdown
In desperate need of some scoring punch, the Reign relied heavily on veterans Brett Sutter and Sean Backman, who finished with a goal and an assist each, in a 3-1 win over Central Division opponent Iowa on Wednesday night in Ontario. After a scoreless first period, Sutter and Backman both netted redirect goals in the middle frame and 3-on-1 finish by Jonny Brodzinski in the third put the Reign up 3-0. They surrendered a shorthanded goal late in the third period for Iowa's lone goal and held on to break a two-game losing skid. Andrew Crescenzi was coined by head coach Mike Stothers as the "hero of the game," for his transition to defense when the Reign were in a jam and able to dress just five rostered defensemen.
Best quote
Sutter, on Crescenzi's job in his defensive debut: "I told him all night he looked like Nick Lidstrom out there. He was doing the double head-fakes, escaping guys. I honestly thought he played great. He was calm with the puck. He was talking out there. He was Steady Eddy. Just what you'd expect from Cres. He was good all night."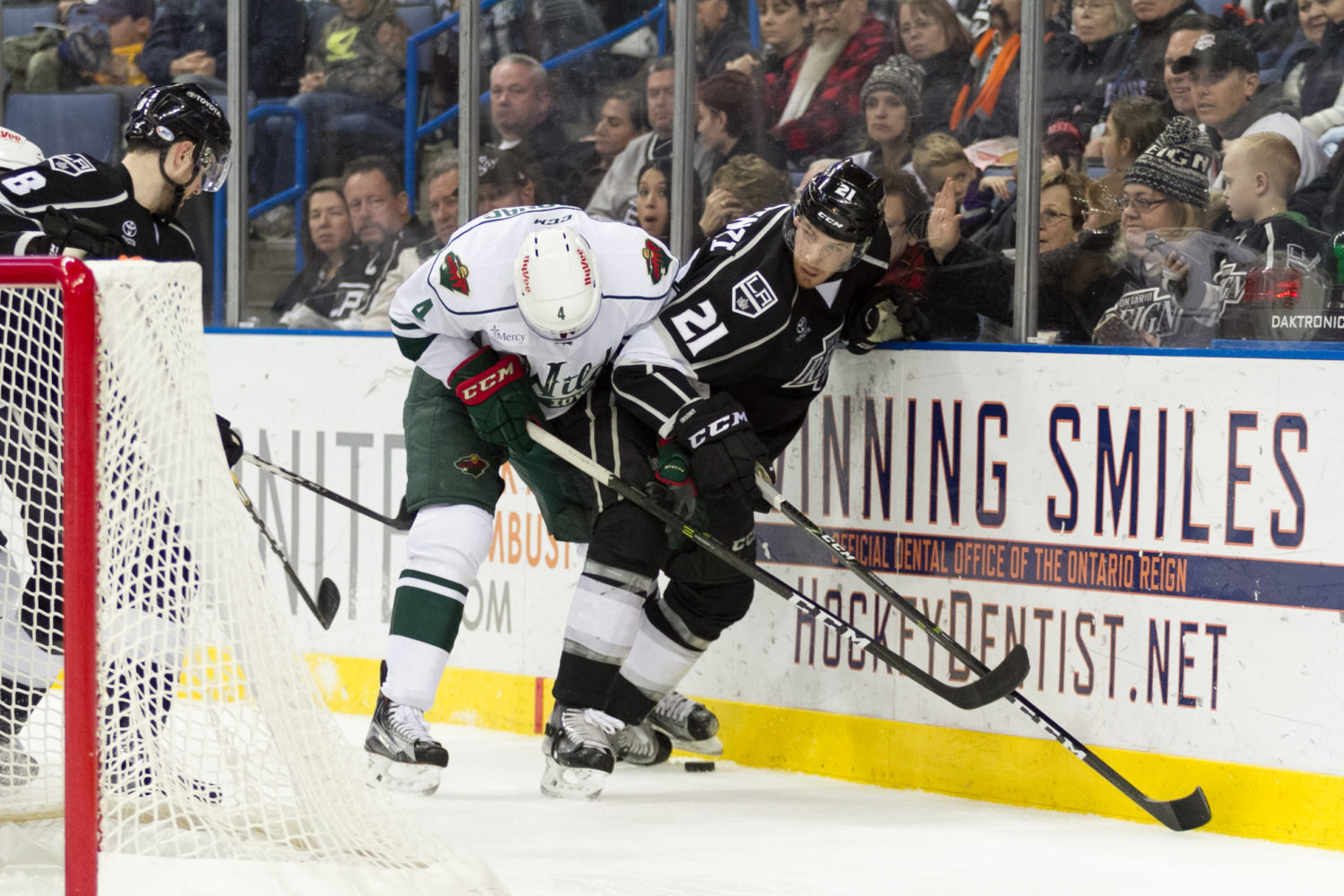 Three stars
–Andrew Crescenzi – The usual centerman was an effective defenseman in a pinch with his team shorthanded due to Paul LaDue's call-up and the Tom Gilbert trade earlier in the day. The 6-foot-5 Crescenzi apparently joked to assistant Chris Hajt before the game that he had played D in the past and when Stothers caught wind of that, Crescenzi tried to convince him that he was just joking. "And I was like, 'too late, you're going back there,'" Stothers said. Not only did Crescenzi fill in on defense, but he played his usual role as a forward on the penalty kill and took important faceoffs. So did he enjoy himself? "I wouldn't say enjoy myself," he laughed.
–Brett Sutter – The consist hard play that Sutter brings is his most valuable asset, but he led this night on the scoresheet as well. His power play goal at 12:51 of the second period of a Backman shot-pass finally put some life into a game that featured boring stretches. It was his 10th goal of the season. "When you're an older guy and you're relied on for that leadership and that stability in the room, you want to step up and when time's needed and I think as a whole everyone played really well tonight," he said.
–Sean Backman – A snakebitten goal scorer of late, Backman ended his goal-scoring drought at 10 games and celebrated his ninth goal of the season as if it lifted some weight off. With under a minute left in the second an offensive faceoff by Sutter resulted in Mike Amadio getting the puck in the corner, feeding Sutter at the top of the left circle who then quickly slid the puck over to an unattended Backman. Also, Backman's assist on Sutter's goal salvaged a lackluster power play in which the Reign were failing to establish zone time. When they finally were able to work the puck around, they scored.
Turning point
Ahead 2-0 in the third period with Iowa desperately making a push to get back in the game, the Reign killed a penalty and then Brodzinski one-timed a delayed pass from T.J. Hensick on a 3-on-1 four minutes later to put the game out of reach.
Stat fact
–3:08 – The time left on the clock when goalie Jack Campbell's shutout hopes were busted on a shorthanded goal by Teemu Pulkkinen. Pulkkinen intercepted a Zac Leslie breakout pass and scored from the slot. The Iowa forward was a pest most of the night, actually taking his team's first penalty when he snow-sprayed Campbell, which sent him to the box for unsportsmanlike conduct and gave way for the Reign score their opening goal on the man advantage.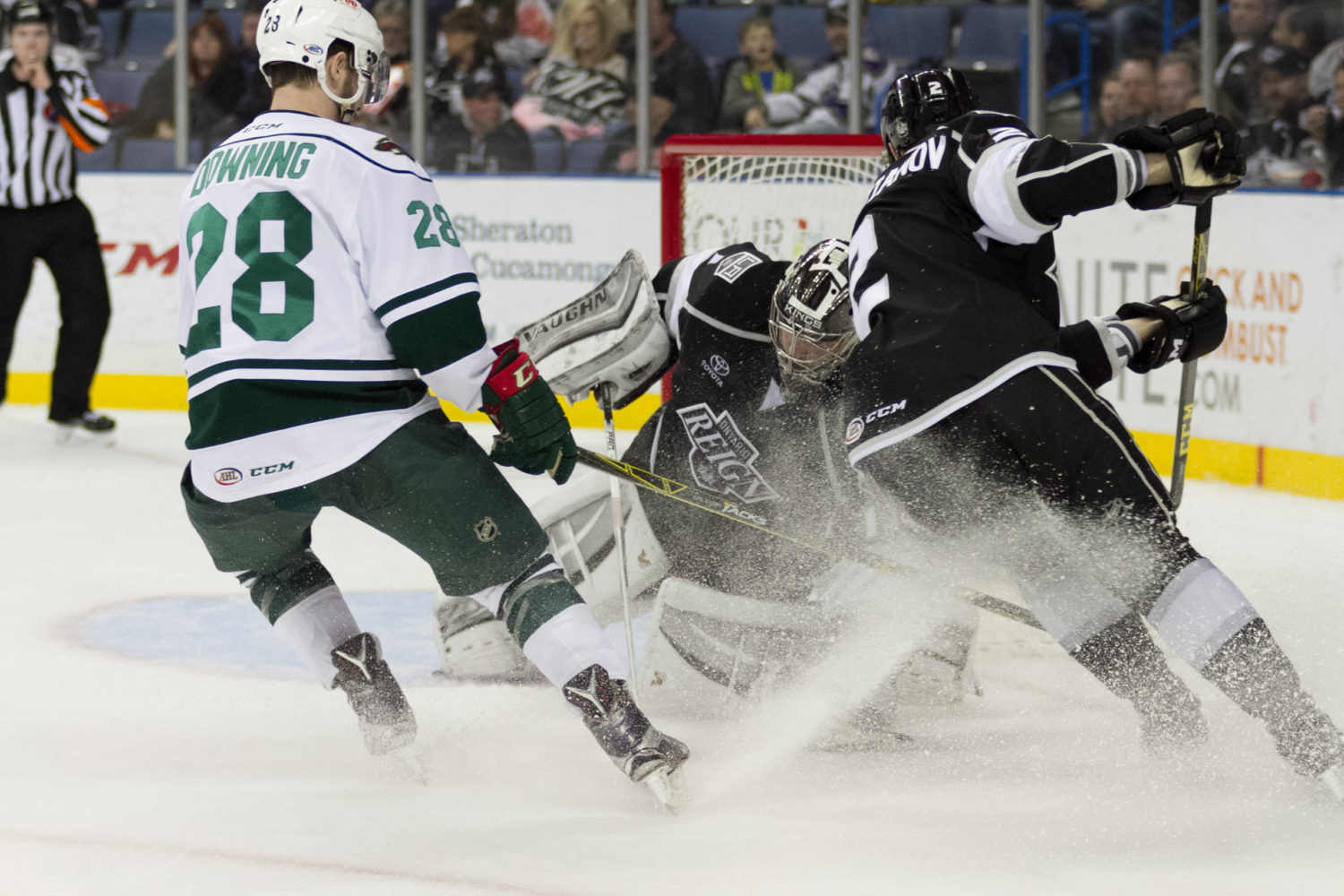 Lineups and injuries
Forward Devin Setoguchi played in his first game as a member of the Reign and registered three shots on goal and a plus-1 rating. He skated alongside Hensick and Brodzinski. … Stothers joked at morning skate that the list of injured players on the Ontario whiteboard would serve as a pretty good roster. That group consists of D Vincent LoVerde, D Alex Lintuniemi, F Paul Bissonnette, F Teddy Purcell, F Michael Mersch, F Joel Lowry and D Zach Trotman.
This and that off-ice
In attendance was Oren Koules, the father of rookie forward Miles Koules, who is widely known (for being a hockey dad and) as the producer of hit show "Two and a Half Men".
Next up
The Reign host Tucson on Friday night in the second game of this four-game homestand. It's also LA Kings affiliate night, and the Reign will don the infamous "Burger King" Kings alternate jerseys from the mid-90s, which will be auctioned off after the game. Kings alum Charlie Simmer will be on hand as well.