Good morning, Central Florida, and good morning, Insiders.
Well, hey, that was a fun football game last night. I don't think it's possible to get sick of Tom Brady late-game comebacks. Taking advantage of a gutted Atlanta defense that was on the field for 93 snaps (and a Falcons offensive coordinator who hits on 17 decided to throw the ball with an eight point lead while in field goal range), Brady exuded his familiar and poised fourth quarter and overtime self by leading his team to the greatest comeback in Super Bowl history. You know those players who raise their games when the stage is bigger? (Barry Trotz referenced Drew Doughty in a similar claim yesterday morning.) Brady's among the most representative of that abstract evaluation across all platforms. Watching the fourth quarter and overtime last night was like watching art or poetry as it was being created. There are so many players and coaches who were responsible for that comeback, but Brady, along with Bill Belichick, is as responsible as any for creating the type of winning aura that permeates through a franchise and causes one to recognize the grace of a situation such as last night's as it occurs.
So, we missed the first quarter of the football game last night. That's no biggie, because we gained an extra quarter at the other end. It's a long drive from the Verizon Center to Dulles International Airport – extended by the traffic leaving the District – and the game began during our final approach into TPA.
Prior to landing, those on the starboard side of the charter were treated to a spectacular sunset. Who needs the Super Bowl when you – GAHHH, LAND THE PLANE ALREADY!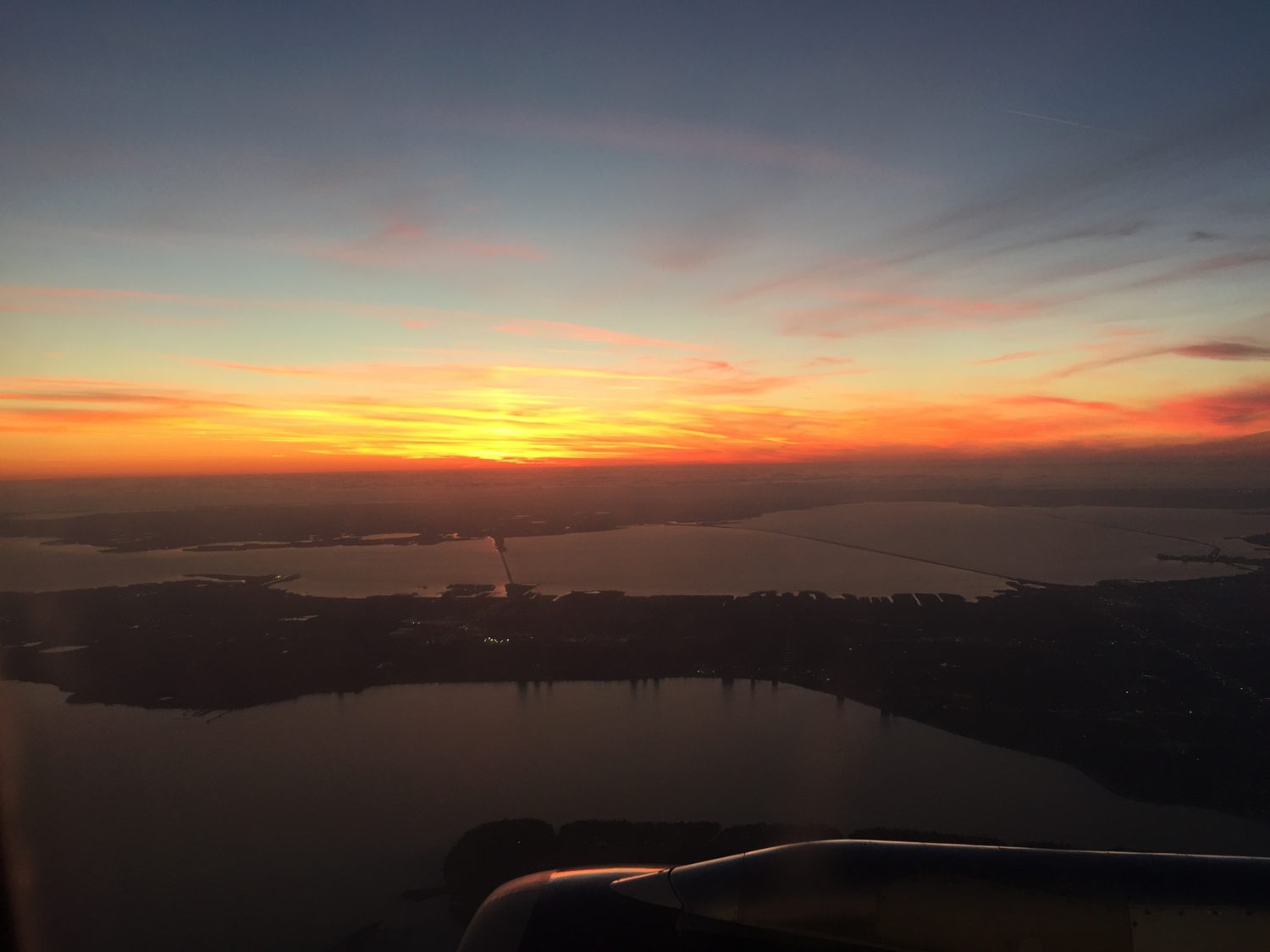 The sun has risen again and will welcome us to the much warmer portion of this trip with an 80-degree Gulf Coast day. I'll take advantage of a comfortable morning by heading to Best Buy or Radio Shack to pick up a new power supply after having appeased the Vengeful Verizon Center Pressbox Deity by granting it my charger yesterday afternoon. Bear with any errand-related delays this morning, Insiders. Waking up with the Kings will follow, as will a 2:00 p.m. ET practice from Amalie Arena. Let's talk soon.