"It was just to get a feel for the ice," he said. "It's been a while, so it was nice to get back out there and it was good to get a feel for it."
Based on conversations with team sources, the injury was expected to sideline the 24-year old for a moderate amount of time but was never pinpointed as a "long-term" injury. As early as Monday, January 2, Darryl Sutter had said that the team would "hopefully" get Toffoli back on skates by the end of that week, though by January 8, Sutter had clarified that "I think 'hope' was in capital letters" when asked if there was any update.
On Wednesday, Sutter relayed the initial time frame as it had been shared with the coaches.
"Once we came back and had the doctor's evaluation we were told a three-to-six week time frame, so yesterday was four weeks, so we thought he'd be a little further ahead, but at the same time, there's a fine line between the healing and the training," he said.
It had appeared as though Toffoli was right on the verge of testing his injury on the ice for some time, but that date was ultimately pushed back several times. At no point did any member of hockey operations express any realistic concern to LA Kings Insider that the injury might be anything that would sideline the right wing for anything long term, or that there had been any setbacks.
"It's just trying to get healthy – healthy enough to play and be effective and just communicating with the trainers and going from there," Toffoli said of the process.
While getting onto the ice represents a step forward in that process, don't expect to learn of him as an option on Los Angeles' upcoming four-game trip, which pits the team against the three New York-area teams and Carolina.
Toffoli wasn't inclined to share the particulars of how the injury occurred, but did say that "I think it was my first shift, second shift" of the Columbus game. It was likely the result of this hit from Josh Anderson near the Blue Jackets bench, an injury that Toffoli acknowledged resulted from "a hockey play and just bad luck":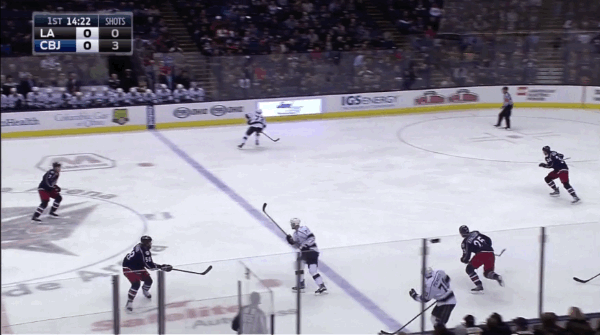 Toffoli registered three shots on goal as part of 15:05 of ice time that night but has missed the 12 games since and isn't expected to return tonight or in the upcoming road trip.

"I think Tyler's pushing hard and we want him back," Sutter said. "We were hoping to have him for sure on this next trip, so that doesn't appear to be the case right now because he hasn't had any skating or practicing."

The injury ended Toffoli's stretch of 149 consecutive games played. The fifth-year forward missed six games due to mononucleosis in the 2014-15 season and had been a healthy scratch earlier in his Kings tenure but had otherwise never missed a game due to injury in his 262 NHL games prior to his lower-body ailment.

"It sucks," he said. "It sucks not being able to play and missing this much time, I've never done it before in my career. I want to be right there with my teammates and battling and winning games and it just sucks."

Prior to today's on-ice session, Toffoli had been working out regularly in his efforts to remain conditioned in support of his eventual return.

"Oh yeah, I've been in the gym every day … since it happened, so I'm just trying to keep my strength and do all those things and like I said, just keep working out with my trainers and doing all the right things," he said.

In 32 games this season, Toffoli, who was placed on IR on December 28, has eight goals, 20 points and a team-best plus-14 rating. He is eligible to become a restricted free agent on July 1.

Tyler Toffoli, who was injured early in the game against the Columbus Blue Jackets on December 20, took the ice for a brief skate at the tail end of the Kings' morning skate at Toyota Sports Center on Wednesday in his attempt to return from a lower-body injury.