Reign game breakdown
The Reign managed few scoring chances in a 3-1 defeat at home against Texas on Wednesday night and have now lost consecutive games for the first time since late November. Despite getting on the board first on a rip of a one-timer by Adrian Kempe from the right circle on the power play at 7:48 of the first period, Ontario couldn't muster much connected offense from there. A perplexed head coach Mike Stothers noted the team's spirited practice a day prior and couldn't give an answer as to why his team didn't have it and called the effort mediocre at best. Ontario gave up the tying goal on a rebound mark by Brendan Ranford at 14:31 of the second period and then surrendered the go-ahead goal by Matej Stransky, 2:22 into the third. An empty-netter by Remi Elie with 24 ticks left on the clock solidified the ending.
Best quote
Stothers, on Reign's recent ability to win one-goal games but why it's also dangerous: "I had a meeting with our core group just the other day to say there's a real fine line between a winning streak and a losing streak. Now we're officially in a losing streak. We lost in OT the other night and now we lost, so that's a losing streak. Close games, one mistake or overtime goes the other way. So, don't start patting yourself on the back because you won a couple close games. Now it's time to dig down, get back on the winning track."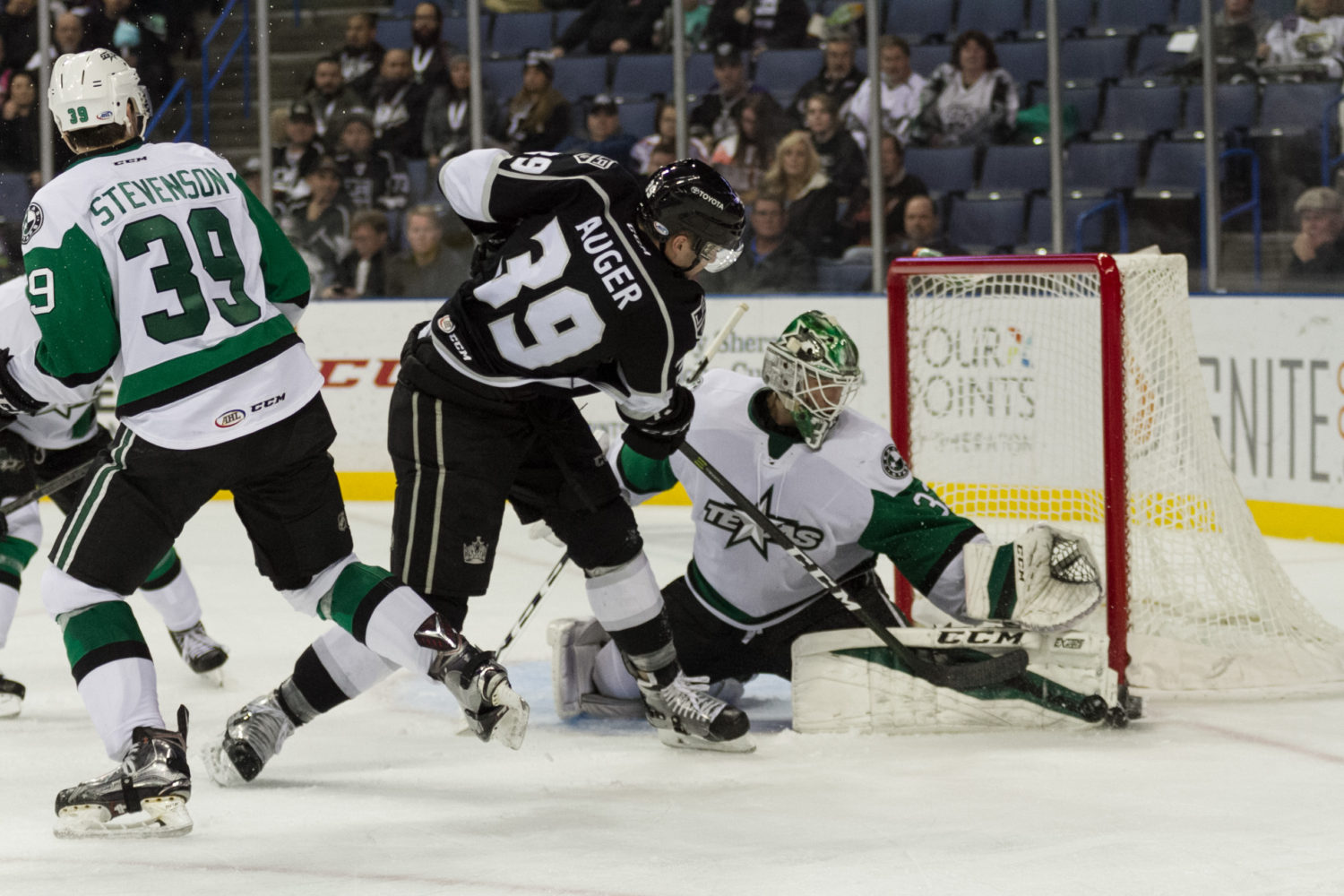 Three stars
–Gemel Smith – The 2012 fourth-round draft pick and Toronto native had the primary assist on both of Texas' first goals. On the first one, he put the puck on net from the right corner, resulting in a rebound goal for Ranford. The second helper was a nifty one though, as from behind the net he dished a behind the back pass to Stransky, who scored his team-leading 12th of the season.
–Brendan Ranford – The Edmonton native registered his sixth goal of the season, tucking the puck under Reign goalie Jack Campbell's right pad on a rebound, and the an secondary assist on Stransky's goal, a sequence in which the Reign looked turned around in their zone.
–Jack Campbell – The netminder who turned 25 years old on Monday gave his team a chance to win against a Texas team, his former team at that, which came in averaging 3.38 goals a game. As Texas tried early to rock the netminder and get his head out of the game — he was interfered with by Jason Dickinson just seconds into the game, drawing a penalty — Campbell stayed poised and finished with 22 saves.
Turning point
As the Reign were finally putting together their best offensive zone pressure and forechecking of the game in the final five minutes, Kempe took an offensive zone holding penalty with 1:35 remaining as he tried to prevent Austin Fyten from reaching the puck that was sliding towards the point. That gave way to a late Texas power play and the Stars scored skating five-on-five with Campbell pulled.
Stat fact
–2 – Shots on goal in the first 10 minutes of the first period for Ontario, which included two power play opportunities. Said Kempe: "I don't think we had a really good start. I think they came out with more speed than we did and I don't know, they're a really fast team so … we came out and let them steal a lot and put pucks to the net."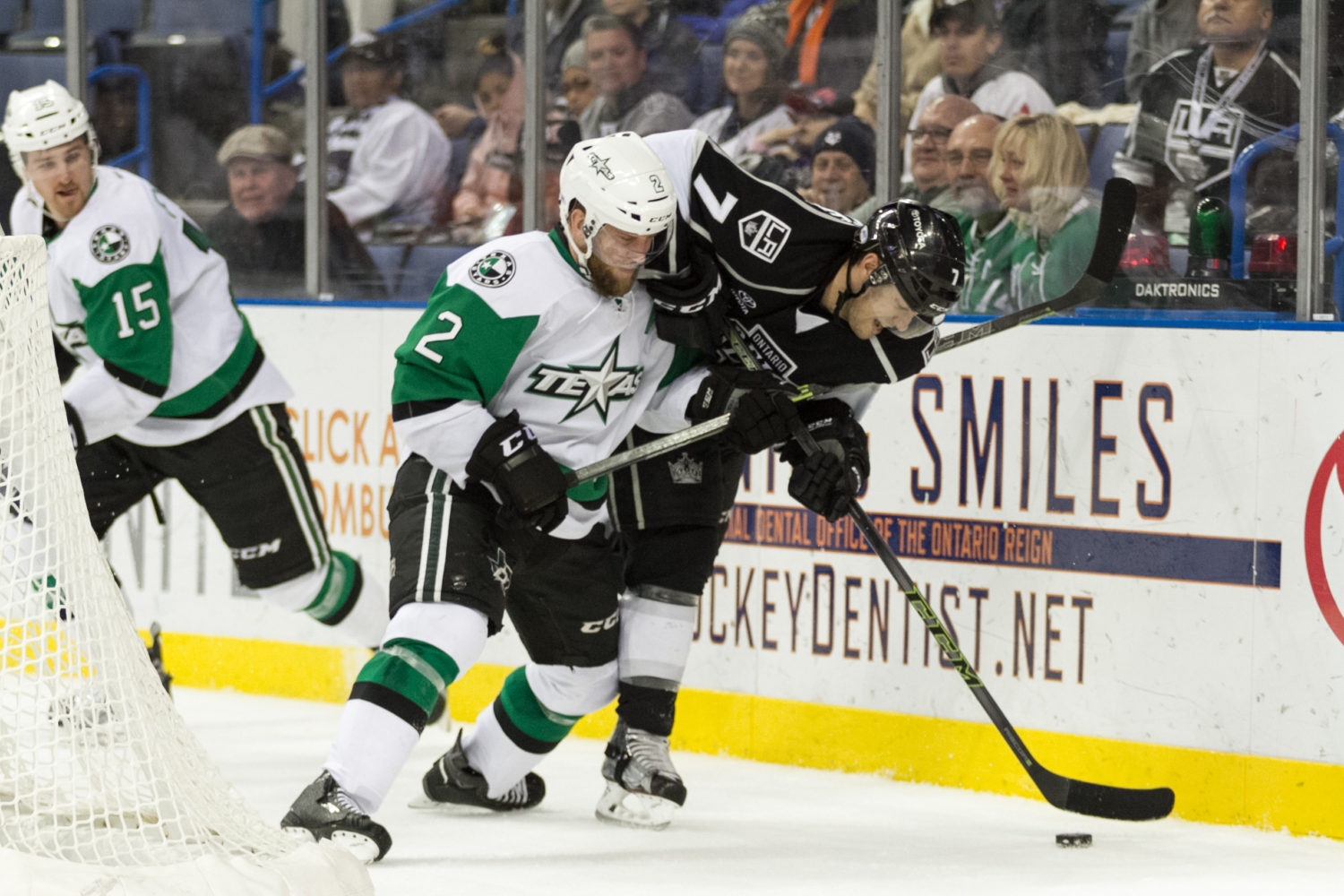 Lineups and injuries
Forward Michael Latta was a healthy scratch for just the third time all season. Rob Scuderi did not take part in warmups and is still sick, as earlier reported this week. Nick Ebert, the former Reign defenseman now with Texas, was scratched.
This and that off-ice
Kings goalie coach Bill Ranford was in attendance and got the opportunity to see his nephew Brendan score for Texas.
Next up
Ontario is in the midst of five games in eight days and plays next on Friday in San Jose at 7 p.m.