Reign game breakdown
For all the ways to finish out a year the Reign delivered their most dramatic victory of the season by closing out 2016 with a come-from-behind 5-4 overtime win against Stockton on a Brett Sutter game-winner on Saturday night. Presented with a four-minute power play while trailing 4-2 with 5:17 left in regulation, the Reign made the Heat and Ryan Lomberg, who was sitting in the box for high-sticking and slashing, pay. Teddy Purcell's one-timer from the top of the point just six seconds into the man advantage got the Reign to 4-3. Then, Adrian Kempe tied the game with 2:56 left in regulation by quickly throwing a backhander into the net on a long rebound as Stockton goalie Jon Gillies couldn't get dive back in time. For good measure, Ontario killed a late tripping penalty on Justin Auger that briefly bled over into overtime. Once Auger's penalty expired and the first whistle of overtime came to give way to 3-on-3, the Reign quickly finished the Heat as veterans Sutter and Sean Backman combo'ed for the game-winner. Sutter fed Backman in the neutral zone and as Backman skated into the offensive zone on the right wing he took the puck almost deep into the corner, patiently waiting and once a crashing Sutter outworked his way around the defender Backman fed him for a timely redirect. Goalie Jack Campbell finished with 21 saves on 25 shots and backstopped his team to their sixth straight win.
Best quote
Head coach Mike Stothers, on Sutter flashing some Kempe-like speed to beat coverage and get in position for the game-winner: "How fast did Sutter look? Holy smokes. I didn't know if that was a seven or a nine on his jersey. It was a seven. But he looked good."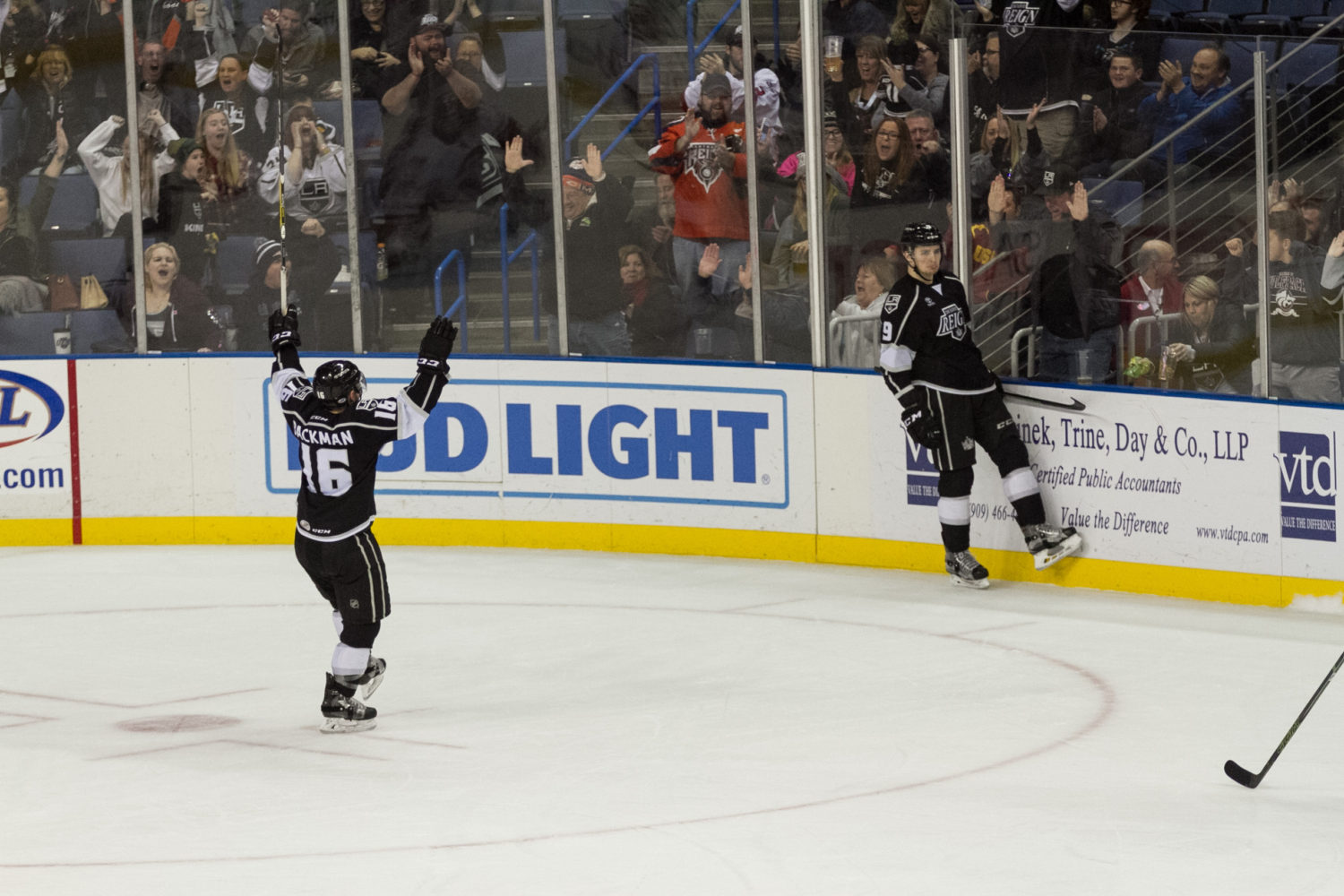 Three stars
–Brett Sutter – The veteran's first game-winner of the season came when he scored with just 32 seconds left in an early December game against Charlotte so it's no surprise that he has a knack to finish in high-pressure moments. His second game-winner in this one was a display of his smarts and will as he blew by Emile Poirier to get in position for Backman and finished the play for his seventh goal of the season. He finished with a goal and an assist.
–Sean Backman – The Reign trailed 2-0 in the first period and Backman's finish of a 2-on-1 pass from Rob Scuderi got his team on the board with 1:50 left in the opening period. From the right wing Backman took Scuderi's pass and lifted a shot over Gillies' glove, right under the crossbar. On Sutter's overtime goal, Backman was calling for the puck all along in the neutral zone, tapping his stick on the ice until Sutter got him the puck. His patience was apparent as he didn't just throw a shot on net but instead waited it out until Sutter got to the goal mouth. "Backs had a ton of speed," Sutter said. "He was yelling at me through the neutral zone that he wanted it. He was skating good all night so obviously I gave it to him. He make a heck of a play, a little fake shot and slid it through the guy's triangle. I just had to have my stick on the ice and he did most of the work, I just got to reap the rewards of it."
–Adrian Kempe – There's been a noticeable shift to the right way of play in Kempe's game as of late and he now has three goals in his last five games. The former first-rounder is using his speed more effectively and finding open ice. He took a good angle on a breakout to get the puck from Vincent LoVerde and while moving up ice drew the penalty that led to Jonny Brodzinski's power play goal that made it 2-2 in the second. On his game-tying goal he recognized the need to get his shot off right away. It was noticeable that if Kempe had waited, Gillies would have been able to get back into position for a save but he threw a dribbling backhander, without much on it, into the gaping net.
Turning point
In some contests the turning point may be a tad bit harder to pinpoint but there was no doubt that Lomberg's double-minor gave the Reign exactly what they needed. Ontario was pressing early in the third period but Gillies seemed up to the challenge to close things out, but Lomberg's penalties opened the door for the home team's comeback. "He's one of those guys that plays on the edge and he crossed the line and, you know what, if there's one message you can send your team it's like, if you're going to make somebody pay, make 'em pay," Stothers said.
Stat fact
–9 – Minors called in the second period which resulted in two power play goals. The Reign's power play mark by Brodzinski, who was set up on a nice feed by Mike Amadio, made it 2-2. Stockton eventually went up 3-2 on an Andrew Mangiapane power play goal as he banked the puck off the back of Campbell from the left corner.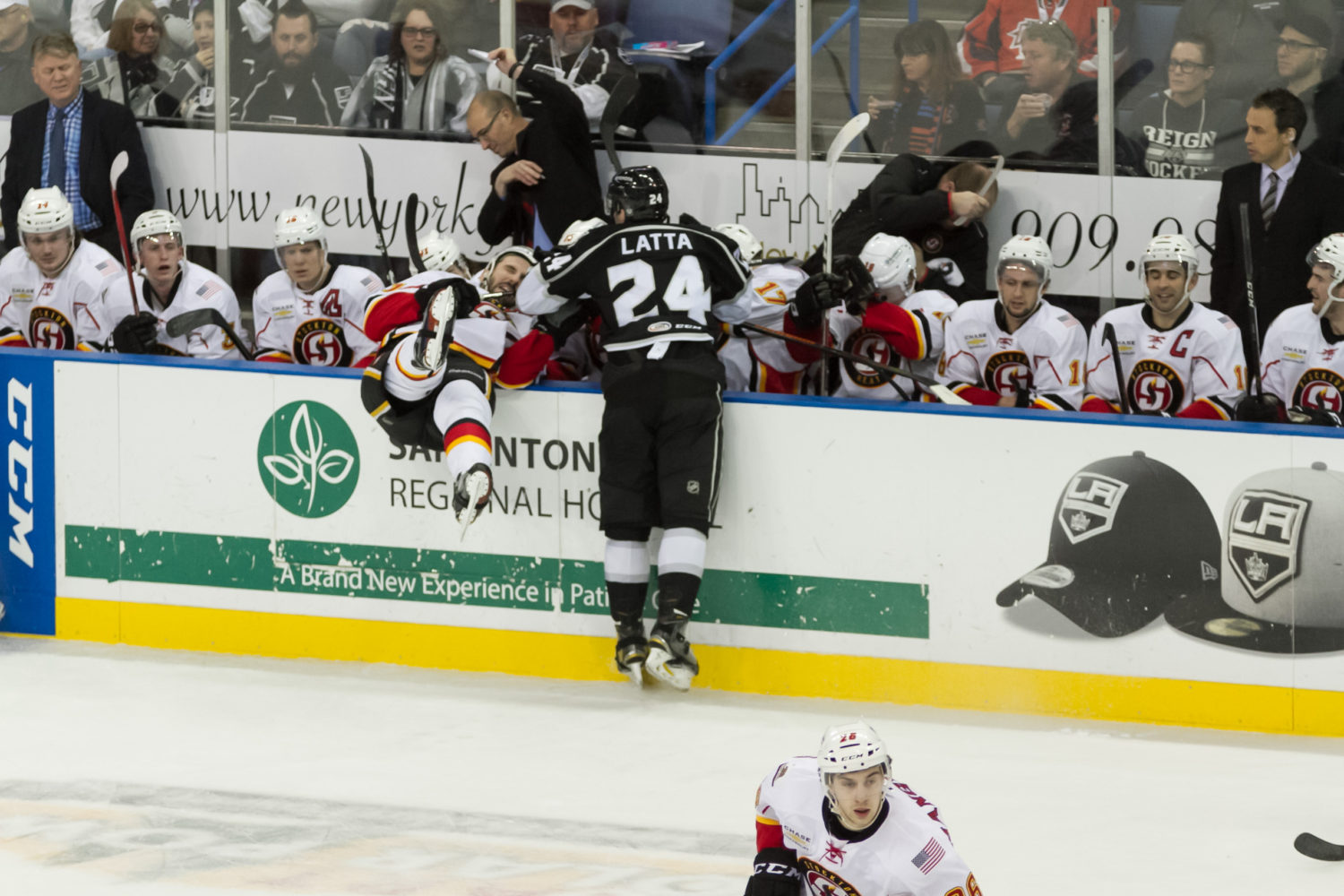 Lineups and injuries
Michael Mersch missed his first game of the season as he's a bit banged up, this according to information obtained by LA Kings Insider Jon Rosen through team hockey operations. Stothers joked and dodged all questions about Mersch's status. "Coach's decision. His play's got to improve. Just kidding," the coach said.
This and that off-ice
By virtue of the Reign's top standing in the Pacific Division, Stothers has been appointed to coach in the All-Star Classic for a third straight season. The league made the announcement during the game that he'll lead the Pacific Division All-Stars. He had this to say about it: "That's an honor. It really is. It's special. Three years in a row that's pretty good. It's more reflective of the organization itself and the guys. Great bunch of guys. We talked about the veteran guys but we've got some great young guys too. Very fortunate to have Chris Hajt helping me out. So, the whole staff from Hubie on down and the trainers and everybody that does their day-to-day grunt work to the players, it's a team thing. So, I guess I've got to go to Lehigh. I'm not even sure where Lehigh is. I know it's close to Hershey so that's all right."
Next up
For the first time this season, the Reign won't have a weekday game. Early in the week they'll have Development Days with the Kings development staff. Of course, this coming Saturday the Reign skate in the highly anticipated Outdoor Classic against the Bakersfield Condors.