Good afternoon from the skies above the west coast, Insiders. The Los Angeles Kings returned to practice at Toyota Sports Center on Tuesday – the club's first full-team skate in its home facility since December 11 – and while Tyler Toffoli wasn't on the ice, all other players were accounted for.
Lines, via color coding:
White: Gaborik-Kopitar-Brown
Blue: Pearson-Carter-Setoguchi
Yellow: King-Dowd-Lewis
Purple: Clifford-Andreoff-Shore-Nolan
Defensive pairs were Forbort-Doughty, Muzzin-Martinez, Gravel-Greene and McNabb-Gilbert.
–As reported earlier, Toffoli will not travel with the team after suffering a lower-body injury and will wait "at least a week" before being re-evaluated. Based on some intelligence, is very possible that the injury was a result of this hit by Columbus' Josh Anderson early in last Tuesday's game: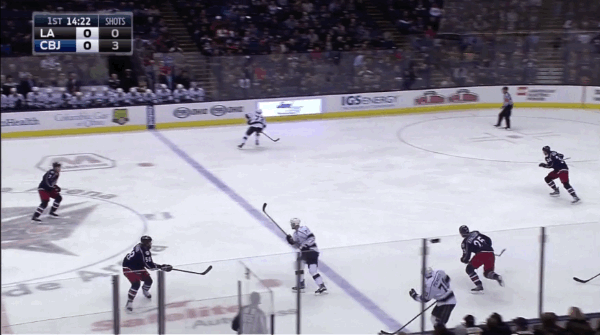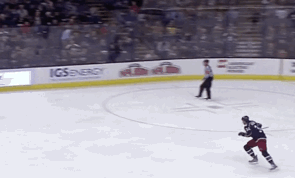 -Brayden McNabb, who suffered a broken collarbone in a collision with St. Louis Colton Parayko on October 29, has been medically cleared to return. At this point, a return will be based primarily on McNabb being in full game shape and capable of withstanding the physical rigors associated with NHL hockey.
"I don't think the (Christmas) break was necessarily in his favor," Darryl Sutter said. "He wants some full contact practices, so today would be the only one. He's available." Asked whether he'd be "inclined" to re-insert him into the lineup, Sutter responded, "I just think he needs some practice."
-John Wolf, a tenured member of the Kings' front office staff for decades, wore many hats while working alongside a variety of different owners, general managers, coaches and players over a highly appreciated career. Wolf passed away from cancer on Christmas Day, and there are many people who recalled "Wolfie" fondly and shared reflections of his career and his work with the hockey club.
Sad News as our friend and long-time colleague John Wolf has passed away due to cancer. RIP Wolfie. pic.twitter.com/7q9etRs4tb

— LAKingsPR (@LAKingsPR) December 27, 2016
Wolf was the member of the Los Angeles staff responsible for changing the itinerary of Bruce Boudreau – then the coach of the Manchester Monarchs – immediately prior to September 11, ensuring that he was not on United flight 175, which was flown into the South Tower of the World Trade Center with Garnet "Ace" Bailey and Mark Bavis aboard.
Minnesota Wild beat writer Michael Russo spoke today with Boudreau about Wolf's passing.
Via the Minneapolis Star-Tribune:
Boudreau didn't realize he passed until I told him today: "He was a really good man to me and my wife, and if it wasn't for him changing the flight, I wouldn't be here today. It was that simple. He's the one that made all the flights. He OKed mine. I owe him everything for the rest of my life. If my kids needed things, if my wife needed things, he was always right there. He was a really good man."
-Darryl Sutter practice quotes will follow. Enjoy the holiday season, Insiders:
Practice photos, courtesy of Jon Bradley: