Just 17 games into their season, the Reign and it's younger and transitioning defensive core hasn't had time to ease into things.
Gone are the Derek Forborts and the Kevin Gravels. While Forbort started the season with the Kings, Gravel was recalled and has shown promise to stay in LA. Jeff Schultz is in a rival San Diego sweater. Those were three of six mainstays from 2015-16.
Only captain Vincent LoVerde and Kurtis MacDermid played regular minutes a season ago. Zac Leslie, who was in and out of the lineup a last year, is now in a more prominent role. Rookies Paul LaDue, Alex Lintuniemi and Damir Sharipzyanov (recalled to Ontario following Gravel's recall to the Kings) are in positions where it's their turn to learn the pro game. New to the team but now sidelined longer than expected with an upper-body injury is Zach Trotman.
Veteran Rob Scuderi was sent down after clearing waivers at the start of the campaign and has been ready when called upon, appearing in four games. Even at times the Reign have turned to the versatile Paul Bissonnette to play on the blue line.
Below are some recent conversations regarding the state of the defense with head coach Mike Stothers, LaDue and LoVerde.
Stothers on the defense's and the team's transition:
It goes well beyond just the young defense. Gone from the back end of last year's team is Schultzy – steady, reliable calming. Forby, who played extremely well for us last year and who's actually playing outstanding with the Kings. And Gravel," head coach Mike Stothers said earlier this week. "There's three anchors from your back end from last year, so that changes things dramatically, right? Vinny [LoVerde], I don't think he's dropped off at all. He's doing exactly what he did last year when he was an All-Star. It's a different look. You take it a step further and last year we had a rock in net in Budes. Right? Played well, made saves when he needed to and set up pucks as [Jack Campbell] can for us, but we had Budes in net every night. This year we haven't. We've had different guys coming and going and that takes a little bit getting used to. You can't underestimate how much you miss a guy like [Nic] Dowd. Responsible in his own end, makes plays to get out of his own end, makes plays in the neutral zone, makes plays in the O-zone. So you look at it and you go, hmm, that's interesting. But look how well they're doing with the Kings. They're helping the Kings. Budes, Gravs, Forby, Dowder. So, that's where we'd rather them be is with the Kings. That's what it's all about when you get right down to it. But they had to start somewhere. They had their growing pains just like everybody else. That's part of it. The only thing you can do is keep going back at it and we keep throwing them over the boards and they'll learn from their mistakes. We try not to bench anybody. Mistakes are going to happen, especially as defensemen. It's a hard position to play. So, you've just got to be patient until they grow out of it or they grow into the role that they need to be.
Stothers, on LaDue and the defense as a unit:
LaDue's been really good but he's still just a first-year guy. He certainly looks real good most nights. He's a special player. So, there's a lot that he can do. You see, it's more the inconsistencies. There might be a good shift followed by a couple bad shifts, a good game followed by a mediocre game. And what we need is, as a group of six, whatever six are dressed, and that changes night to night. We don't need any one individual to be the guy. We need the pairings to be solid and as a collective group of six, dependable, reliable, keep things simple. I think for the most part if you break it down they've been holding their own. Certainly not disappointed with any one individual but it is a position that it's magnified when there is a mistake. That's for sure.
Stothers, on why it's tougher for defensive prospects than forwards:
Because you're the last line of defense in front of your goalie. Usually when a puck goes in, you're the closest guy to maybe the person who put it in. Sometimes yes it is your fault, sometimes no it isn't. All eyes are focused on you standing there pulling the puck out from behind your goalie. And things happen quick. A forward can make a mistake down in the O-zone and they've still got to go 200 feet. A puck bounces over your stick in your zone or you try to make a play, the right play, to the middle but it hits something and goes right to one of their guys and it's in the back of your net and people remember that one. They've got time to forget about it at the far end before it gets back to your end. Right?
LaDue, on the challenges of the pro game:
It's just being ready for the game. Every game is tough in this league and you don't get a lot of nights off. You come to a game not prepared you're going to get exposed. There's a couple times where I felt tired out there where I shouldn't be, so I can get better at that. As far as on the ice, just consistency. Keep trying to make plays, play our game and as far as the D core I think we've been playing pretty well but there's definitely areas of improvement.
LaDue, on the biggest differences between college and pro:
I think it's just consistency and the schedule. Trying to prepare myself to feel my best every game. It's a lot different in college, all we played was Friday-Saturdays. Just taking care of myself at the rink and out of the rink and just trying to prepare myself best for game time.
LaDue, on the goaltending situation and various injuries:
It's tough. You hate seeing goalies go down, keep bringing them in and sending them back. I feel like every goalie who's played with us has done their part. They've come in and played hard. As a D-core we've just got to try to support any goalie that we play for and make it as easy as possible for them.
LaDue, on being paired with different teammates:
A lot of us have a lot of good chemistry and we can play with anyone. I don't mind it and our coaches don't mind it. That's not really a problem. As a core just be more consistent.
LaDue, on where he feels like he's at in his game:
Just getting used to the pace of the game. It's definitely faster than college and guys are bigger and stronger out here. Just getting used to the pace and the size of the game and making sure you're as comfortable as possible on the ice. I feel pretty confident with where I'm at. There's always room for improvement. Each and every game you try to get better and try to be more efficient but as far as where I'm at right now I feel pretty good and just got to keep moving forward.
LaDue, on playing a few games with Scuderi:
He's been great. I think the most helpful thing is just watching him, watching how easy the game is for him, how simple he makes it and how efficient he is. All our young guys can benefit from watching him, not only in a game, but in practice, too. It's definitely very helpful having him around.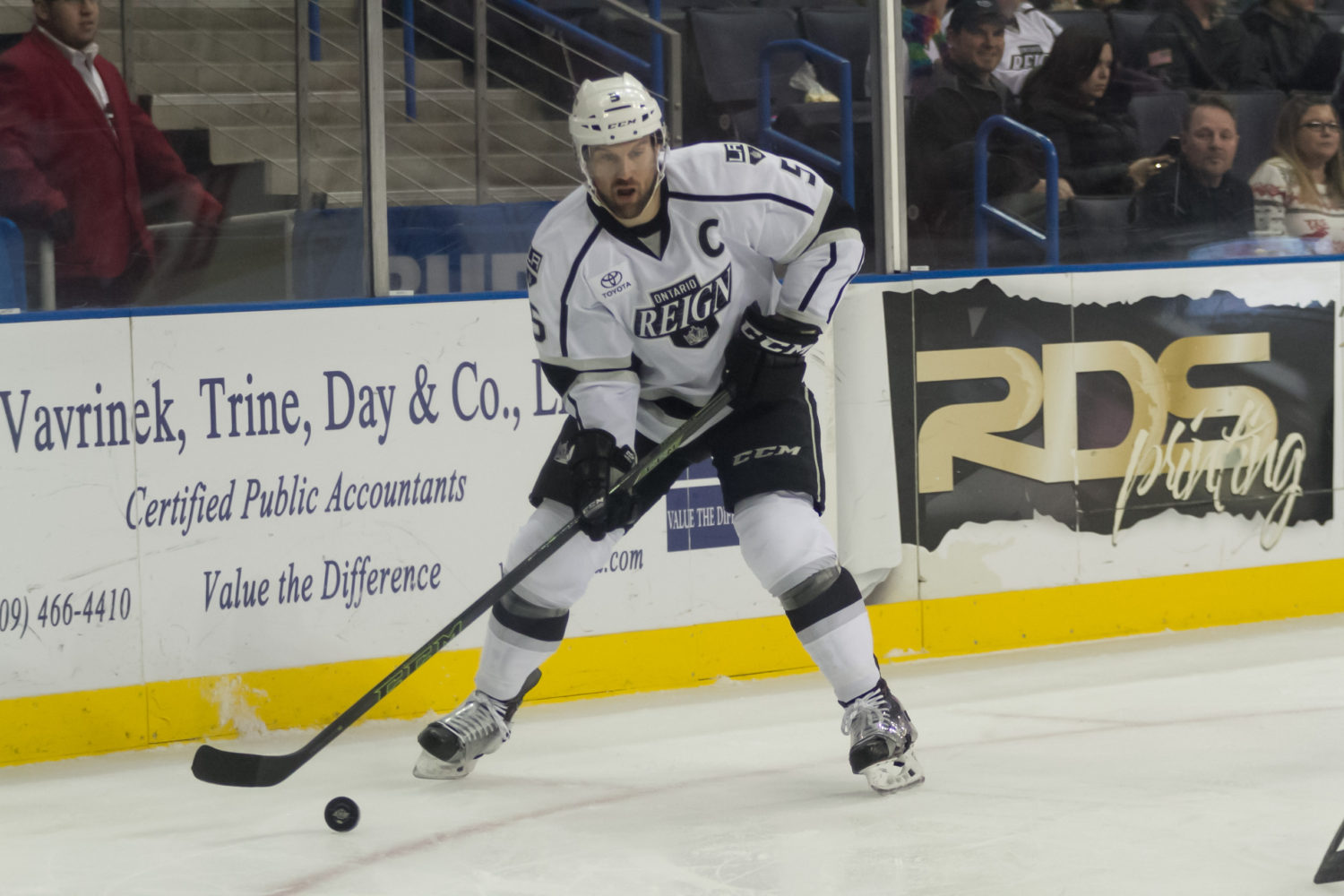 LoVerde, on the play of younger defensemen:
There's definitely younger guys throughout our lineup, even at forward. We're much younger. In terms of me, my approach is still the same. More of a lead by example guy but if I need to speak up I'll say what needs to be said. These young guys are getting a chance to play more minutes and I think some of them have done well with it. We've just got to keep improving game in game out, practice after practice just keep getting better and better.
LoVerde, on the goaltending situation:
It's different. … Last year Budes was night in, night out. It's different but it doesn't really change our approach. Both Flinner, Jonah, Jack have all done a great job when they've, and Lindy, he's not here anymore, they've all done great jobs when they've been thrown in there and given us a chance to win games. We've got to be better in front of them. It doesn't really change our approach much. If we stick to the details and play our system we know we'll be a successful team.
LoVerde, on what he remembers when he was a rookie:
The game's a little bit quicker. You've got to make plays a little bit faster. Turn the puck over, it's in the back of your net. It's a lot of little things and I think these guys have done a pretty good job of it for the most part. It's tough getting thrown into the fire and having to play. They've done a good job but it's a lot of little things. … You've got to take care of your body, you've got to be a pro, and these guys have done a good job. As far as development, it's tough. Players are bigger, stronger, faster, better shots and everything's slightly elevated so there's usually a little bit of an adjustment period but I think these guys have done a pretty good job of it.