Reign game breakdown
Brett Sutter scored with 34 seconds left in regulation and the Reign salvaged their five-game homestand as a 3-2 victory over Charlotte on Saturday night allowed them to finish with a 3-2 record. A frantic sequence resulted in the puck squirting free to Sutter who lifted the game-winner by Charlotte goalie Alex Nedeljkovic. The game's opening goal on Teddy Bear toss night was scored by veteran T.J. Hensick, who blasted a slap shot from the right circle for a power play goal with 5:15 left in the first period. The Reign went up 2-0 on a breakaway goal by Jonny Brodzinski at 5:33 of the second period but then quickly watched that lead evaporate. Former Ontario center Kris Newbury was left unattended and knocked in a rebound into an open net and Levko Koper squeaked a bad-angle shot through Jack Campbell off a faceoff to tie the game late in the second period. The Reign fought off a sleepy start to the final period and as the game appeared to be headed to overtime Sutter capitalized. Campbell made 23 saves to pick up wins in consecutive games for the second time this season.
Best quote
Sutter, on shooting around Brodzinski, who was nearly in the way of his game-winner going in: "He said when we got to the locker room that he tried to make himself skinny, so I guess I was just able to sneak it by him."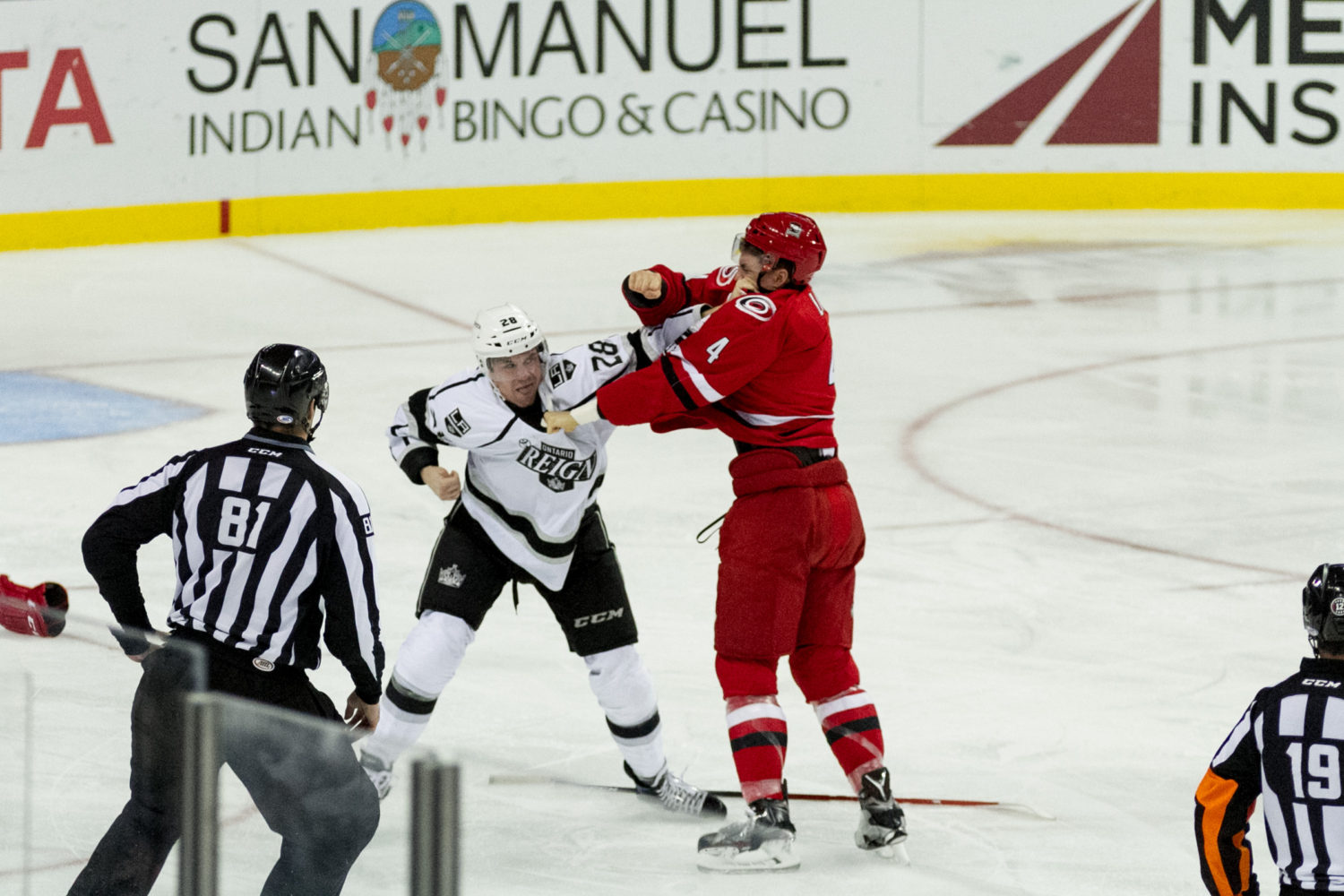 Three stars
–Brett Sutter – Sutter said it himself that he was the beneficiary of the play of his teammates on the game-winner: "… that whole goal was Merschy going to the net hard, Brodzy went to the net hard. I think [Brodzinski] was laying in the crease there. I just got to be the beneficiary of them working hard to get to the net and pushing the pace there." A shot by Kurtis MacDermid was tipped by Brodzinski and got to Michael Mersch, whose wraparound attempt resulted in everyone swarming the crease. In turn, the puck slotted free to Sutter who had all net to shoot at. Sutter's game-winner was his first this season and his second goal in as many games.
–Jonny Brodzinski – The second-year pro had a goal and an assist and has taken over the team points lead with six goals and 10 assists for 16 points. On a tremendous individual effort, Brodzinski read Charlotte's plan to go D-to-D off a faceoff in the Reign zone, intercepted the pass and fought off Keegan Lowe to score on a backhanded breakaway move. Brodzinski, who's been snake bit on previous breakaways, joked after the game that he finally scored on his 10th try. "There's some guys who would have overskated it, there's some guys who probably would have been caught from behind," head coach Mike Stothers said. "And then maybe because you've got so much pressure from behind you just drill it into the goalie. That's a goal scorer right there." Brodzinski of course factored in on the game-winner as well and is on a three-game point streak with two goals and two assists.
–Michael Mersch – Well, Mersch's goal drought is over, after the league rightly changed the goal credited to Hensick from Friday's win over Tucson to Mersch's name. The entire sequence on Sutter's game-winner was ignited by Mersch's wraparound attempt that drew in four Charlotte skaters to him at the goal mouth and allowed Sutter to be left all alone. The assist was his team-leading ninth and he's now working a three-game point streak with a goal and three assists in that span.
Turning point
Trailing 2-0 Charlotte got back into the game on Newbury's goal in which the Reign got caught mid-change and never picked up their former teammate, who buried the rebound of a wide-angle attempt by Roland McKeown. That same impossible-angle theme carried over into Koper's goal, which was a bad one for Campbell to give up and an uncharacteristic one for him to allow at that.
Stat fact
–2 – Years in a row in which Hensick has scored a Teddy Bear toss goal, as he did it a season ago when he was a member of the Checkers.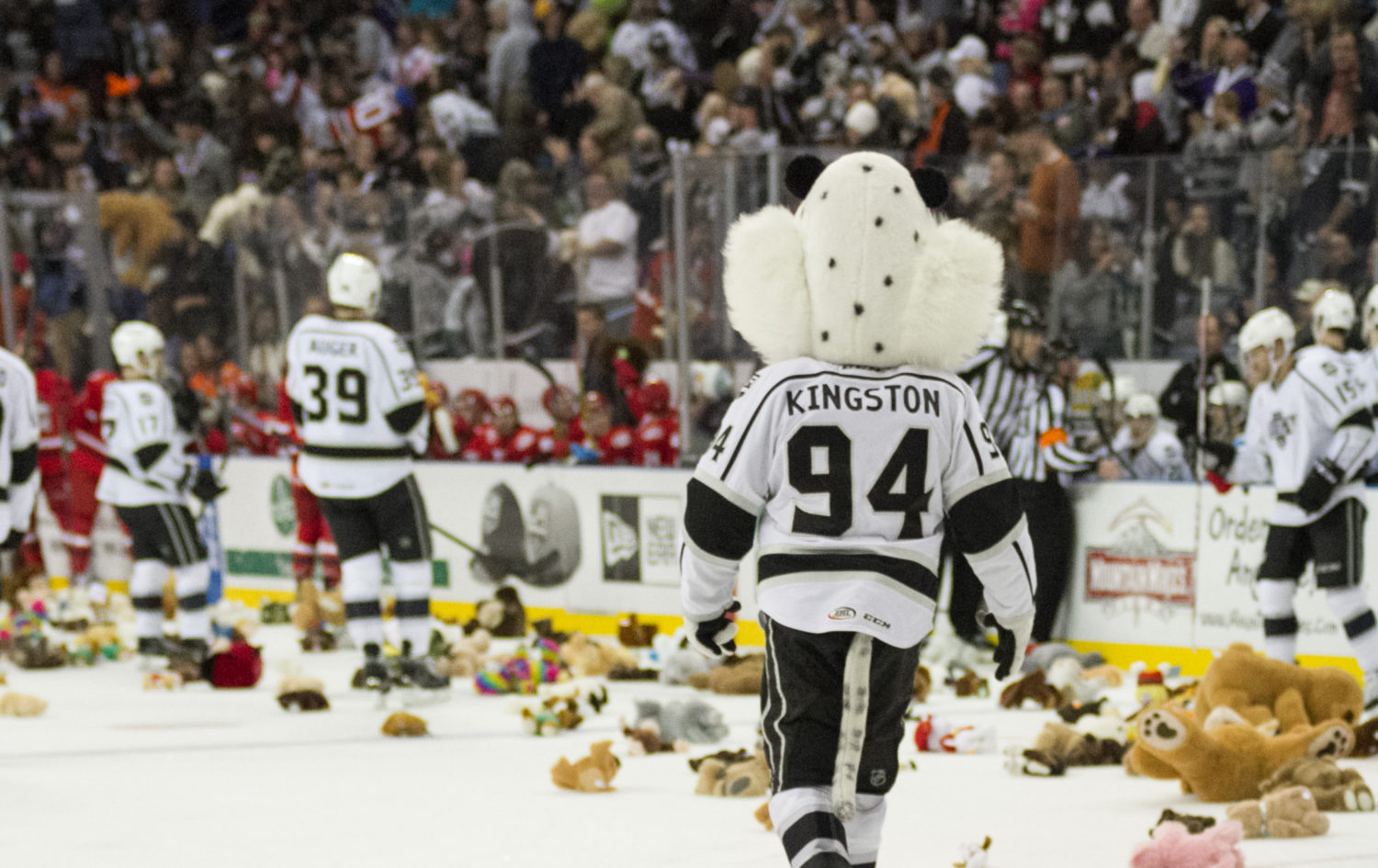 Lineups and injuries
Defenseman Zach Trotman (upper-body) missed his eighth straight game. Also, Damir Sharipzianov served his one-game suspension stemming from a late instigating penalty on Friday night vs. Tucson.
This and that off-ice
Former Reign players Newbury and Kevin Raine visited with many of their old teammates outside the Ontario locker room following the contest.
Next up
The Reign will have a recovery day Sunday and an early-morning practice on Monday before heading out to participate in the LA Kings golf tournament. Tuesday is a travel day and the Reign take on Tucson on Wednesday night at 6 p.m. PT.