Reign game breakdown
By bringing a 60-minute effort that has been hard for them to come by this season the Reign outworked the Pacific Division-leading Roadrunners and used a rock solid performance in net by Jack Campbell to score a commanding 4-1 victory on home ice Friday night. Campbell returned to game action after being sidelined earlier in the week with a groin injury and took full control in a 24-save performance. Brett Sutter opened the scoring at the 3:56 mark of the opening period on a rebound jam and the Reign were flying at the start. That was before Eric Selleck turned a quick breakdown into a goal from the right circle for a tie game just minutes later. In the second period, the fourth line of Joel Lowry, Andrew Crescenzi and Michael Latta converted off a rush with Latta pumping in his first goal as a member of the Reign, which would be the game-winner. A crucial series of penalty kills late in the second allowed the Reign to keep the momentum and an early goal in the third credited to T.J. Hensick and an empty-netter by Justin Auger capped the scoring.
Best quote
In the final seconds of the game rookie Damir Sharipzianov took offense to a high hit by Selleck on Kurtis MacDermid and head coach Mike Stothers said this about Sharipzianov fighting Selleck shortly thereafter: "I'm not here to promote the fisticuffs part of it but when a guy runs a teammate, it's a good thing to see guys stick up for each other. That means we're a close team. That's not his nature, so he had to step out of his comfort zone in order to step up and send a message, say 'hey, we're all tough, we're all together.' That's most important. You want to be team tough."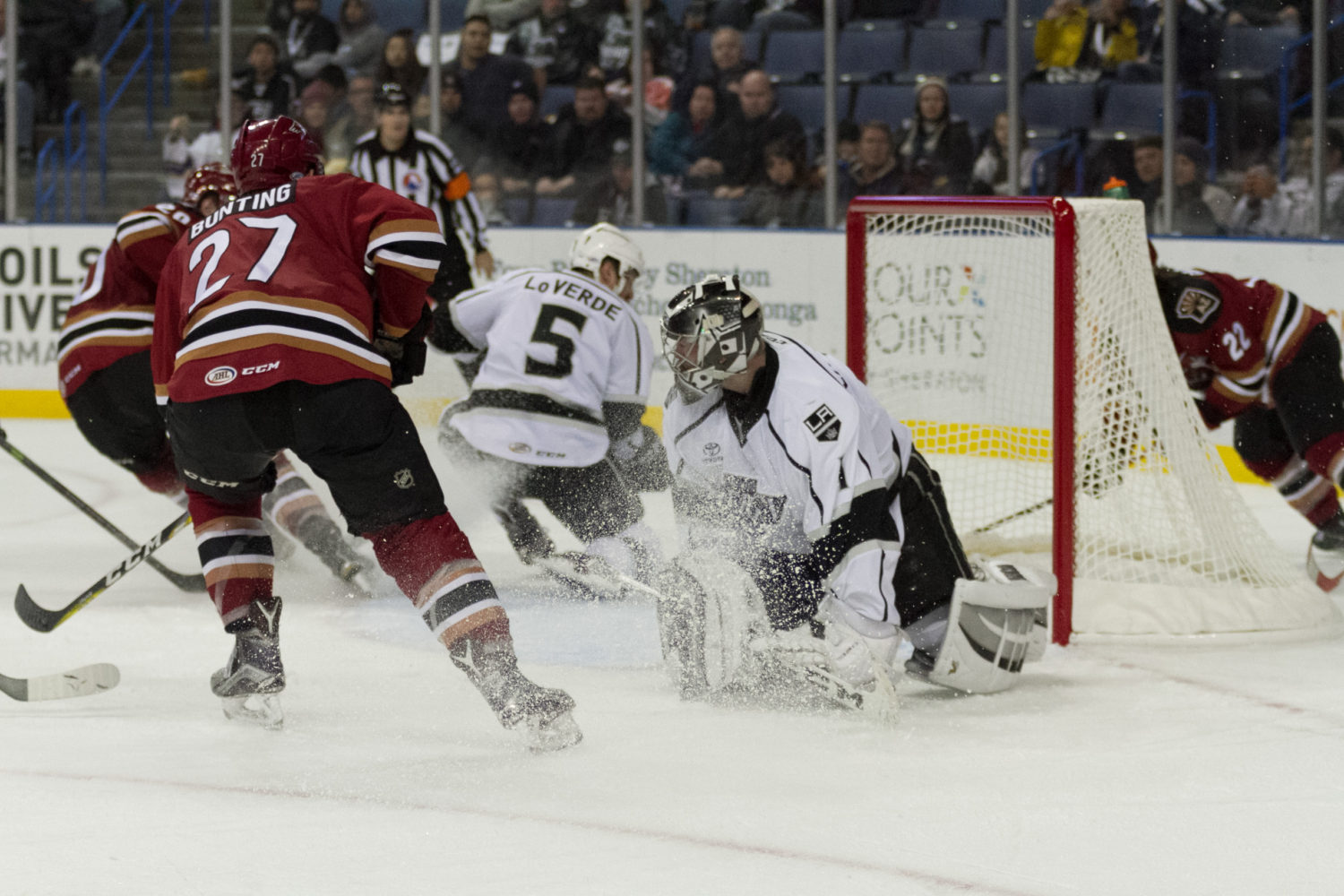 Three stars
–Jack Campbell – Uncomfortable? Almost a week after suffering what he referred to as a "tweak," Campbell was solid and looked much, much more comfortable while proving to be his team's biggest asset. The 24-year-old kept Tucson's top power play at bay — Stothers said: "First and foremost your best penalty killer is your goalie, and he made some saves for us" — and frustrated their shooters, keeping the Roadrunners to their lowest scoring output of the season. He stopped a shorthanded breakaway in the second by Christian Fischer and time and time again moved over quickly to challenge shooters and take away angles.
–Michael Latta – Latta took a drop pass from Crescenzi and buried it from the right circle, fooling Roadrunners goalie Mark Langhamer opposite side high for his first point in nearly a month. The balanced effort from the forwards and the fourth line's contributions as a whole — Lowry added two assists for his first points of the season — was hard for Tucson to keep pace with. At the end of the game Latta also took notice that the Roadrunners were pestering Adrian Kempe and fought Stefan Fournier as a result.
–Michael Mersch – Although Mersch was not credited with the goal that put the Reign up 3-1 just 2:12 into the third period, he did all the work to get it in. AHL officials ruled that Mersch's second rebound attempt went off Hensick's skate and in but it was the winger's positioning and determination in front that got the puck over the goal line. Mersch, who now has a 12-game goal drought to his name, celebrated as if it had finally ended and although not on paper, it pretty much has. He also played a pivotal role in the second period PK, flashing a kick save.
Turning point
With plenty of open ice for the Roadrunners to play with the Reign held their own on a 4-on-3 kill in the final minutes of the second period and again bottled up the Tucson power play when Crescenzi was called for a cross check during that same kill. Vincent LoVerde saved a sure wraparound goal for Conor Garland by using his stick blade as the barrier. "Our pre-scout on them was they have a really good power play," Campbell said. "We knew it was going to be a challenge and I just thought our guys just really stepped up out there and had some big kills and sacrificed their bodies, getting in front of shots. They have some guys who can really shoot the puck. It was just a great team effort all the way around any sort of situation out there."
Stat fact
–7 – Wins for Ontario this season, all games of which Mersch has registered at least one point.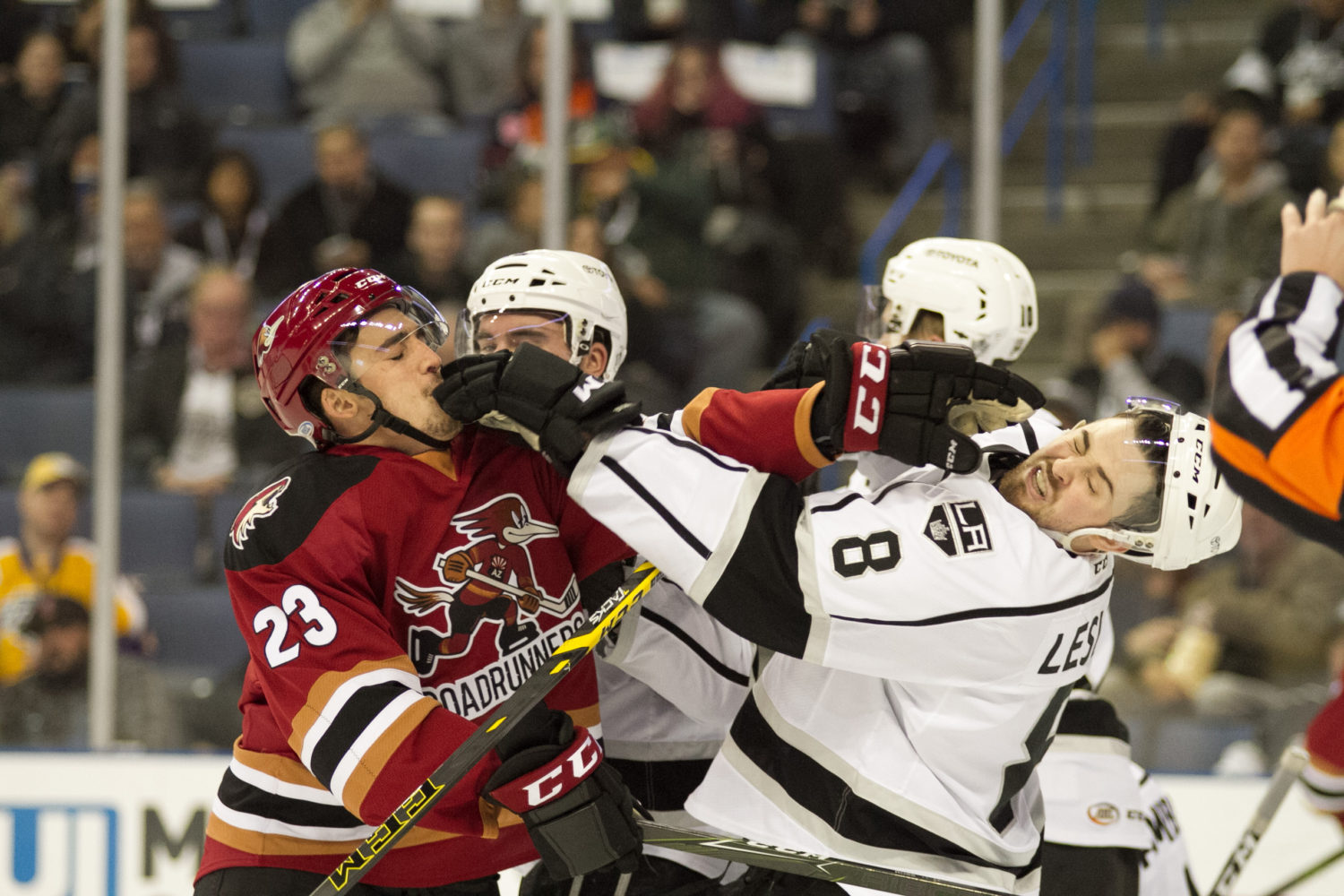 Lineups and injuries
Defenseman Zach Trotman (upper-body) missed his seventh straight game. Stothers said earlier this week with a hint of sarcasm that he's "progressing nicely."
This and that off-ice
The Reign wore #CunnyCan stickers on their helmets in support of Roadrunners captain Craig Cunningham who remains hospitalized in critical, but stable condition after collapsing prior to their Nov. 19 game.
Tonight we support our friend and @RoadrunnersAHL captain Craig Cunningham! Get well soon! pic.twitter.com/fRioH0ZDn6

— Ontario Reign (@ontarioreign) December 3, 2016
Next up
The Reign wrap up their season-long five-game homestand on Saturday at 6 p.m. as they welcome in a team T.J. Hensick played for a season ago in the Charlotte Checkers. Valentin Zykov, who was traded to the Hurricanes organization last season from Ontario, has six goals and four assists with his new team in 10 appearances. Former Ontario center Kris Newbury was also signed to a PTO by Charlotte this week and could be in the lineup. It's also Teddy Bear Toss night, one of the fun theme nights for a great cause.