Good morning from El Segundo, Insiders. There was some news today, but let's start with today's lines, since the team plays Montreal at 12:00 p.m. tomorrow (FOX Sports West / FOX Sports GO / KABC 790 / I Heart Radio):
Purple: Gaborik-Kopitar-Lewis
Blue: Pearson-Carter-Toffoli
Yellow: Brown-Dowd-Setoguchi
Green: Clifford-Shore-Nolan-Andreoff
-You may notice that Dwight King isn't among the offensive group. This in all likelihood is due to personal reasons and not due to any transaction or injury. Also, I'll have a story up later today, but Teddy Purcell has been placed on waivers, per Elliotte Friedman and confirmed by the team. Purcell wasn't skating with the team today, but still had a stall up in the dressing room. Expect notice of Andy Andreoff's activation to come in the next few days.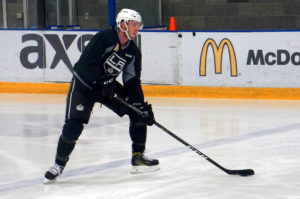 -Brayden McNabb (collarbone) took a spin at the end of practice and continues to improve. He said that he's not dealing with any pain and has been able to take a few slapshots (or "clappers," for those who might not spend as much time in a dressing room as we do). He's still looking at a late-December return.
-Tomorrow's game is a matinee, so the #LAKingsGoalieTweetOff applies. Peter Budaj was the first goaltender to leave the ice, though Jeff Zatkoff didn't exactly linger for some extra work with shooters. Still, it appears likely that Budaj will again get the nod against his former team.
-I'll have some Darryl Sutter quotes up shortly. Until then, here are some practice shots, courtesy of Jon Bradley: