Without throwing too much speculation at the wall to see what will stick, what is known about goalie Jack Campbell is that he was feeling a bit "uncomfortable" physically on Sunday and wasn't well enough to play against San Diego.
What was evident on Saturday night was late in the second period against San Jose the 24-year-old goaltender was slow to get out of his butterfly position a few times, hunkered down a few times, and when the horn sounded to end the frame he was not putting much weight on his left leg as he skated toward the Reign bench.
He came out again for the final period and finished the night with 23 saves in a 5-2 loss, but when asked about Campbell looking "uncomfortable," head coach Mike Stothers responded with this: "Well he made it through the game. I don't know. We had a lot of guys that looked uncomfortable. They made me uncomfortable. When you're a goalie and you're looking at the breakdowns that we had in front of ya, you'd probably be a little uncomfortable too."
But as Sunday morning came and the Reign faced San Diego at 3 p.m. PT on a quick turnaround, it was rookie Jack Flinn who led Ontario onto the ice for his first AHL game since Oct. 30 and his first game since a start with ECHL-Manchester on Nov. 11.
"He came into a tough situation," Stothers said of Flinn after the 4-3 loss to the Gulls. "You guys asked last night if [Campbell] was uncomfortable. He was uncomfortable. And then [Flinn] comes in today and finds out that [Campbell] was a little more uncomfortable than any of us knew, so he was starting. It's a tough thing to do."
Stothers didn't use the word injury, but when asked if Campbell would be practicing this week (the Reign aren't on the ice Monday), the head coach would only reply with, "Well I'm just going to leave it as [Campbell] is still uncomfortable."
Campbell, who carries a 3-2-1-1 record, 2.99 goals against average and .899 save percentage, has seen limited time in Ontario this early season due to recalls to Los Angeles as a result of their already well-documented goaltending injuries.
MERSCH DROUGHT
In times where his or his team's game has seen lulls in recent past, Michael Mersch has put the weight and the burden on himself. The left winger, who led the Reign with 24 goals a season ago, hasn't found the back of the net in his last 11.
The frustration is mounting.
"No jam," Mersch said after his two-assist performance Sunday vs. San Diego. "We've got to get back on the winning track. There's not really any jam right now. I haven't scored in how many games. Trying to go to the net, maybe, hoping one's going to bounce off me. Or I'm going to find one there, something. Just can't seem to get the bounces right now and it's the difference between winning a losing for our team so it's really frustrating for me."
The 6-foot-1, 225-pound Mersch is known for establishing himself in front of the net and using his size to his advantage but after being a late cut out of Kings camp, he's expecting more from himself.
"I think Big Mike pushes pretty hard every night," Stothers said Sunday. "If you watch our practices he pretty much sets the tone and sets the pace and works hard every game and every practice.
"He's wanting to win. That's why he's wearing a letter. He wants to score. He wants to help the team. It's not too often you're going to walk away at the end of the night and think that Mike didn't give you everything he had."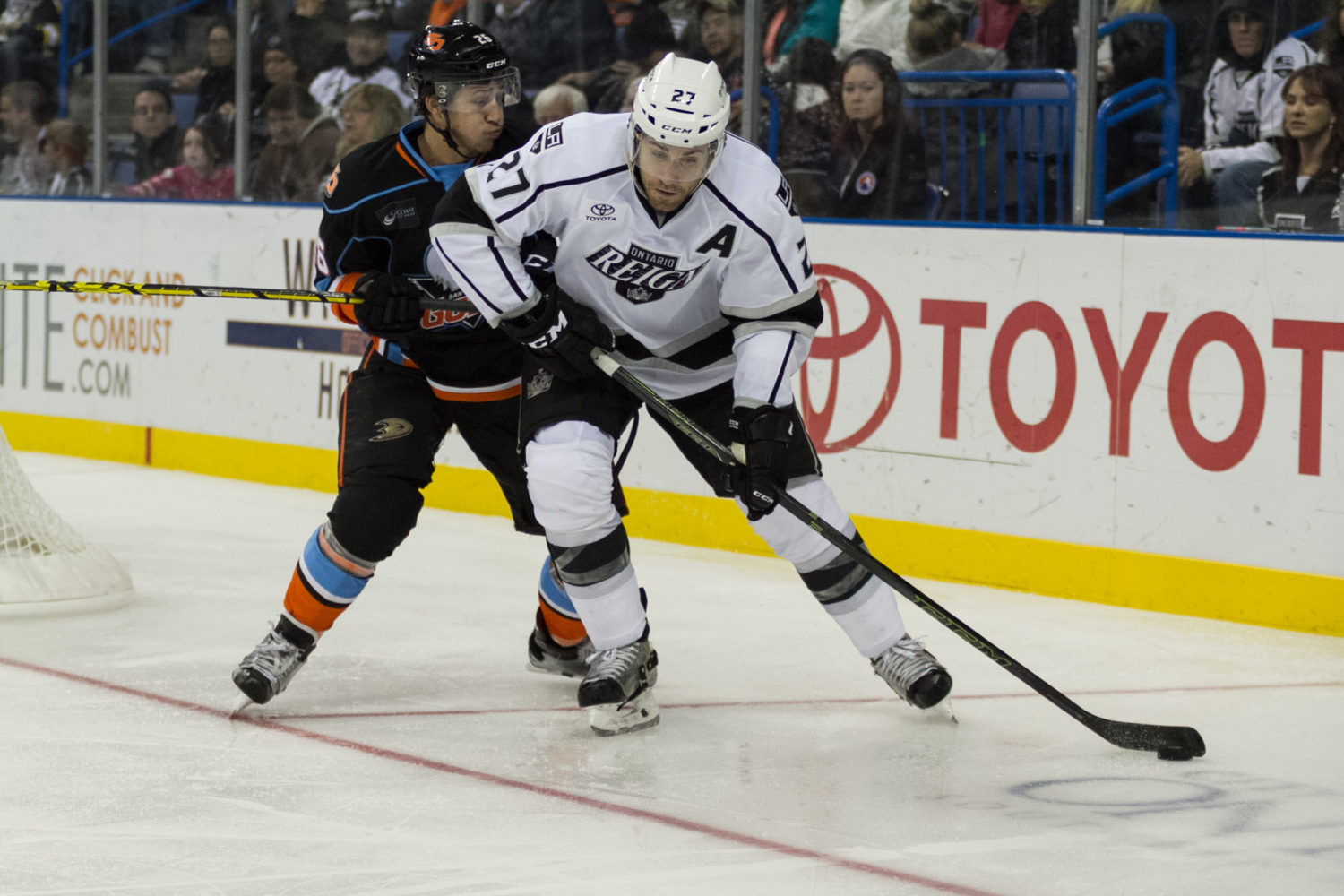 DISCIPLINARY DISTRACTIONS
One area of note addressed by Stothers after Saturday's loss to San Jose was the piling up of minors taken by his team. It's an area that's been magnified in stretches where power play goals against have cost the Reign games, which was the case in a 5-2 loss to San Jose where the Barracuda converted on their first two man advantages.
In an almost backwards compliment directed towards top prospect Adrian Kempe, who took three minor penalties Wednesday vs. Stockton and one more against San Jose, an unprovoked Stothers quipped, "You can't have the best skater in the league take four minors in the last two games."
Stothers followed that comment by addressing related concerns: "So, I would say, lack of discipline, poor decisions. We've got another guy [Kurtis MacDermid with 15] on our team that's leading the league in minors. So, whose fault is that?"
The penalty kill, like the Reign's season, has featured and up and down results. They had a three-game stretch where they were perfect but regardless of PK numbers, the amount of penalties taken has been a thorn in Stothers' side.
LEFTOVERS
More known for his responsible play, faceoff ability and penalty killing, Andrew Crescenzi has five goals through the first 15 games while mostly centering the team's fourth line. … Veteran T.J. Hensick leads the Reign in goals (6) and is tied for the points lead (12) with Jonny Brodzinski (5-7=12). … Michael Latta, a healthy scratch for the first time on Saturday after being handed a game misconduct Wednesday vs. Stockton for fighting off a faceoff, asserted himself against San Diego, playing with quite a bit of edge and fire that he's known for without taking a penalty. He leads the AHL with four major penalties and is fifth in the league with 48 PIMs.