Reign game breakdown
On the back-end of a quick back-to-back the Reign were seeking a bounce-back game but came up short against rival San Diego in a 4-3 loss on Sunday afternoon. Returning to Citizens Business Bank Arena following a 5-2 loss against San Jose the previous day, the Reign had a better effort, but still couldn't shake defensive miscues that ended up in the back of their net. A mostly-solid first period was flipped when San Diego's Chris Wagner turned a neutral zone turnover into a goal on Jack Flinn with just 28 seconds left in the frame. The teams traded goals in the second — a Jonny Brodzinski power play blast, followed by a Kevin Roy redirect that gave the Gulls the lead again after 40 minutes. The Reign's T.J. Hensick buried Kurtis MacDermid rebound into a wide-open net just 1:56 into the third, but breakdowns resulted in goals in quick succession for Antoine Laganiere and Kalle Kossila. Fighting to make a last-ditch push, Vincent LoVerde converted from the point with Flinn pulled in the final minute. Even in the waning seconds the Reign pressed as Michael Mersch took a stretch pass from Sean Backman and got in behind the San Diego defense but as he tried to hit Hensick trailing the play, his pass was swatted away by San Diego.
Best quote
Mersch, on losing back-to-back games: "It was a tough go last night and we were hoping to rebound today. No jam. We've got to get back on the winning track. There's not really any jam right now. I haven't scored in how many games. Trying to go to the net, maybe, hoping one's going to bounce off me. Or I'm going to find one there, something. Just can't seem to get the bounces right now and it's the difference between winning a losing for our team so it's really frustrating for me."
Three stars
–Chris Wagner – Just sent down by the Ducks earlier in the afternoon, the talented Wagner looked like he didn't much belong at the AHL level, wreaking havoc all over the ice and being a pivotal player in the end result. He found the sweet spot just over Flinn's left pad on his first period goal and smartly tipped the puck on to Laganiere, who had a better angle to score, on the goal that put the Gulls up for good.
–Corey Tropp – Riding a six-game point streak coming in, Tropp kept it moving with a two-assist performance. His pass from the corner set up Roy's goal and he factored in again, battling for the puck in the neutral zone on the play that gave Kossila a breakaway.
–Michael Mersch – The drive was definitely there for Mersch, who was around the net all game and assisted on two of his team's three goals. His pass from the goal line was right in LoVerde's wheelhouse for the captain's late one-timer, and on Hensick's goal Mersch's netfront presence allowed MacDermid's shot to go off him and to a wide-open Hensick.
Turning point
A series of breakdowns just 2:46 put the Reign in a 4-2 hole in the third period. Adrian Kempe let up on Laganiere who was hanging around back door and scored into an empty net on a broken play at the 3:46 mark, which deflated the high left from Hensick's early mark. That was followed by a turnover by Brodzinski at the Gulls blue line during a 4-on-4 that sent Kossila in a breakaway in which Brodzinski's former St. Cloud State teammate did not miss. "It ends up being a one-goal game and maybe we shouldn't be holding onto the puck as long as we do on a 4-on-4. Sometimes that's the difference in the game," head coach Mike Stothers said.
Stat fact
–9 – Goals allowed by the Reign on the weekend.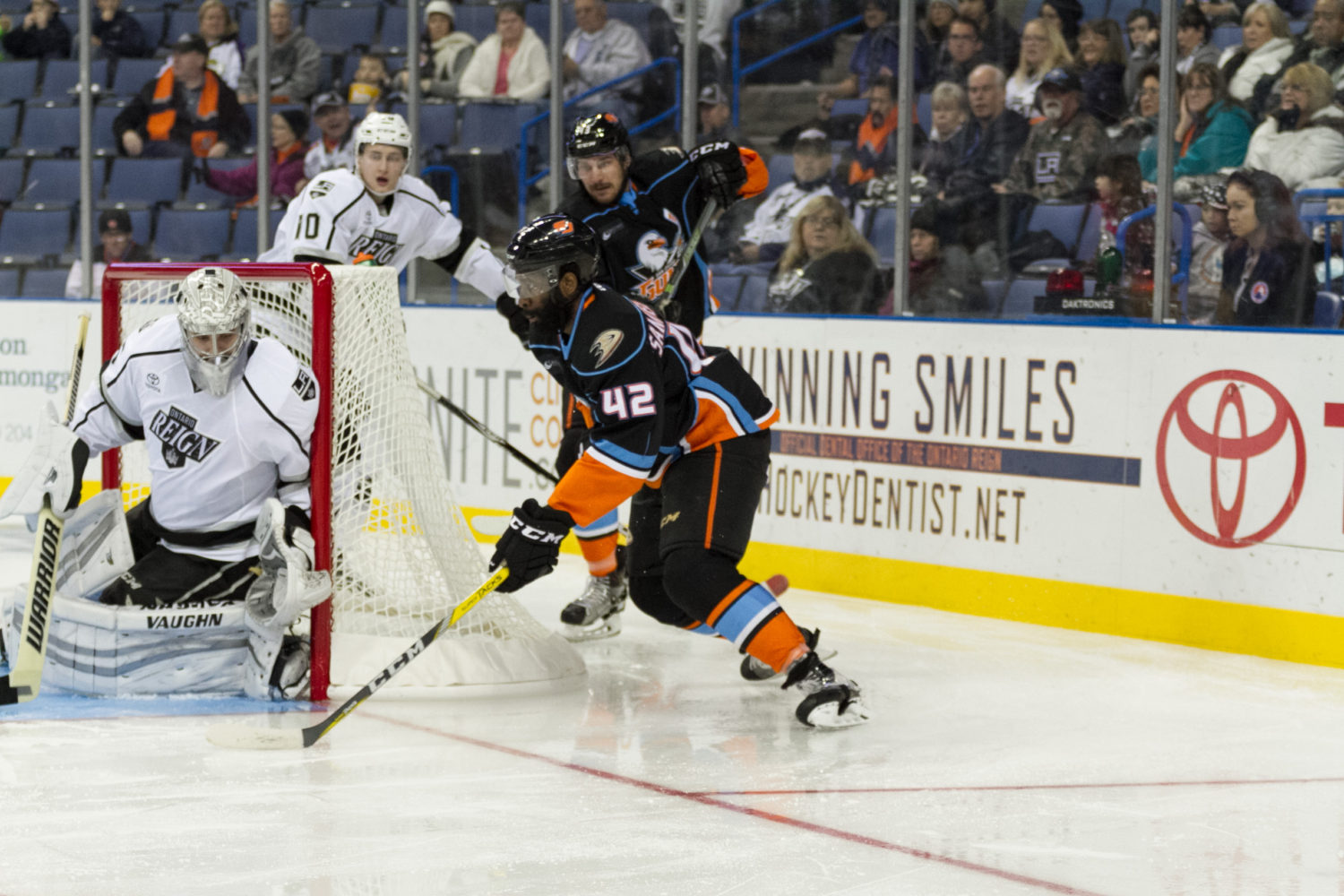 Lineups and injuries
Goalie Jack Campbell watched from the bench and although Stothers didn't use the word injury, he said Campbell "was a little more uncomfortable than any of us knew," referring to him looking like he had some version of a lower-body ailment bugging him late in the second period of Saturday's game. … Defenseman Zach Trotman (upper-body) remains out. … San Diego's Zac Larraza left the game due to an upper-body injury sustained on a hit by Brodzinski in the first period.
This and that off-ice
Dean Lombardi was in attendance and watched the game from the press box.
Next up
Monday is a recovery day for the Reign and they'll get back to work on Tuesday in preps for their Friday-Saturday back-to-back against Tucson and Charlotte.