Reign game breakdown
San Jose scored on its first two power play chances and two-goal performances by Adam Helewka and Tim Heed brought the Reign's four-game point streak to a concerning halt. Michael Mersch used the word "frustrating," three times in his postgame interview, and that was the theme on the ice as well. After going ahead just 1:36 into the game on a goal by Sam Herr, the Reign allowed San Jose to capitalize on the man advantage and chased the rest of the way as the Barracuda scored four straight goals stretching from the end of the first to the middle of the third. Andrew Crescenzi scored in the third period for the Reign's other goal.
Best quote
Head coach Mike Stothers, on the health of goalie Jack Campbell (23 saves on 28 shots) after he possibly looked a little uncomfortable late in the second period: "Well he made it through the game. I don't know. We had a lot of guys that looked uncomfortable. They made me uncomfortable. When you're a goalie and you're looking at the breakdowns that we had in front of ya, you'd probably be a little uncomfortable too."
Three stars
–Tim Heed – The San Jose defenseman scored his team's first power play goal by patiently moving around a sliding Mersch before sending a laser through traffic that beat Campbell cross-bar down that made it 1-1 at 13:25 of the first. The Barracuda scored every which way in this one, exhibited by Heed's ability to get in on a rush and tip a Daniel O'Regan shot in the first nine minutes of the third that gave his team a 4-1 lead.
–Adam Helewka – Helewka netted the other power play marker as he quickly buried a rebound after a kick save by Campbell went right to him unattended in the slot just 1:48 into the second. That power play was a result of a puck-over-glass delay of game call against Rob Scuderi. On Helewka's second goal the Barracuda seemed like they were taking part in a fun practice. Helewka took a short pass from Rourke Chartier, who was sliding on his knees after being hauled down by Zac Leslie, and flipped it over Campbell with 2:14 left in regulation.
–Sam Herr – The Reign forward, who's been battling for a spot in the lineup, scored on the game's first shot on goal, the beneficiary of a keep-in by Sean Backman that went off the end boards. Herr was first to the puck and beat San Jose goalie Mantas Armalis blocker side. Herr's line with Backman and Adrian Kempe had some of the Reign's better chances – including a nice deke in close by Kempe, who just couldn't finish, in the second period. The left winger Herr finished with a team-high five shots on goal.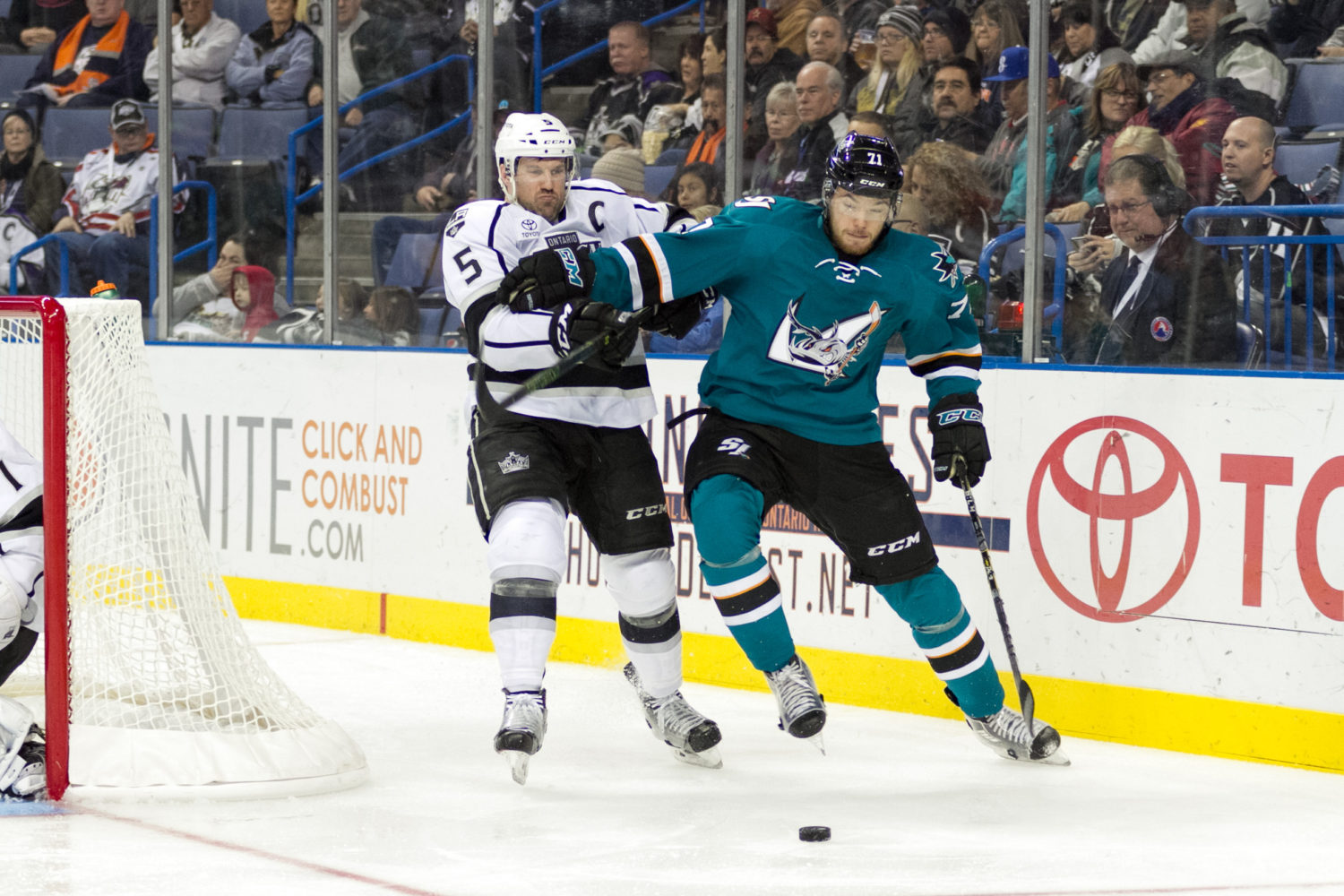 Turning point
In the middle of the second period the Reign failed to generate any scoring chances on their one and only power play of the game. That was followed by San Jose scoring just 35 seconds after that man advantage expired to take a 3-1 lead. Campbell made an extended left pad save on Timo Meier, who had crept behind the defense, but Daniel O'Regan beat everyone in white jerseys to the rebound.
Stat fact
–15 – Minor penalties for Kurtis MacDermid, which leads the AHL. He took slashing penalty out of frustration in the third period.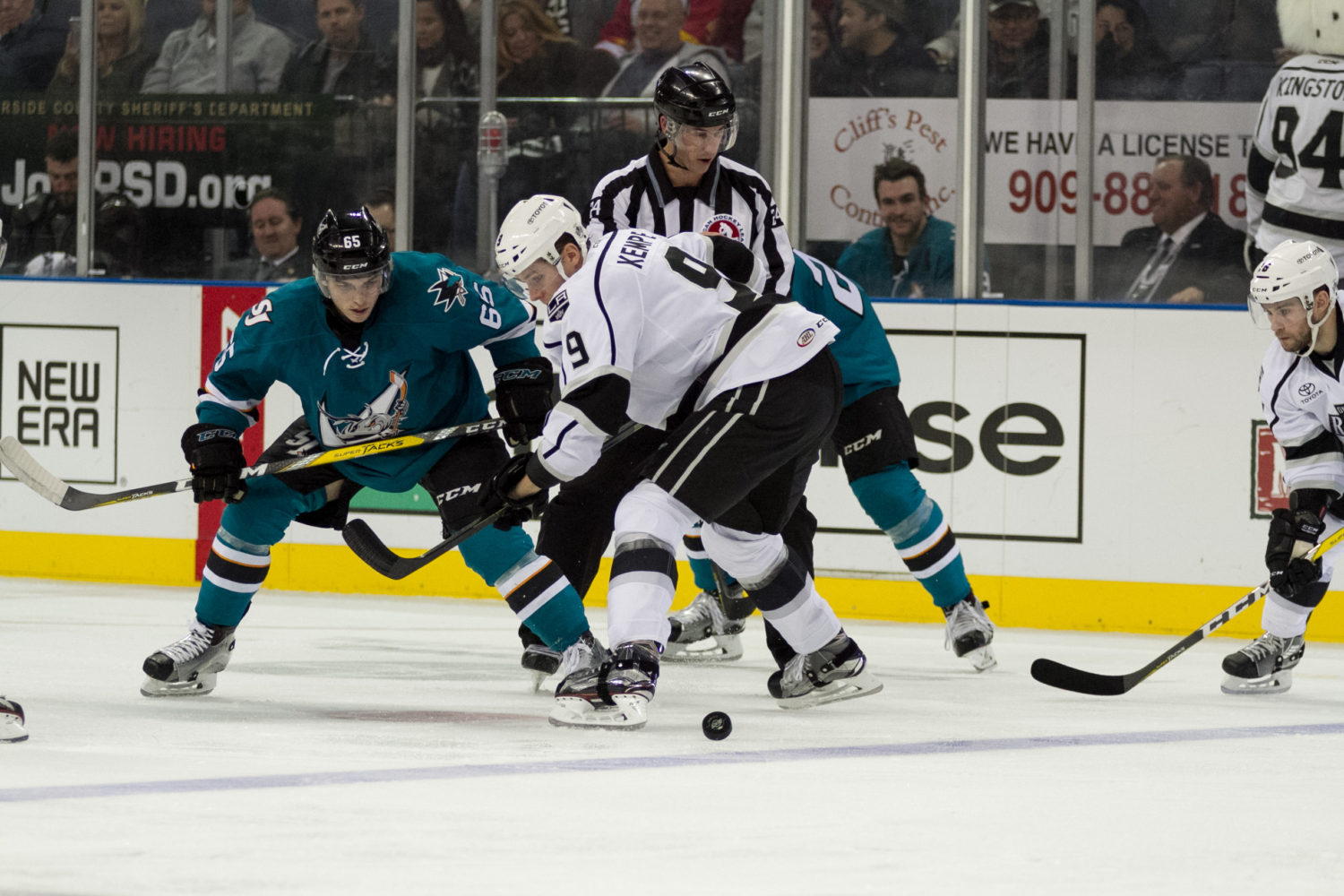 Lineups and injuries
The veteran Rob Scuderi appeared in his second game of the season and first in Ontario. … Defenseman Zach Trotman (upper-body) remains out. … Forward Michael Latta was a healthy scratch for the first time, a game after he was served a game misconduct for fighting after a puck drop.
This and that off-ice
San Jose traveled overnight after a home victory on Friday and didn't get to Ontario until the wee hours of Saturday morning. Those facts, combined with the details-less loss, resulted in this comment from Stothers: "That was a team that played at home last night and had a bus ride here [last night], got in about 3:30, 4 o'clock in the morning. And all's we could muster was one power play. Tells you right there we weren't moving our feet very well, were we?"
Next up
The Reign go right back to work for a Sunday 3 p.m. PT start against San Diego, which won in overtime on the road against Bakersfield on Saturday night.