With a pair of early-to-mid 20-somethings in Derek Forbort and Kevin Gravel currently earning regular minutes, and the departures of Rob Scuderi, Luke Schenn and Jamie McBain, the Los Angeles Kings' defense is a touch younger than in previous seasons.
Gravel's minutes are somewhat more sheltered at home, but with Brayden McNabb's injury, Derek Forbort has stepped into a very visible role alongside Drew Doughty and has performed admirably. With one goal, five points and a plus-one rating in 16:07 of average playing time, he has – despite a few hiccups and a sub-50% Corsi-for rating – posted an encouraging start to the season as his minutes have risen.
There appears to be a good confidence in his game, though Darryl Sutter wasn't particularly inclined to talk about individual players or rookies at Thursday's morning skate. He did, though, share that he was really happy with the all of the defensemen, saying, "I mean, we have a really good young defense. If we put (injured defenseman Brayden) McNabb in our defense, I'd take those six and do it for 10 years. It's pretty good."
Asked on Friday to expand on that, he shared some interesting sentiments.
"Mobility is nine-tenths of that. It's the way it works now," he said. "You've got to be mobile going back for the puck and mobile enough to make a play, and you've got to have the courage and the composure to do that. We've seen times where Forbs and Kevin have trouble with that – the composure or making the right play – but that's what we're going to go through here. That's part of putting them in the lineup, and two rookies in the lineup on defense is not a normal thing to do. It's usually one, but we're putting two in, and we're going to run with it."
While Gravel and Forbort will take their occasional lumps as they learn to adjust to a pace that's raised above the AHL level, both are very strong skaters and have a skill set that should be very malleable for John Stevens and the rest of the coaching staff to work with.
One defensive tenet of playing under Darryl Sutter is to transfer the puck into the hands of the forwards as quickly and precisely as possible, and with a unit that has shown improvements in its mobility, retrievals and first passes have the potential to be more fluidly facilitated.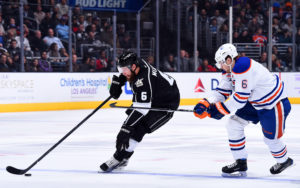 "It favors us skating out of trouble, skating with the puck and stuff like that," Jake Muzzin said. "…When you have mobile guys and you can skate it opens up more plays. We can still be faster in our zone getting the puck to the wingers and to our center. I guess getting back to pucks quicker allows you an extra second to maybe make a better play to the middle if we can, or a little deception play."
Drew Doughty, on whether this year's defense is more mobile than years past:
I don't know, I'm trying to think who we had last year. I don't know maybe a little bit like we have two young guys obviously in Forbs and Gravs who are good players but for the most part they're both kind of stay at home guys, not stay at home but they're not much of offensive guys. Even though Forbs has showed it lately. Yeah I guess we're a little more mobile. I think we can be better defensively as a group and besides that I think we've been pretty good.
Doughty, on whether the core defensive style has changed at all:
No, we're trying to do the same things. Just play hard defensively, be good on the PK. We're always thinking good defense first and then be the fourth guy on attack or get some shots through from the point, that's what we're looking to do. I think for the most part we've done a pretty good job of that.
Doughty, on whether Forbort's performance Thursday was good for his confidence:
I think the last week has been good for his confidence. I think yesterday was the first time he's been on for a goal against in seven games or something and that's including penalty kill too so he's been playing really well.
Doughty, on Forbort's ceiling as a stay-at-home defenseman:
Yeah, he has some good offensive abilities too, but for the most part he's a good puck mover, plays hard in the D-zone, but no he can be a very good player for us. You can see how much he's improved in such little time here in the NHL and I think he's just going to keep getting better and he could be one of our top guys going down the road.