The Reign's roster is now rounding out as a result of the Kings finalizing their opening night 23-man squad.
Back in Ontario, as widely noted yesterday, are the Kings' final cuts – forwards Michael Mersch, Adrian Kempe and defensemen Kevin Gravel, Kurtis MacDermid and Paul LaDue.
"Looking forward to having our group together for tomorrow's practice," Stothers said on Tuesday afternoon. "On paper it looks like we have good balance, and the elements need to compete in a talented division and conference. Everyone performed well in training camp regardless of when they joined us. The most recent of those joining us are so, so close to fulfilling a dream. Good for them. We better get what we can out of them because they may not be here long."
Also, defenseman Rob Scuderi and forward Michael Latta have been assigned to Ontario after clearing waivers. Of note, Nic Dowd and Derek Forbort made the Kings' opening roster.
Per AHL rules there's really no limits to the number of players a team can roster but there is a veteran rule for game days.
Of the 18 skaters (not counting two goaltenders) that teams may dress for a game, at least 13 must be qualified as "development players." Of those 13, 12 must have played in 260 or fewer professional games (including AHL, NHL and European elite leagues), and one must have played in 320 or fewer professional games. All calculations for development status are based on regular-season totals as of the start of the season.
The Reign have six such veterans (not including goalies) in Paul Bissonnette, Brett Sutter, T.J. Hensick, Sean Backman, Scuderi and Latta. Vincent LoVerde (240 pro games) and Zach Trotman (217) fly just under the limit.
Forward Justin Gutierrez was loaned to the Manchester Monarchs on Wednesday morning and goalie Thomas McCollum was released from his tryout agreement on Tuesday. With McCullom's departure the Reign now have Peter Budaj and Jack Campbell as its two goalies to start the season. Injured players Zac Leslie (lower-body) and Spencer Watson (wrist) are not rostered.
The Reign open their season in San Diego on Saturday night at 7 p.m.
Here's the latest roster as of today: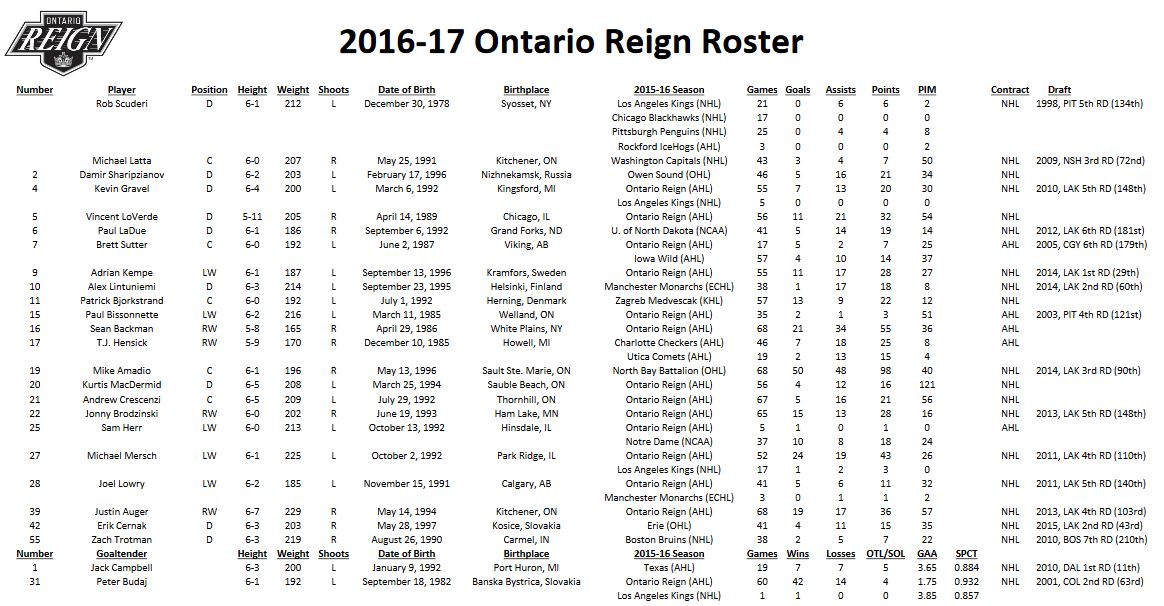 MORE COVERAGE
The Reign did not practice on Tuesday, something that Stothers said was decided upon prior to Monday's lopsided 4-1 loss to the Gulls in the team's final preseason contest. As a result, Joey Zakrewski and I postponed the new video "Reign Report" until next Tuesday. You'll be able to check that out every Tuesday right here and on OntarioReign.com as well. We're both looking forward to giving you extended coverage in Year 2 in Ontario.