It's not necessarily easy for Brett Sutter to answer questions about playing for his father, Darryl.
Wherever he's played, he's been just another one of the guys, an honest, hardworking two-way player, an effective forechecker. At any of his major junior or American Hockey League stops, or with the Calgary Flames, or Carolina Hurricanes, or Minnesota Wild, he's been evaluated not by the name on the back of his jersey, but because of what he has done to help the emblem on the front.
So, when presented with the opportunity to suit up for the Kings – as he did in Monday's exhibition win over the Arizona Coyotes at Staples Center – he wasn't emotional, nor did he pause during the game and reflect on the experience of playing for his father for the first time since he was in fourth grade.
"You know, I think the thing that makes it unique and cool is that there aren't any of those moments," Brett Sutter said. "When I get to the rink, he's giving me [grief] just like he is the other 40 guys here, and treating me just like every other player, and I think that's kind of the coolest part. There's that separation of when you leave the rink we're family, but when you get here, it's time to go to work, and I think that's the part I respect the most about the whole thing. And the way the guys have treated the situation right from day one last year – I think that's been the coolest thing. It's been all business once we're at the rink, and the name on the back hasn't mattered for them, or for me, or for Darryl, so it's been nice."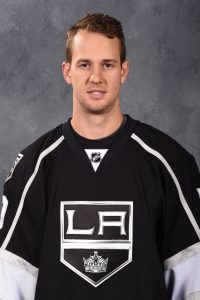 The younger Sutter – the eighth member of his family to play in the NHL – isn't a realistic candidate to make the Kings out of training camp. He re-signed with the Ontario Reign on an AHL contract after joining the L.A. organization at the trading deadline last season in exchange for Scott Sabourin. The now-29-year-old thrived in a versatile role that included penalty killing and served as a secondary scorer before his playoff campaign ended prematurely when he suffered a fractured pelvis, an injury he attempted to play through.
He spoke with Reign Insider Lindsay Czarnecki at the time about how the trade allowed him the type of work-family balance that not all professional athletes are afforded, saying, "it was the first time in my career that [I] was able to spend an off day with family or just drive down and have a dinner with the family."
But upon arriving for a physical and opening training camp with the Kings, he was in town to compete and play hockey. Against the Coyotes in the team's preseason opener, Sutter scored the game-winning goal in the 4-3 win and added an assist while winning half of his 10 faceoffs and logging over a minute of shorthanded play amidst 13:14 of ice time.
"Once the game started, it's down to business, and he's the coach and you're the player, and you're out there to do a job, and so is he," Brett Sutter said. "I think the idea of it, after it being so long – coming to camp and having him coaching, and being around him, it was a pretty cool experience, but at the same time, once we got here it was kind of down to business. It's been kind of a non-issue. It's been cool being around the family and getting to see Chris around the locker room and stuff like that, but as far as him coaching, it's kind of been more of a non-factor than I thought."
And though Brett was in elementary school the last time his father stood behind his bench in a competitive game, it's not as if there has been any dearth of experiences shared at a hockey rink between the two.
Far from it.
"You know, we've been in the same dressing room his whole life," Darryl Sutter said. "He's a pretty reliable guy. You don't have to say much – his work ethic and his commitment and all those things. It's good for the organization to have players like that, and for myself, hey, I've been at it a long time. I've played against my brothers, coached my brothers, coached against my nephews, coached against my son, coached my son. You can pretty much go do down the line. It's unique."
It's unique, and at times it isn't easy. Brett referred to the game between the Kings and Hurricanes in Raleigh in October, 2013, in which he lined up against his father's team, as an abnormally challenging moment in his career.
"That was actually, I thought, harder than this was," Brett Sutter said. "For whatever reason, it had been so long since our careers have crossed paths, and going against your dad and all that, I guess it's a little different. This time it wasn't much of an adjustment. Last year after the trade I wasn't sure what it was going to be like being in the same organization again, but it's been a non-factor, and the guys have treated it just like anything else. It's been good."
Brett Sutter wasn't among the group that traveled with Darryl to Denver and will continue on to Vernon, B.C. for exhibition games against the Avalanche and Oilers. Instead, he'll continue to practice at Toyota Sports Center and is a candidate to play against the Ducks this Sunday in Anaheim.
From there, whether he joins Ontario's camp or continues with the Kings on to Frozen Fury, he'll continue to give the same effort and play the same structured style of hockey that has helped those bound by the logo on the front of the jersey while continuing to pay homage to the name on the back.
"First and foremost, I think [the Kings and Reign's] systems are great for players like me – honest guys who just want to work hard and do whatever they can for the team," he said. "They're hard on the forecheck, something I enjoy doing, and you have to be responsible defensively, so I think it fits my game well. The coaches obviously in Ontario have been great for me. They got me adjusted pretty quick last year, and it helped me be successful. I'm excited to have a full season here, and … just do whatever I can for the team and help the team win in anyway I can, really."