In an effort to fill up what became a sudden goaltending depth hole a season ago, the Kings welcomed home a former prospect over the summer and took a chance on a once-promising prospect.
Jeff Zatkoff never played in a meaningful game in a Kings sweater despite being in the organization's pipeline for nearly five years. He couldn't have guessed that in this roundabout way he'd get the chance to be back in L.A.
"It's exciting for me," Zatkoff said after the third day of Kings camp on Saturday. "You leave, you don't think that you're probably going to end back up in that organization. I went to Pittsburgh and they gave me an opportunity to play and then just kind of the way that things shaked out I had an opportunity to come back. I was excited. Just a chance to work with Billy [Ranford] again.
"I know a lot of guys in this room so it makes the transition a little easier, but definitely being able to work with someone that you feel is a big part of the reason you are in the NHL. To be able to come back and work with him really was a huge selling point for me."
It's been 10 years since Zatkoff was drafted with the 74th pick by the Kings and in ways this homecoming will allow him to repay the organization that originally believed in his abilities.
Once he knew the Kings were interested in signing him during free agency he knew, "this is where I wanted to come back and be."
"I spent four years here before in the minors and they invested a lot of time in me and they're a big reason why I'm here [in the NHL] today," he said. "Obviously I cracked the NHL with a different organization and they helped me along the way, but to be able to come back it's a little nostalgic to be able to put that sweater on, kind of back where it started and being able to do it with [Alec] Martinez – we were college roommates – just a lot of these guys."
In Zatkoff, a 2016 Stanley Cup champ with the Penguins, the Kings have an experienced back-up who is expected to play behind Jonathan Quick.
The light workload that Quick back-ups notoriously face is not lost of Zatkoff, but his early remarks from camp would indicate that he carries the right frame of mind to accept it.
"I think you know the situation when you come to L.A. You want to play as much as you can but at the same time you're playing behind arguably the best goalie in the league, one of 'em. That's part of the job here," said Zatkoff, who appeared in 14 games last season with the Penguins.
"You've got to be able to go in there and play when you're called upon, whether it be 15 games, 10 games, 20 games, just depending on the circumstance and be able to provide that leadership in the locker room, be a good teammate and then be ready to go when your number's called, get some points for the team and win. So it's kind of two-fold. I knew that that's the situation coming in. Obviously I want to play a lot but I know the situation, I know my role here. I just want to do my job."
The next chapter
Zatkoff recalls the times when the Kings' goaltending talents were abundant: "When I was here there was a lot of great goalies: Quickie, Bernie, Jonesy, a lot of guys." Besides Quick, those names are gone. Jonathan Bernier and Martin Jones were moved and a season ago the Kings lost J-F Berube to waivers and then suspended top prospect Patrick Bartosak following his reported domestic-violence related arrest while on assignment in Manchester.
Those combined scenarios left the Kings' goaltending depth completely depleted.
While Zatkoff provides stability up top in Los Angeles, the organization made another move to build on already solid goaltending in Ontario. Over the summer the Kings took a chance on former first-round pick Jack Campbell, acquiring him in a trade with Dallas for defenseman Nick Ebert.
Campbell, 24, will likely be fighting for time in net with veteran Peter Budaj with the Reign.
"It's just a new opportunity so I'm really excited about that," Campbell said. "The coaches here, the players and the organization, I've already seen a big improvement and it's only a couple days. I'm really, really excited to get going."
Campbell was drafted 11th overall by the Stars in 2010 but has yet to see his talents translate into success in the pro game. A season ago he was sent down by the Texas Stars to ECHL-Idaho.
"It's tough," he said. "Obviously that's not where I should be playing, in the East Coast League. I tried to make that clear but it was an up and down season. Just tried to go down to the Coast and play the best I could to show them my ability and just tried to help the team win there and then getting called back up it was good but I'm just excited. [I] look forward to being with L.A. and to try and help whatever team I play for win."
The Reign were successful in riding the top game of Budaj, who won the AHL's top goalie award in his first season with the team, but they never had a viable backup option that the organization as a whole had invested in. That should change with the addition of Campbell.
"I think the expectations are pretty clear just as far as they win there and that's what I like," Campbell said. "Obviously playing those guys the last couple years they have a great team and just really, really happy to join it."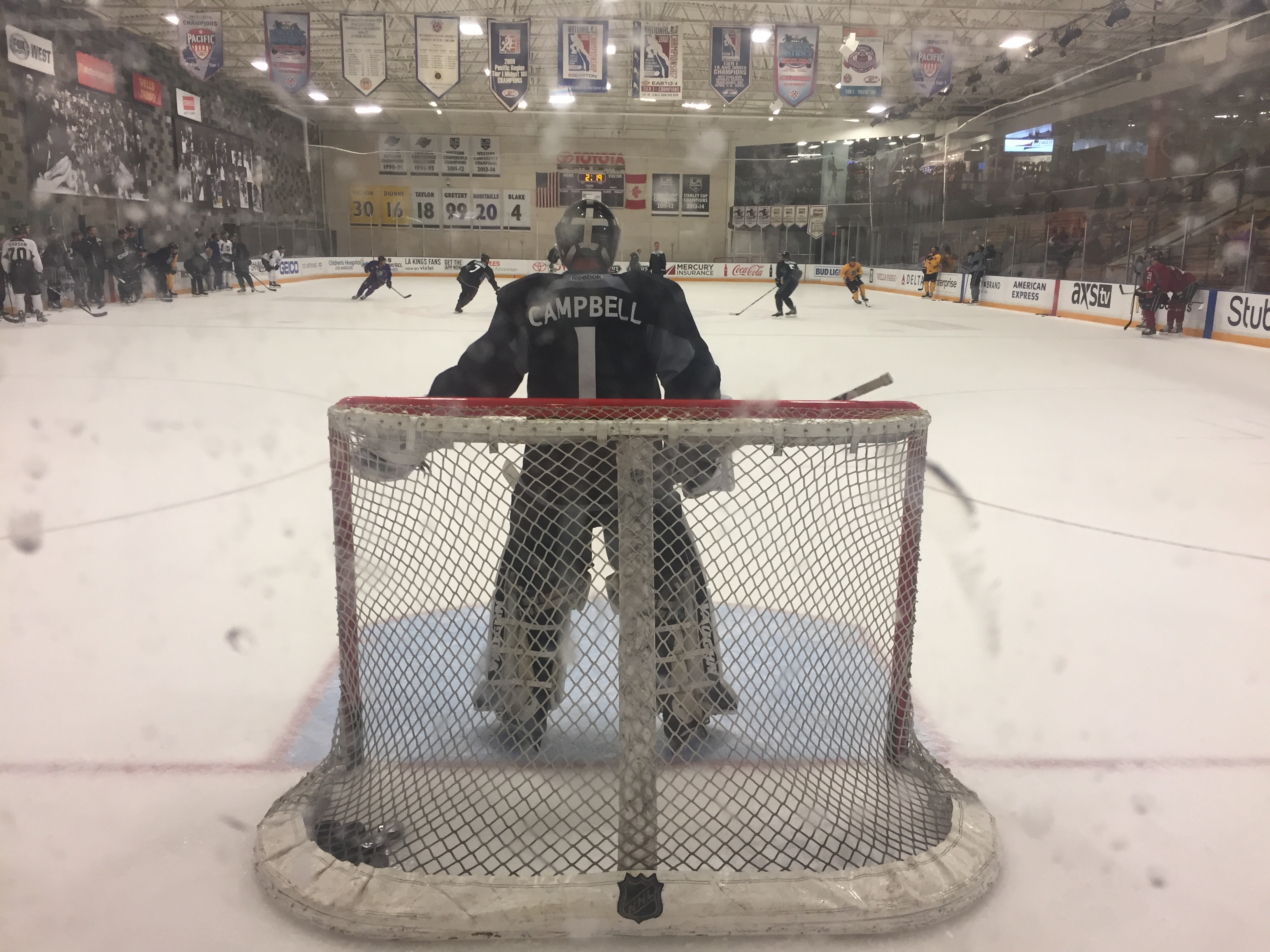 Zatkoff, on when he will get his Stanley Cup ring:
The ceremonies are October 14th or 15th but I'm not going to it, it's in Pittsburgh. I don't know. I haven't heard any details. I don't know if they'll mail it or wait till we go there or they come out here. So we'll play it by ear. But yeah, I don't think anyone's seen it or anything. They'll unveil it in the beginning of October. It's exciting, but new season. … I don't know if any can match the rings L.A. has, that second one is huge.
Zatkoff, on joining another successful organization:
It's nice to be able to leave a team in the East – we just won – to go to a team where you think you can win it again, one of the best teams in the West and a first-class organization.
Zatkoff, on when he heard that he was being signed by L.A.:
I was home in North Carolina, obviously July 1 so you're kind of waiting to shake out. I had an idea they had interest and a few other teams. At the end of the day this is where I wanted to be. I was just happy that we were able to make it work out on both ends. I was excited. From the beginning of free agency I told my agent that … when I had an idea there'd be interest this is where I wanted to come back and be. It's nice to be able to leave a team in the East – we just won – to go to a team where you think you can win it again, one of the best teams in the West and a first-class organization.
Campbell, on what he remembers about facing the Kings' AHL affiliate in the past:
I just remember they play really great defensive hockey. That's exciting for me, personally. And then obviously they have a lot of great talent so they put the puck in the net, too. Well-coached and just great, great personnel as far as the team so I'm just really excited to join them.
Campbell, on his first impressions:
It's only been a couple days but they've already made some great points and I feel like there's already been some nice changes to my game that will benefit me the whole season.