JEFF CARTER
This season: 77 games, 24 goals, 38 assists, 62 points, 20 penalty minutes, +18 rating, -0.6 CF%Rel, 18:23 time on ice
The good: Jeff Carter is more or less the same reliable, low-maintenance pro who just keeps humming along and excelling in many facets of the game, both on the ice and in the professional model that he sets to younger players off of it. It took him five fewer games to accrue the same amount of points as the season prior, though with only nine five-on-five goals and four power play goals, his scoring was much more dispersed than in previous years. In the end, he turned in another consistent campaign, leading all Kings with on-ice rates of 35.1 SF60 and 2.41 GF60 in five-on-five play. With six more game-winning goals, he has been credited with 25 in 295 games as a King and has engineered seasons of 26 goals (in 48 games!), 27 goals, 28 goals and 24 goals in his four fulli-ish seasons in Los Angeles. Due in part to his extraordinary conditioning regimen, he's a player who plays through pain and discomfort, not only evidenced by his play in the second half of the most recent season, but by a streak of 174 consecutive games played that ended when he didn't dress in Vancouver on December 28. Given his gentlemanly play – he recorded only 20 penalty minutes off of 10 minor penalties in 77 games – and his on-ice conduct, it's actually a surprise he hasn't drawn more consideration for the Lady Byng Trophy. He's an all-situational and last minute-type player who averaged 1:39 per game while shorthanded, 2:17 per game on the power play and was a top choice of Darryl Sutter's to open the new overtime session, in which he scored three times. He's also versatile and saw logged some shifts at wing this season but remains a highly effective, detail-oriented center behind Anze Kopitar who is as equipped as virtually anyone in the league to fire off a hard, accurate wristshot off the rush. Darryl Sutter likes his groups of twos in the team's forward groups, and Carter certainly contributed with quality play in the 665-plus minutes he spent alongside Tyler Toffoli as the team compiled a 2.54 GF60 and 1.71 GA60 when they were on the ice together, along with a 59.2% Corsi-for. "He's been an important player for us because he plays lots of situations," Sutter said in November. "We've certainly put him in more of a faceoff situation than we have. If there's any area at all that he hasn't been consistent in, it would be faceoffs. Other than that, he's been close to a dominant player. … He's such an important part of our special teams now." Carter scored the 300th goal of his career in March.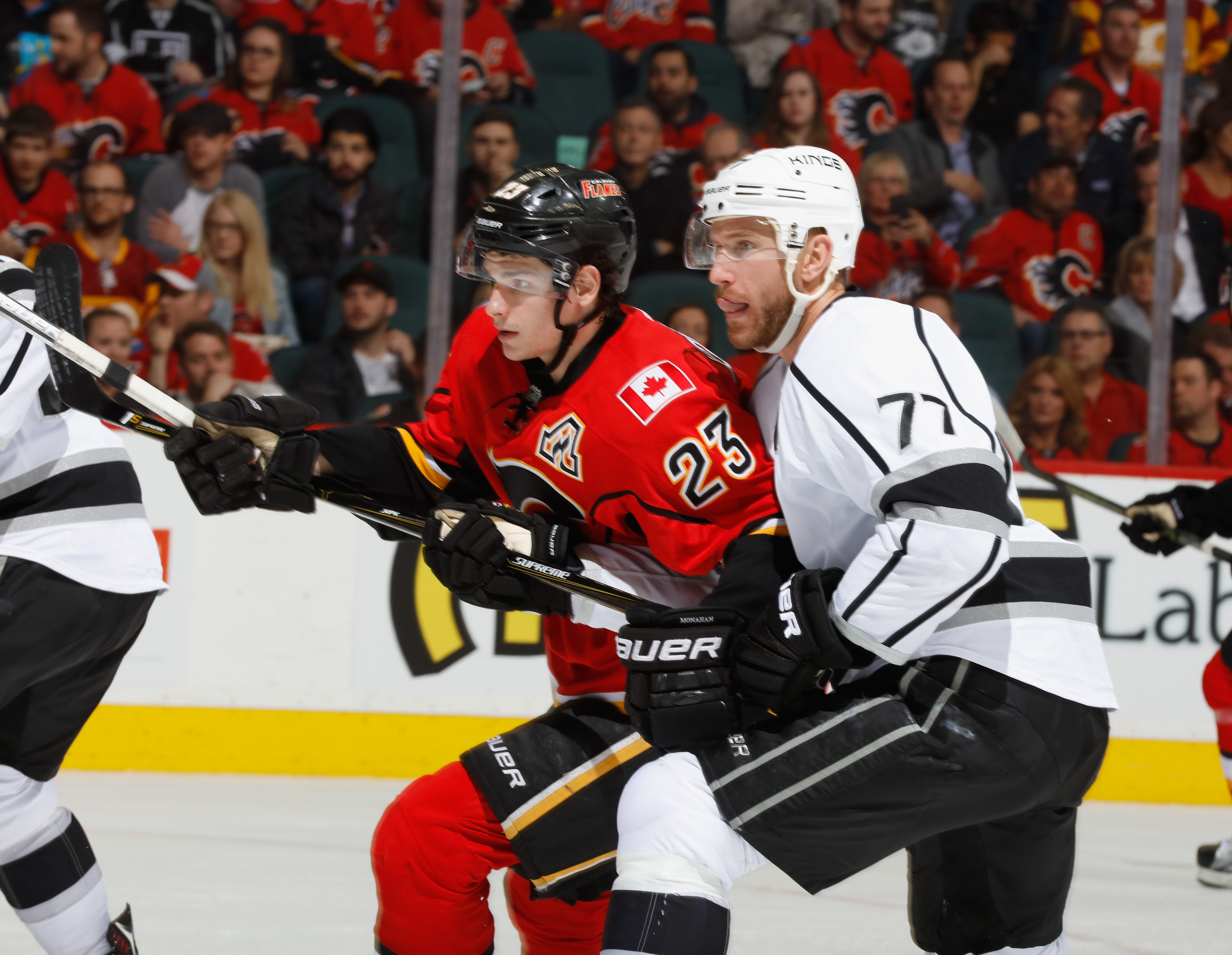 The bad: While short of becoming "red flags," there may be some facets of Carter's game to monitor this coming season. He was deployed in the offensive zone to a greater degree than any previous season on record at Stats.HockeyAnalysis.com, yet saw his CF%Rel drop from +1.82 to -0.6% as his shooting percentage fell from 12.8% to 9.9% in all situations and from 9.5% to 5.3% in five-on-five play. Any displacement in his trajectory can be traced to the opening faceoff on December 26, when Carter suffered an upper-body injury against Arizona and subsequently missed six games. Post-season reconnaissance indicated that Carter didn't deal with any significant injury in the second half of the season, though he certainly wasn't 100% as his production dipped marginally from .84 points per game prior to his injury to .79 in the 43 games that followed. For as strong as his defensive acumen is, and considering his offensive zone slant, it's bizarre that his SA60 was 28.6, the highest out of anyone who played regularly in the top two lines and the third highest among team forwards. His faceoff rate fell nearly four percent to 48.7%, lowest among those who earned a moderate amount of time at center other than Trevor Lewis. Though his upper-body injury contributed somewhat, so did extra reliance on Carter at the faceoff dot (as opposed to taking strong-side draws, as had marked his earlier Los Angeles tenure at center). There seem to be annual concerns over production streakiness, and this season was no different, as he recorded two goals over a 21-game stretch from late January to early March, and only one power play goal from February 11 onward.
Going forward: Jeff Carter has been so reliable in such a wide variety of situations and is so well conditioned through his in and off-season work that it's easy to imagine him remaining productive well into his 30's despite a warning sign or two listed above. There is good value to the team with a $5.272M cap hit, so the question becomes: how close are we to feeling nervous about the term of his contract? Carter is signed for another six seasons, so it's imperative that he maintains his level of production for the foreseeable future. He hasn't shown any deviation in his primary statistics, so it's likely that last some of last year's skewed zone starts, shifts back to the wing and decreased shooting percentage are simply anomalies, and a winter drought to getting hurt in Arizona. He's still Jeff Carter and should serve in the same variety of roles, so expect him to score somewhere between 20 and 25 goals and record somewhere between 55 and 65 points in the coming season.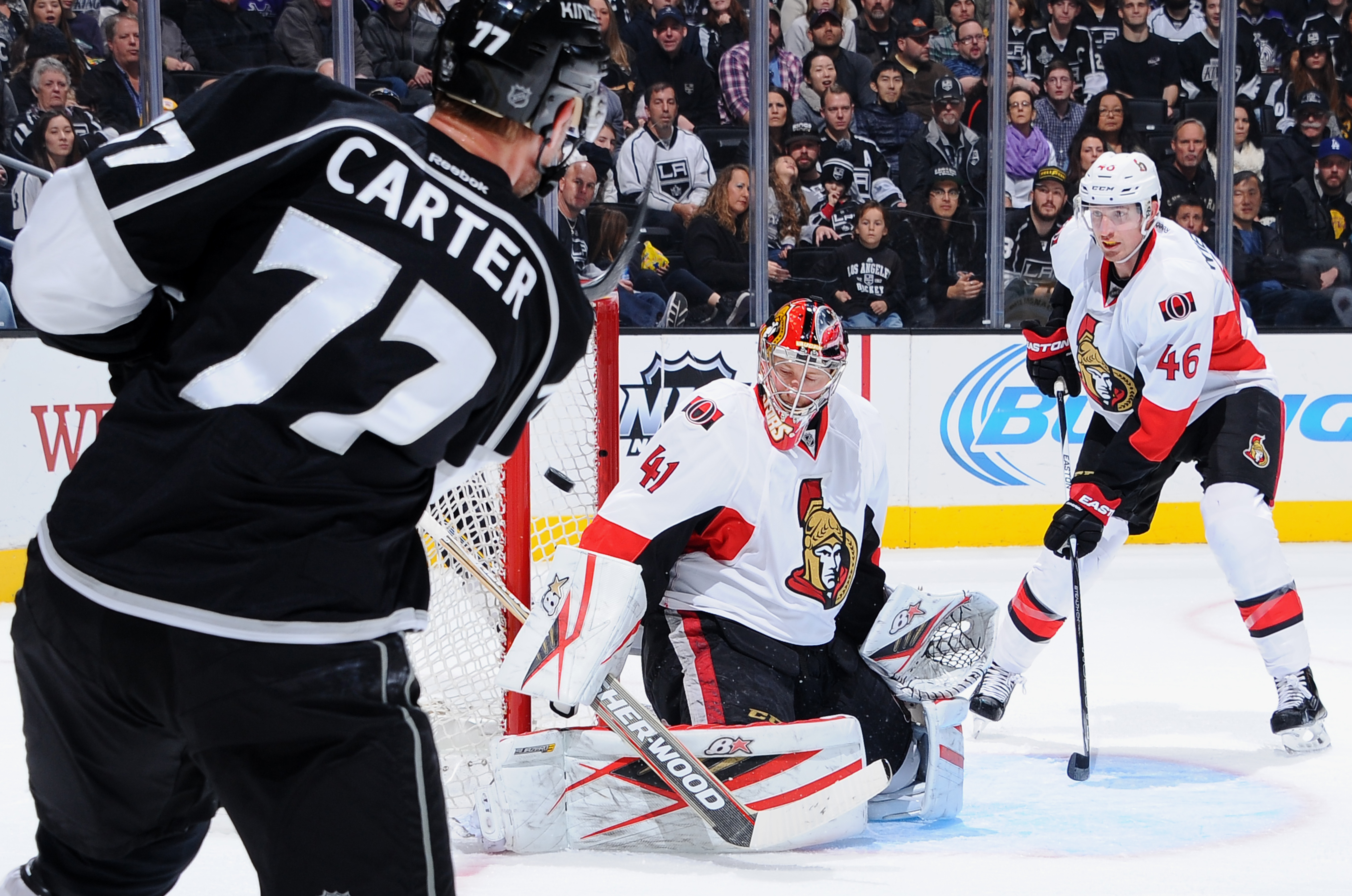 Player evaluations: ANDREOFF | BROWN | CARTER | CLIFFORD | DOUGHTY | ENROTH | KING | KOPITAR | LECAVALIER | LEWIS | LUCIC | MARTINEZ | McNABB | MUZZIN | PEARSON | QUICK | SCHENN | SHORE | TOFFOLI | THE OTHERS
Carter evaluations: 2015 | 2014 | 2013 | 2012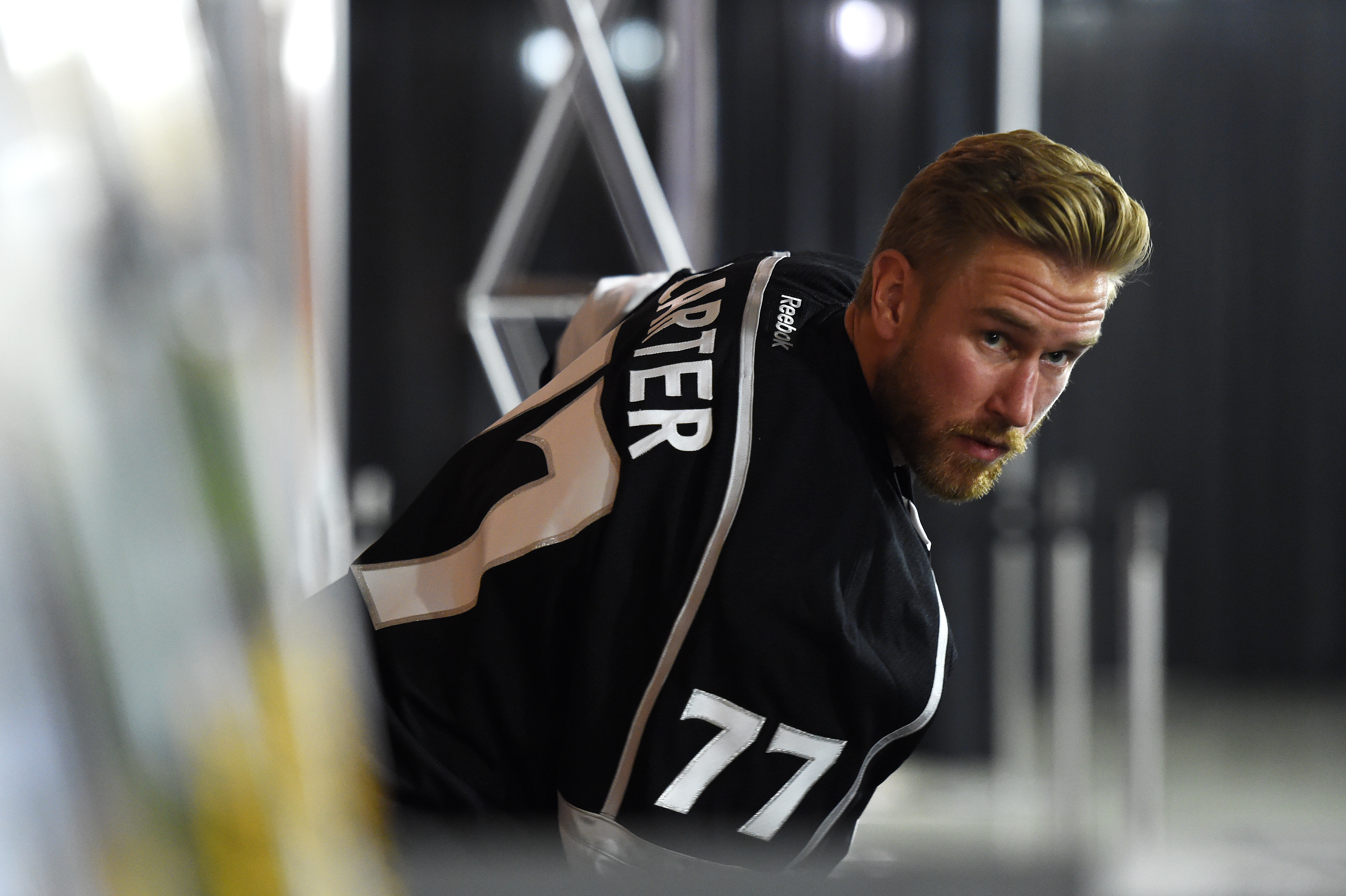 Advanced stats via Stats.HockeyAnalysis.com