Some tidbits from today's 10 a.m. practice from Citizens Business Bank Arena
–Just two days away from their home opener on Friday night against Bakersfield, standing with a 3-0-0-0 record during their road swing, the Reign got back on the ice today after an off day on Tuesday for the LA Kings/Ontario Reign golf event in the City of Industry. Head coach Mike Stothers: "With the way the schedule was and yesterday being an off-day with a golfing event, you kind of knew it wasn't going to be a good day for an actual thinking practice, it was more of, 'OK, let's get them going, let's get them moving and tomorrow we'll get a little more specific in some systems stuff that involves them actually using their thought process. "
–Paul Bissonnette did not practice and "might" tomorrow, according to Stothers. Stothers: "He needed a maintenance day. He goes hard for a guy that gets two minutes a game (laughs). It's hard to keep that body going in the right direction there. He picked up an injury in Game 2 in Winnipeg and he's close. He might even skate tomorrow, we'll see. I think he's highly doubtful for – seeing how today is Wednesday and we play Friday – I'd say he's highly doubtful for this weekend, which probably everyone is looking forward to seeing Biss."
–Goalie Patrik Bartosak (hand) remains out as expected for likely another two weeks, but Stothers gave a semi-update on his health: Stothers: "His progress has been good. I believe he's on schedule. We've had no setbacks, it's just time and you can't rush time. It's coming along. … I lose track of time, it seems like it's been forever already. I think the fact that we don't play a whole lot here at the start, in the grand scheme of things Barto's not going to lose that many games so that's a good thing. Our schedule is very friendly and permitting at this time for Barto anyway."
–Lots of fast-paced flow drills, getting the defenseman involved in the play a bit more and it all wrapped up with players working on individual skills. Stothers: "There were some things we were working on today in the drills that we did in the fact that we want to continue to encourage our defensemen to be a part of the attack. We want to be getting our D up the ice and being involved and not necessarily just having a three-man attack, four-man attack. So some of those drills were designed to do that. Some of the drills we did today were designed because we've got some guys playing out of position. We've got a lot of wingers – which you'll see Friday night – we've got right-handed shots playing left wing, left-handed shots playing right wing, so today's practice was kind of designed to get them a little more familiar with the touches that they're gonna have and how they're gonna handle passes."
–Fun seeing 5-foot-8 Sean Backman out there working on slap shots from the point in a sea of black jerseys (defensemen), with Vincent LoVerde dishing out passes from the corner toward the tail end of practice.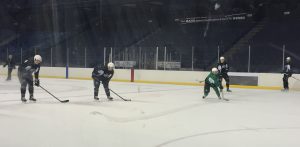 LoVerde on this week's work: "[Practices have] been well. We had a good push practice on Monday. Yesterday we had the day off with the LA Kings/Ontario Reign golf outing and we had another good one today. We've got to keep improving throughout the week in preparation for the games this weekend."
–Toward the end of practice Stothers chatted along the boards quite a bit with goalie Ray Emery. Stothers said he's been pleased with the experience and the battle Emery and Peter Budaj bring to practicem with both having spent valuable time in the NHL.