The push to grow the sport of hockey in Southern California continues with the SoCal Warrior Sled Hockey Clinic, which will be jointly held by the Kings and Ducks at 1:15 p.m. on Sunday, November 15, at Ice-Plex in Escondido. All active duty men and women, and all veterans will be able to learn to play sled hockey, free of charge. All equipment will be provided, though participants are encouraged to wear long pants, closed-toed shoes, and dress in layers. Those interested are encouraged to pre-register and learn more information at LAKings.com/warrior.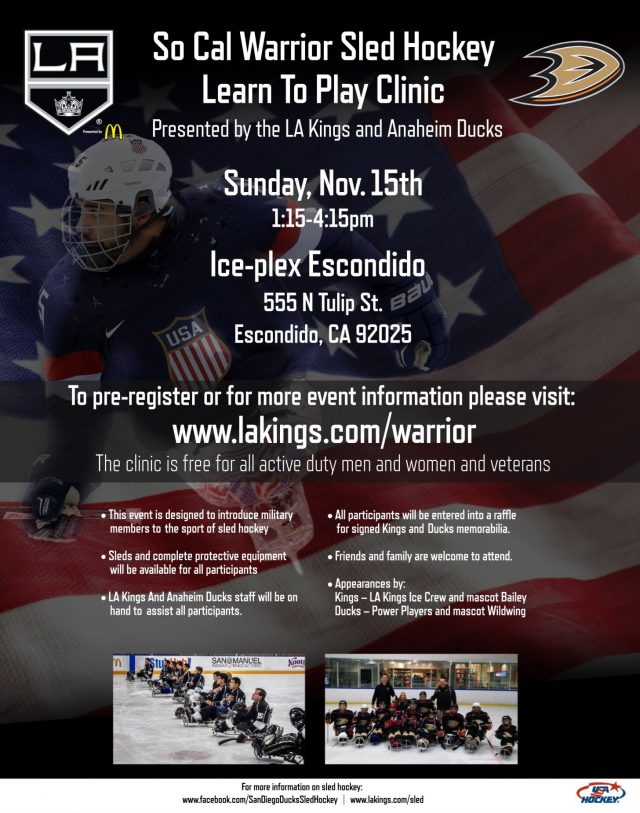 * * * * * * * * * *
LA Kings High School Hockey League Week 3 Scores
South County 9, El Segundo 7
Santa Barbara 3, Kern County 2
East County 5, San Gabriel Valley 3
West Ranch 11, Santa Clarita 0
Standings (W-L-OTW-OTL) (Points)
South County 3-0-0-0 (9)
Santa Barbara 3-0-0-0 (9)
El Segundo 2-1-0-0 (6)
West Ranch 2-1-0-0 (6)
Kern County 1-2-0-0 (3)
East County 1-2-0-0 (3)
San Gabriel Valley 0-3-0-0 (0)
Santa Clarita 0-3-0-0 (0)
-points are awarded in a 3-2-1-0 allocation
Beat coverage of the East County Outlaws, including game photos, recaps and quotes, can be found here.
Twitter: East County | Kern County | San Gabriel Valley | West Ranch | Santa Clarita