Good afternoon from Toyota Sports Center, where the Kings have been color coordinated in five-man groups:
Grey: Lucic-Kopitar-Gaborik-Schultz-Ehrhoff
Purple: Pearson-Carter-Toffoli-Martinez-Greene
White: King-Shore-Brown-Muzzin-Doughty
Black: Clifford-Andreoff-Lewis-O'Neill-McNabb-McBain
Red: Mersch-Weal-Nolan-Forbort-LoVerde
Goalies: Quick, Enroth, Budaj, Berube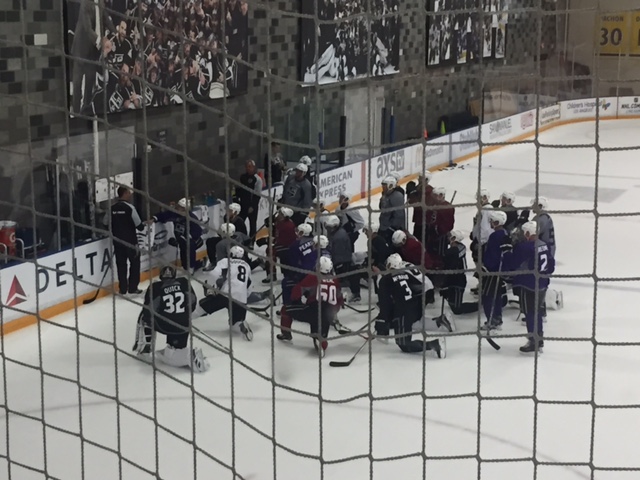 Notes:
-I'm led to believe, without yet having spoken with hockey operations or the coaching staff yet, that the players above will be those traveling to Denver later today. Also, cuts are expected to be announced at 2:00 p.m. From my understanding, there's not expected to be a second on-ice session, so this round of cuts could very well be substantial and should be comprised of the glut of the players vying for spots with AHL-Ontario this season.
-In the practice, we've seen battle drills, some of those five-on-zero drills that the goalies seem to love, odd-man rushes, five-on-five and four-on-four drills, line rushes and breakout work. In other words, it's a fairly comprehensive and typical preseason practice.
-Jonathan Quick left the ice 40 minutes into practice, but he played 40 minutes last night, so there shouldn't be any concern. Should there be any surprises, I'll share them. No surprises are expected – Quick wasn't limping or favoring anything, and Chris Kingsley didn't follow Quick into the dressing room.