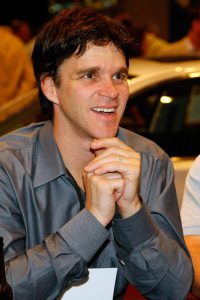 So next weekend is kind of a big deal. Frozen Fury XVII is around the corner, and with it comes the annual Luc Robitaille Celebrity Poker Tournament, which is scheduled to be held on Friday, October 2 at the MGM Grand. All proceeds benefit Echoes of Hope, Luc and Stacia Robitaille's non-profit organization, and according to the event page, the no limit Texas Hold 'em poker tournament will feature $40,000 in cash prizes to be awarded to the top 18 finishers. Registration costs $500, and buy-ins are available for $100. To register, click here. For information, direct all inquiries to info@echoesofhope.org.
Other upcoming events and notices:
-In preseason games tonight and Tuesday night, the Kings and Ducks are teaming up to raise money for great causes. Tonight, players from both teams will be wearing commemorative red warm-up jerseys benefiting Special Olympics Southern California, and on Tuesday, players from both teams will be wearing special jerseys supporting Hydrocephalus Association during warm-ups. All jerseys will be autographed and auctioned off through each team's respective websites. For tonight's game, the auction opens at 5:00 p.m. and ends Saturday at 5:00 p.m. For Tuesday's game at Staples Center, the auction opens on September 29 at 5:00 p.m. and ends on Wednesday, September 30 at 5:00 p.m. To bid on Kings jerseys, visit LAKings.com/auctions. For Ducks jerseys (HEY THESE ARE GREAT CAUSES SO LISTEN UP, OK), visit AnaheimDucks.com/auctions or text Ducks to 52182.
-The Kings and Ontario Reign are holding their annual golf tournaments on October 20, 2015 at the Pacific Palms Conference Resort in the City of Industry. To register for a Kings package, and for more information, click here. To register for a Reign package, click here.
-The Los Angeles Kings High School Hockey League opens tomorrow as West Ranch travels to Kern County, Greater Santa Barbara travels to San Gabriel Valley, Santa Clarita travels to South County and El Segundo visits East County. For coverage of the league, and for stats and information, the official league site is a great start. LA Kings Insider will also offer LAKHSHL coverage throughout the season, most of which will take place on the "Page 2 / Ontario Reign Insider" site that is currently under development and will debut in October.
-Several FOX Sports West notes: the season preview will premier on October 3 after Frozen Fury, and the first Kings Weekly of the season will air at 10:30 p.m. on October 15.