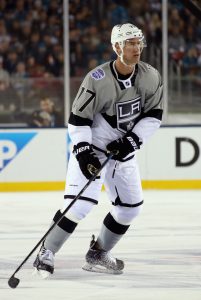 JEFF CARTER
This season: 82 games, 28 goals, 34 assists, 62 points, 28 penalty minutes, +7 rating, 17:58 time on ice
The good: If you've poked your head around this site in the past, you'll know there's much, much more to Jeff Carter than just timely (and plentiful) goals. An all-situational center, Carter demonstrated the versatility in his 200-foot game by connecting on a team-leading 27 assists in five-on-five play and maintaining an even strength pace of 1.56 assists per 60 minutes, which ranked sixth in the Western Conference amongst qualifying skaters. He ranked second in the league in home assists (19) and tied for second in the league in points at home (27) during five-on-five play and finished second on the Kings with 2.4 points per 60 minutes of five-on-five play, his best even strength scoring rate since 2008-09. He can score! He can also defend and check well; only Anze Kopitar logged as many minutes in shorthanded play amongst club forwards, and Carter's long strides allow him to cover large stretches of the center of the ice while blanketing the opposition's center. All of his advanced metrics depict an exemplary season. He averaged 2.92 G/60 and 2.00 GA/60 while at even strength; the +0.92 G/60-GA/60 discrepancy was the third best amongst club forwards, trailing only That 70's Line companions Tyler Toffoli and Tanner Pearson (both + 1.57). His WOWYs tell of dominance in production and a clear possession advantage in five-on-five play while with his three most frequent offensive partners in Toffoli (3.82 G/60 / 1.81 GA/60 / 57.5% CF), Dwight King (2.74 G/60 / 1.90 GA/60 / 57.2% CF) and Pearson (3.70 G/60 / 1.09 GA/60 / 57.5 CF), and Carter's own possession rates (56.7% CF / +1.82% CF-rel) were well above average on the league's top possession team. Going beyond the numbers, as Carter has reached 30 and advanced into the The Turn of his NHL career, he has become a model figure for young players to emulate. Carter's workout and practice habits and off-season conditioning regimen have drawn praise and are responsible in the establishment of a team-long streak of 139 consecutive games played and a highly-productive, injury-free season as others did not adapt as easily to the quick resumption of play following a truncated 2014 off-season. "In terms of the role model and the training and all that, that's why he'll continue to be a top player, and that's why other guys in his age group don't – because they drop off," Darryl Sutter said in March.
The bad: Very little, other than his 2-for-9 shootout performance and home/road splits. Despite totaling 27 five-on-five points at home, Carter notched only 15 (7-8=15) five-on-five points on the road, a discrepancy linked to his line's growing pains (particularly early in the season) as it drew additional notice and saw tougher minutes against top players and checkers away from Staples Center. There has been a somewhat superficial observation that Carter is streaky – he did go 13 games without a goal between November 20 and December 16 – but predictably, when his numbers were calculated after 82 games, he again produced personal results notably consistent with his previous seasons in Los Angeles. Perhaps a touch nitpicky, but worth mentioning: Carter played in 10 more games than the previous season yet finished with 38 fewer shots on goal.
Going forward: Given his conditioning habits and consistent personal results over the last 10 years – his shooting percentage hasn't even deviated from between 10.3% and 12.8%, other than a pair of high and low outlying seasons – it's not hard to envision Carter maintaining this exceptionally high level of play, even well into his mid-30's. That's a good thing, because he's signed (at a highly reasonable $5.27M AAV) through 2022. There's nothing that suggests his upcoming 2015-16 season will be radically different from his 2014-15 season. With Milan Lucic joining the club and appearing set to play alongside Anze Kopitar and Marian Gaborik, it's exciting to think of what a potential line of Carter, Pearson and Toffoli could do as teams will have to judiciously pick their assignments when they have that option. Should the top-six remain relatively healthy, expect Carter's home/road splits to even out and for Los Angeles' road record to improve significantly. With his versatile and responsible skill set and manageable cap hit, there are few players around the league who equal Carter's value to the Kings.
2014 Carter evaluation
2013 Carter evaluation
2012 Carter evaluation
Player evaluations: #2 MATT GREENE | #3 BRAYDEN MCNABB | #5 JAMIE MCBAIN | #6 JAKE MUZZIN | #7 ANDREJ SEKERA | #8 DREW DOUGHTY | #10 MIKE RICHARDS | #11 ANZE KOPITAR | #12 MARIAN GABORIK | #13 KYLE CLIFFORD | #14 JUSTIN WILLIAMS | #15 ANDY ANDREOFF | #22 TREVOR LEWIS | #23 DUSTIN BROWN | #27 ALEC MARTINEZ | #28 JARRET STOLL | #31 MARTIN JONES | #32 JONATHAN QUICK | #37 NICK SHORE | #44 ROBYN REGEHR | #70 TANNER PEARSON | #71 JORDAN NOLAN | #73 TYLER TOFFOLI | #74 DWIGHT KING
Advanced statistics by War-on-Ice, Stats.HockeyAnalysis.com