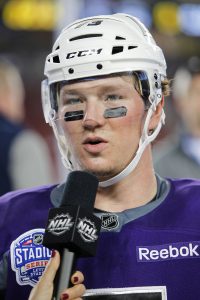 TYLER TOFFOLI
This season: 76 games, 23 goals, 26 assists, 49 points, 37 penalty minutes, +25 rating, 14:35 time on ice
The good: Consider this: Tyler Toffoli led the Kings in plus-minus (+25), five-on-five points per 60 minutes (2.46) and shots per 60 (10.93; seventh in the NHL), ranked second on the club in first assists (14), fourth in Corsi-for percentage (57.6%), and led the entire league with five shorthanded goals. Of the next 17 players who followed Toffoli in shorthanded goals, all had at least 15 minutes of additional shorthanded time on ice. Brandon Saad, who recently signed a six-year, $36-million contract with Columbus after being unable to agree to terms with Chicago – one high-ranking Kings source informed LA Kings Insider that Saad's original proposal to the Blackhawks carried a $6.5M AAV – averaged more time on ice and started a greater degree of shifts in the offensive zone than Toffoli, and failed to match Toffoli's numbers in each of the statistics listed above. Toffoli, meanwhile, signed for two years and $6.5 million, which could, if his current trajectory doesn't greatly deviate, provide excellent value over the next two years before he'll be due another raise. That Toffoli's new contract provided the team much-needed salary cap maneuverability indicates that he's one of those Dean Lombardi-preferred "team players" who is more concerned with the team's success than finding immediate financial gain; that he has undertaken the level of community relations work that he has this summer while remaining in Southern California to train reinforces such a designation. Because there were no complications in negotiating a new contract, the Kings had the freedom to trade for Milan Lucic at the NHL Draft. Said Lombardi: "If Tyler Toffoli doesn't step up and do this, we can't do this deal, because then we would have exposed ourselves to an offer sheet. It's just exemplary for a young player, to realize his time will come and take a good deal but not try and shoot for the moon, and then the team is allowed to go out and make itself better. Because that was the thing. Once this thing got rolling, it was not doable without Tyler signed, because I think if we had done this without Tyler signed, we were exposed to an offer sheet, because I think that's now going to become more in vogue. It's a great example of guys caring about the right things." Though the Kings did not qualify for the playoffs, Toffoli gained additional postseason experience by winning a gold medal with Canada at the World Championship, totaling two goals, five points and a plus-nine rating in 10 games.
The bad: Not a ton, but there was a dip in his play after he, Tanner Pearson and Jeff Carter got off to a torrid start. Darryl Sutter noted how that line "drew a lot more attention" after October and began drawing the opposition's top line and top checking forwards more frequently on the road. In December, during a 10-game goalless streak, he noted how he hadn't as regularly been "getting in those dirty areas and the areas where I was scoring earlier in the year," though such lulls in production happen to every player in the league, young players especially so. Toffoli – along with Pearson and Kyle Clifford – was benched during the third period and overtime of a shootout loss in Anaheim on November 12, but that's representative of little more than a one-off game. Though he totaled only 11 points over his final 25 games, he was still scoring some big goals, including game-winners at Vancouver and New Jersey, and a shorthanded third period go-ahead goal in an eventual 3-2 win on Long Island. There were untimely penalties at home against Vancouver and at Minnesota, but now that we're firmly in the nitpicking category, it's time for the obligatory mononucleosis reference – a virus he recovered remarkably quickly from – before we move on.
Going forward: Though there were some quieter moments, Toffoil had the type of breakthrough season many were hoping for and expected. His possession rates were very good, he was scoring at even strength (15 goals), on the power play (three goals) and while shorthanded (five goals), and his defensive play was fine for a player who didn't turn 23 until late April. For Toffoli to take that next step, and vie to become a 30-goal scorer instead of a 20-goal scorer, he'll again have to fine tune some of his habits – something that should come naturally for a character player with a strong and willing work ethic. "Hey, he's got such good hockey sense," Darryl Sutter said in late March. "I said it, he's a good player who can only get better if he applies the whole package – not over the summer, but every day – to be consistent. You have to be consistent every day, you have to have great work habits on the ice, and you have to have great preparation skills. You have to take care of yourself, and I think those are all areas where he should grow." The Kings have a terrific all-around piece with dynamic offensive ability in Toffoli, who should continue to provide the club excellent value through the remainder of his current contract.
2014 Toffoli evaluation
2013 Toffoli evaluation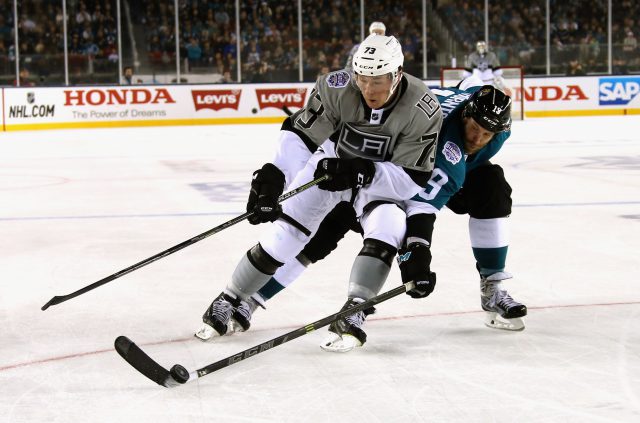 Player evaluations: #2 MATT GREENE | #3 BRAYDEN MCNABB | #5 JAMIE MCBAIN | #6 JAKE MUZZIN | #7 ANDREJ SEKERA | #8 DREW DOUGHTY | #10 MIKE RICHARDS | #11 ANZE KOPITAR | #12 MARIAN GABORIK | #13 KYLE CLIFFORD | #14 JUSTIN WILLIAMS | #15 ANDY ANDREOFF | #22 TREVOR LEWIS | #23 DUSTIN BROWN | #27 ALEC MARTINEZ | #28 JARRET STOLL | #31 MARTIN JONES | #32 JONATHAN QUICK | #37 NICK SHORE | #44 ROBYN REGEHR | #70 TANNER PEARSON | #71 JORDAN NOLAN
Advanced stats via War-on-Ice, Stats.HockeyAnalysis.com