JORDAN NOLAN
This season: 60 games, 6 goals, 3 assists, 9 points, 54 penalty minutes, -6 rating, 9:58 time on ice
The good: After enduring sporadic usage throughout the first half of the season, Jordan Nolan played in the final 41 games and surpassed the 26 consecutive game streak from 2012-13 that served as his previous personal career-high. The regular playing time, which began in (and was influenced by) the game in which Tanner Pearson was injured, allowed Nolan to find a good rhythm throughout late January and most of February. He scored three goals in a productive eight-game stretch that overlapped with the beginning of Los Angeles' season-high eight-game winning streak, partly by virtue of his ability to play a power, straightforward game. Nolan – along with familiar linemates Nick Shore and Kyle Clifford – was very good in the Stadium Series win over San Jose and made a strong first period power move down the right wing with two defenders trailing him to set up the offensive zone time that led to Clifford's goal. Nolan has also been adept at drawing penalties; despite a style of play that leads, at times, towards taking penalties, he has finished with a positive penalty differential in three of his four NHL seasons and was in the black with a +2 differential in 2014-15. By the end of the season, he had tied his career-high of six goals and played twice against his father, Ted, who coached the Buffalo Sabres. At 26, he's still young and should continue to grow into the three-year, $2.85M contract he signed in February.
"These guys have a great opportunity, and they're doing what they need to do with it," Assistant Coach Davis Payne said of the fourth line in April. "They need to provide us with good minutes and they need to push our game into the offensive zone. They need to make it hard on our opponent, and they have to be part of that straight ahead game that's most successful for us. They're not playing any different than what we ask anybody else, but we are asking them to maximize exactly how good they are at it."
The bad: Nolan did not find consistent success in implementing his power, straightforward game and at times struggled to become involved. Multiple Darryl Sutter references – among them, "he better play a power game or he's going to have trouble" – indicated that while there were nights in which Nolan was an effective north-south power forward who chipped pucks deep and effectively forechecked, there were nights in which he wasn't. He's not a player who's going to be among the club's analytics darlings, but he does need to show improvement from this previous season, when his 48.4% Corsi-for ranked second to last amongst club forwards. In fact, his -8.42% Corsi-rel was the worst on the team; over the last six seasons, only the 2012-13 numbers produced by Rob Scuderi (-8.59%) and Nolan (-9.92%) illustrated worse yearly possession rates relative to their teammates (amongst qualified players). Every player who logged more than four and a half minutes with Nolan posted better possession rates away from him. With the Kings scoring 1.42 goals for every 60 minutes Nolan was on the ice, only Andy Andreoff's G/60 (0.79) was worse. The numbers aren't as important as the ability for Nolan to maximize his skill set, become more involved in a per-game basis and play firmly to his physical, power role, something he has shown the ability to do intermittently, but not consistently, in his NHL career.
Going forward: With his skill set, experience and surroundings, Nolan would appear to be an ideal fit for a fourth-line role, and given his relatively inexpensive three-year extension, the Kings see things similarly. "I think we're looking for Jordan to complete the power part of his game," Sutter said on March 5. "I think that it's something where he's had trouble staying in the lineup when we are healthy, and it's not unlike a lot of other young players, but when you've had the opportunity to be included in a winning environment, then you should take the next step forward. And that's what the organization is expecting out of Jordan." With underrated hands and a quick release combined with Nolan's ability, to make power moves deep into the offensive zone, it wouldn't be surprising to see him better his career-high in goals (six) and points (10). He's not going to exceed those numbers by any whopping margin, but he does have a career shooting percentage of 11.1 (it was 13.6% last season), and if he plays regularly and exceeds his 44 shots on goal, there's the potential for him to post his most effective 82-game season to date. There are younger and perhaps more skilled players vying for a depth forward role (see: Jordan Weal, Brian O'Neill), but Nolan, if healthy, should be penciled in as the club's starting right wing come October 7. As happens to teams whose AHL affiliate wins the Calder Cup, there will be a variety of young, inexpensive players capable of making the jump to a depth NHL role, so there may not be as much leniency should Nolan get off to an uneven start. He's still young (though accomplished) at 26, so there shouldn't be concern over any type of downward trend in his game.
2014 Nolan evaluation
2013 Nolan evaluation
2012 Nolan evaluation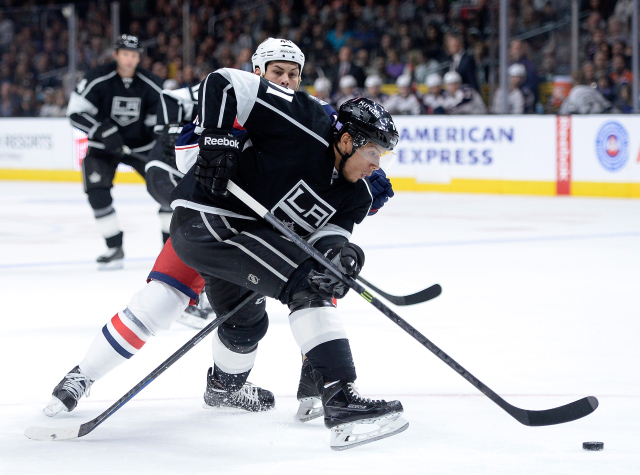 Player evaluations: #2 MATT GREENE | #3 BRAYDEN MCNABB | #5 JAMIE MCBAIN | #6 JAKE MUZZIN | #7 ANDREJ SEKERA | #8 DREW DOUGHTY | #10 MIKE RICHARDS | #11 ANZE KOPITAR | #12 MARIAN GABORIK | #13 KYLE CLIFFORD | #14 JUSTIN WILLIAMS | #15 ANDY ANDREOFF | #22 TREVOR LEWIS | #23 DUSTIN BROWN | #27 ALEC MARTINEZ | #28 JARRET STOLL | #31 MARTIN JONES | #32 JONATHAN QUICK | #37 NICK SHORE | #44 ROBYN REGEHR | #70 TANNER PEARSON
Advanced stats via War-on-Ice, Stats.HockeyAnalysis.com