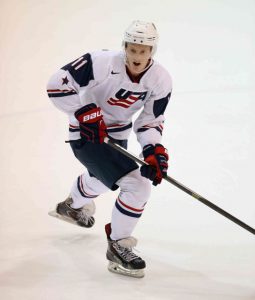 The Los Angeles Kings are slotted to pick 13th when the first round of the NHL Draft kicks off this Friday in Sunrise, Fla. They might take USHL forward Kyle Connor with that 13th pick. They might not! As part of the recurring Royal Lineage feature, LA Kings Insider will familiarize you with a small handful of players who may be available when it's Los Angeles' turn to step towards the podium on Friday night.
Connor, the USHL's Player of the Year, is ranked 13th by Bob McKenzie, Corey Pronman, NHL Central Scouting and the International Scouting Service. Hey, that's where the Kings draft! The consensus appears to be, however, that Connor is more likely to trend up in the draft than to fall deeper in the first round.
Connor is a late birthday – he was born on December 9, 1996 – which makes his 31 goals in his 17-year-old season and 34 goals in his 18-year-old season all the more impressive. He's also the University of Michigan's top recruit in its incoming class, so the OHL's Saginaw Spirit would be among those in favor of the Kings selecting the 6-foot-1, 177-pound forward, as the Kings have never been overly fond of the development process under Red Berenson. Of course, a player a naturally talented as Connor would likely thrive anywhere, and teams generally leave such decisions on where to play to the player (though they do provide some guidance).
For a scouting report on the forward, I consulted with Youngstown Phantoms Assistant General Manager and Director of Player Personnel Jason Koehler:
Kyle Connor
Team: Youngstown Phantoms (USHL), committed to the University of Michigan
Position: Forward
Height: 6'1
Weight: 177
2014-15 points: 53 GP, 32-42=74, +3, 6 PIM
Final ranking (NHL CS): 13 (North American skaters)
Final ranking (ISS): 13
Final ranking (Bob McKenzie): 13
Final ranking (Corey Pronman): 13
Final ranking (Damien Cox): 14
NHL draft 2015: Kyle Connor, one of many in a strong U.S. prospect pool (USA Today)
Connor, ready for Michigan, awaiting Draft moment (NHL.com)
Commit Kyle Connor: 'A player to watch' (Michigan Daily)
Kyle Connor in high demand as his NHL draft stock rises (Buffalo News)
NHL Draft Profile: Kyle Connor (SB Nation)