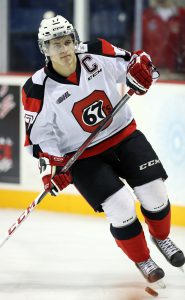 The Los Angeles Kings are slotted to pick 13th when the first round of the NHL Draft kicks off this Friday in Sunrise, Fla. They might take OHL forward Travis Konecny with that 13th pick. They might not! As part of the recurring Royal Lineage feature, LA Kings Insider will familiarize you with a small handful of players who may be available when it's Los Angeles' turn to step towards the podium on Friday night.
Travis Konecny comes from an OHL program you're very well familiar with: the Ottawa 67s. Ottawa, under former coach and current Kings scout Chris Byrne, produced standout forwards such as Tyler Toffoli and Sean Monahan, and under Brian Kilrea, who scored the first goal in Kings history, produced Logan Couture. At last year's draft, Los Angeles selected defensemen Alex Lintuniemi and Jacob Middleton from Jeff Brown's club. Television color commentator Jim Fox is a 67's alumni.
Similar to Fox, Konecny is an undersized forward who served as the 67's captain and was a first overall selection in the Ontario Hockey League's draft. The 2013 OHL Priority Selection featured a top-five that included forwards Dylan Strome at number two and Lawson Crouse at five. Both players are expected to be off the board by the time the Kings are currently scheduled to pick on Friday.
For an initial scouting report on the skilled and hard-nosed if diminutive scorer, LA Kings Insider turned to AJ Jakubec, a friend of the blog who broadcasts Ottawa 67s games on TSN 1200:
Travis Konecny
Team: Ottawa 67's (OHL)
Position: Forward
Height: 5'10
Weight: 175
2014-15 points: 60 GP, 29-39=68, -1, 34 PIM
Final ranking (NHL CS): 14 (North American skaters)
Final ranking (ISS): 12
Final ranking (Bob McKenzie): 15
Final ranking (Corey Pronman): 7
Final ranking (Jeff Marek): 18
A round-up of Konecny notes and observations (Maple Leafs Hot Stove)
Konecny used hockey to develop socially, physically (NHL.com)
First-round hopefuls have bond spanning the ages (NHL.com)
Get to know a draft pick – Travis Konecny (NBC Pro Hockey Talk)