Good morning Utica, and hello again, Calder Cup Final.
After a five hour drive from Southern New Hampshire that also included a lunch stop off Interstate 90 near Ludlow, Massachusetts, Dean Lombardi's hometown, the team arrived in drizzly Utica shortly after 4:30 p.m. local time. It should be a bit warmer, sunnier and muggier today in upstate New York, as the lead photo shows. Also (partly obscured) in the lead photo: Utica Memorial Auditorium, the intimate home of the Comets.
Comets fever has swept through the city, and when walking around the downtown area, many business storefront windows offer slogans of support for the team, which relocated to the city in 2013. (Vancouver's previous AHL affiliate was the Rosemont, Illinois-based Chicago Wolves). The Calder Cup was on a promotional tour around the city yesterday, and recent news articles depict the degree of local fandom.
Saving this clip for this particular post has been torture. Simpsons fans, you had to know this was coming:
I also indicated yesterday that I'd share a surprise this morning that began with the letter M (even though it was fairly apparent what the surprise would be, having revealed as much in the comments). It's as if they knew the Insiders were coming: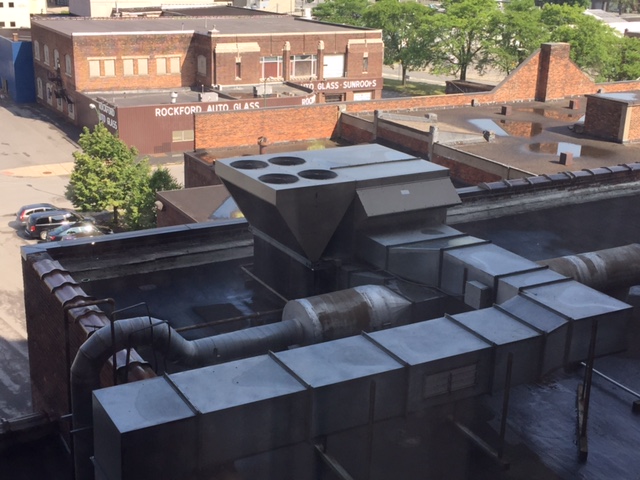 Old-timey Munter's unit! Or, at least, some cooling unit that gives off the impression of a Munter's. Either way, it's enormous and practically right outside my hotel window.
The Monarchs are scheduled to take the ice at The Aud at 11:15 a.m. this morning. There's plenty more to come on a game day in upstate New York as Manchester looks to take a three-games-to-none stranglehold on the series but will have to do so in a challenging road environment against the Western Conference's top team. Stay tuned, Insiders.