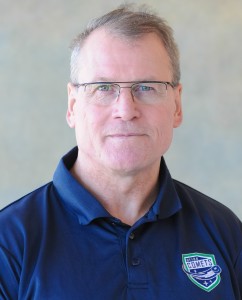 While the Kings' run to the 1993 Stanley Cup Final relied heavily on the performances of Wayne Gretzky, Luc Robitaille and Tomas Sandstrom, that team also benefited from one of the most diverse groups of secondary scorers and role players in club history. That spring, players such as Mike Donnelly, Gary Shuchuk, Corey Millen, Warren Rychel and Pat Conacher supplied the unheralded performances necessary to catapult the club to within three wins of the Stanley Cup.
Conacher, now in his second season as the Utica Comets' Director of Hockey Operations, spoke with LA Kings Insider from the Utica Memorial Auditorium on Wednesday to discuss the 1992-93 Kings, helping young players develop their own roles early in their hockey careers, and coaching against Monarchs coach Mike Stothers when the two were behind the benches of rival teams in the Western Hockey League, Conacher with the Regina Pats (where he coached Jordan Weal) and Stothers with the Moose Jaw Warriors.
Pat Conacher, on coaching against Mike Stothers:
Mike always coached well, his teams were always prepared. They came out, they were always a physical hockey team and they played for 60 minutes. It didn't matter whether or not they were up or down, they continue with a very hard work ethic and they just worked on grinding you out each and every game. I know Mike and I, we met in one round, they just come out with a will and they want you to quit and that's the way he coaches.
Conacher, on encouraging young players to develop their own roles:
That's the biggest thing, kids come out of juniors, especially when they turn pro, they're all good players but now they have to create an identity for themselves. Just because you were a top scorer in juniors, or whatever you were, that doesn't mean it will translate into being a pro. You hope it does, especially the scoring because there is such a lack of scoring in the game today. Players have to come in and realize that hey, you know what, there's a role for you on every hockey team, and you have to work at that and create that identity for yourself, whether that's a third-line left winger or a fourth-line checking center or penalty killer. It's hard for young kids to accept sometimes, but if you want to play in the National Hockey League or have somewhat of a pro career, when a coach in the organization thinks whoever you are, there should be a calling card, there should be a stamp on you, 'this is what I am, this is what you get from me every game,' and I'll help you have a good career and maybe play in the NHL.
Conacher, on the 1992-93 Kings illustrating the importance of role players:
Well it's everybody, it's from the goaltending on out. You need a deep lineup and you need players that can play minutes. Some guys play more than others, but you still need those bottom six guys to come in and create energy, going out and wearing out the other team, too. You know as a bottom six forward, you're going out there to try to be physical, take it the other team all of the time, and give our top six guys a little bit of a breather so when they have an opportunity to score or make a play offensively, they have that. With that '92-'93 team we had Davey Taylor, you can't forget about him, he's a perfect example, he goes from the Triple Crown Line to playing with Warren Rychel and myself as a third line guy. But Davey, knowing what's involved, he came each and every day and he was that guy, he was a physical presence, he was a leader, and it was a somewhat different role for him but he accepted it and we got to the finals because of it.
Conacher, on what happens when he encounters teammates from the 1992-93 team:
It never changes, because the one common thing we had was hockey. When you're teammates, you have that one common bond. I saw Rob Blake and Mike Donnelly both in Manchester and it just takes you right back. You go through a lot of things, there are a lot of things that happen inside a dressing room, it's how you form your friendships, but it's through the hockey because we're all pulling on the rope in one direction, and that's to win, and that's what those guys were, Rob Blake and Mike Donnelly, those are just two of the guys but everybody was there. We had the common goal, and that was to win, it was to sacrifice to win the ultimate prize, of course. We fell short, unfortunately, but that was everybody's common thread of who we are and it linked us all together, and we still have that when we get together.
Conacher, on Utica relying on structure and goaltending:
Well it's the same, I mean all championship teams are built in goal and we have Jacob Markstrom of course, then it goes out to your defense and up through center ice. We're deep, we have four strong lines that play, we roll four lines, which as you can see how many OT games, how many one-goal games, and you need that, you need that depth to go any distance. That's one of the reasons that we're here in the finals is because we're a deep hockey team at the back-end and up front. The other thing about it is we play a pace game, we like to play a high-end, high-pace game with our defense up in the rush all of the time. And that's much like Mike, we know your D are coming all of the time. The hockey's been great, it's been great because I think we're two very similar teams and it's been a very exciting 120 minutes so far, and I expect nothing but more of that. The success we've had all year is because of the depth in our lineup, the skill we've had of course, and our goaltending. Hopefully it'll keep going here and we can get a couple of wins.
-Kings highlights via Spike Coffman; Conacher staff photo via Lindsay A. Mogle / Utica Comets (stick tap to Mark Caswell, Jr.)