Mike Stothers, on the win:
I'm glad we got a win on the road. But, I still think that we can play a cleaner game. There's still some mental mistakes that can still come back and hurt you.
Stothers, on whether he anticipated a three-nothing lead in the conference final after going the full five games against Portland in the first round:
I don't look at the number of games, I just look at the next one. We prepare for the next one.
Stothers, on what Manchester has to do to win Wednesday:
Score more goals than they do.
Stothers, on what needs to be fixed for Wednesday:
Why don't I just walk into their dressing room and tell them?
Stothers, on the Mersch-Weal-O'Neill line:
They've been terrific, but we've gotten some good efforts from a lot of guys, a lot of the different line combinations. Auger plays the right side on the fourth line, he plays the left side on the second line. You guys want to number them. In order to win, you gotta have guys step up, play hard and play big. We're lucky a guy like O'Brien tonight scores a big goal for us. Backs [Backman] has been playing well. That's what you got to do.
Nick Shore, on the Game 3 win:
There's a lot we can take out of this game. Obviously, we're happy with the win and the opportunity to close them out here tomorrow, so we'll focus and learn from this one, sharpen up a couple of things and get ready for tomorrow.
Shore, on going deep with Manchester in the playoffs:
Yeah, it's awesome. We got a really good group of guys in there and I think we've worked extremely hard all year to be where we are and put ourselves in this position. Like you said, it's one more win until we're in the finals, but we're just focused on tomorrow night right now and closing it out.
Shore, on the Mersch-Weal-O'Neill line:
At this point in the year and throughout the entire year, no one really cares who gets it done. That line has been great for us this entire playoff run, so far. Like I said, we got a great group of guys in there. No one cares who put the puck in the net or anything like that. Everyone just cares about that result and getting the win.
Shore, on how to close out the series on Wednesday:
Just come out and play our game. We're confident that if we play the way we can, we're going to have a chance to beat anybody. So, just looking forward to tomorrow.
Shore, on what allows the Monarchs to respond well at the right times:
I think we have a lot of timely plays out there throughout the playoffs and everything. We go down, we give them a power-play goal right there and we bounce right back. Times like that, that's big for us to bounce back after certain things don't go our way. It's a very resilient group, and like I said, we're very confident. We feel that we're going to have a good chance every night.
J.F. Berube, on the Game 3 win:
I think the third one is always the hardest one to go get. I think we were all over them, I think we played our game. We know we still made some mistakes. We still have better in us. So, we're going to make sure we fix those little things and get prepared to play tomorrow.

Berube, on being one win away from the Calder Cup Final:
For sure, it's a good feeling right now. Like you said, we're only in the conference finals, our goal is to go in the finals. We know we're still a long way from there, so we're going to keep working hard and go one game at a time.
Berube, on his own performance:
I mean, I didn't get too much action. They got a couple of chances in the second, but other than that it was pretty much it. It was not a big work load for me. It was kind of hard to stay in the game, but I got the win.
Berube, on the officials making him re-tape his stick:
There's a rule about the knob. They came over after they went over the rule. They saw it was only the tip of the knob that needs to be white, so they asked me if I want to change it and I just left it like it was. [Reporter: Do you know who pointed it out to the referees?] I think it was their referee had trouble a couple of times finding the puck when Skapski froze the puck, so once they made him change his knob, I think they looked at mine. It's not a big deal.
Andrew Bodnarchuk, on the Game 3 win:
Yeah, this is a big one for us. I think we came in with really good focus. I think we learned from our previous two series. Both series we got up two goals and I think we felt out the other team a little bit too much in their own barn, but I liked the way we came out. But as far as an overall game, I think we've got three wins, but we haven't seen our best hockey against this team yet. And I think it's something we're going to have to clean up as we move forward, especially heading into Game 4. If there's anything we've learned, the hardest thing to do is put away a team. So, by no means are we comfortable with a three-win lead here.
Bodnarchuk, on whether he expected a three-nothing lead in the conference final:
First off, absolutely not. I don't think any team expects to get a three-game lead. I think, especially in the playoffs, it's one game at a time. So before this series, we're just looking forward to the first game, first periods. You can't get too far ahead of yourself. The Portland series was a battle, but I think at the same time, we learned a lot about the resiliency of our team and how to weather other pressure and storms in a way. That was a big learning experience series for us. I guess you can't look back and say 'ifs' and 'buts' you got to just keep moving forward. So, we are where we are now, and like I said, the fourth game is going to be the hardest.
Bodnarchuk, on how to close out the series on Wednesday:
I think we have to come in and start the same way, but as far as an overall 60-minute game, we just have to keep it simple and keep building. They're a team that notoriously came out hard and they forecheck hard in this building. I think they play a little heavier game in this building. So, we're going to expect their best and, like I said, we're just going to have to keep it simple and play a smart road game.
Bodnarchuk, on being a Black Ace in Los Angeles:
I've been fortunate enough in my career to go on a few long runs as a Black Ace, being with Boston before LA. So, I got two nice runs with LA and obviously last year they won the cup, so I've seen a lot of playoff hockey. But, the biggest thing for me and bringing it to these guys is the calm demeanor of a team that wins it all. LA was in a lot of situations last year where they could have hit the panic button, they faced adversity, but their best players and their leadership did an awesome job. Whether it was practice or game-to-game of keeping the guys calm, keeping their eye on how to play and the ultimate goal. So, I wouldn't say I carried too much of that over, but it's definitely nice to see that and try to relay that message to the guys.
Bodnarchuk, on the defensive effort:
I try not to look at the scoreboard too much, but I know in the first period we really limited them shot-wise. It was a little while into the game before they got their first shot, but they're a team that definitely, definitely will make you pay on mental errors. That's what I'm talking about as far as cutting that out of our game, because at any point, you make the wrong play or a little mental mistake, they're a team that's got the skill to jump on it and put that in the back of the net. The same goes for penalties. If we're taking dumb penalties, penalties that aren't stopping a goal, that's a team that thrives. They've got unbelievable skill up front, so limiting their opportunities five-on-five is key for us, but just the overall game and limiting their opportunities is big because, like I said, they have a team that jumps all over mistakes.
Bodnarchuk, on scoring the game's first goal:
Momentum is huge and it's huge in the playoffs. I can't pinpoint what's going right for us as far as scoring first, but I think we have good focus in the dressing room and good focus heading into the game. We got some unbelievably skilled forwards that are capitalizing early in games. I think it takes a little bit of a weight off of your shoulders. But in playoffs, by no means do we let down our guard. But, it's definitely easier on the mind playing with the lead at start than chipping away and trying to get the lead back. That being said, we've had the lead a few times and given it up and Hartford's tied it up. Hopefully we can get the lead again and hang onto it.
Bodnarchuk, on who has the best playoff beard:
We got some good ones. Vinny [LoVerde] was sitting beside me in the locker room and I looked over and he's got a pretty grizzly beard going. I take a lot of pride in my beard. More so, some of the younger guys you can definitely see are struggling with it, so hopefully we can keep growing them and see what we've got at the end of the playoff run here.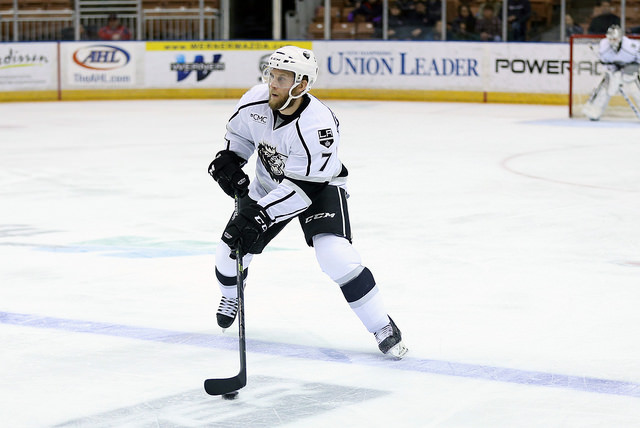 -photo credit Fred Kfoury / quotes provided by Manchester Monarchs PR