Nick Shore, Brian O'Neill, Adrian Kempe, Sean Backman and Zach O'Brien all found the back of the net in the Manchester Monarchs' 5-3 win over the Hartford Wolfpack Tuesday night at the XL Center. With the win, Manchester has opened up a three-nothing series lead and is one win from advancing to the Calder Cup Final for the first time in franchise history. BOX SCORE | RECAP
Jordan Weal & @brian22oneill put on an absolute passing CLINIC for this @monarchshockey go-ahead #MCHvsHFD pic.twitter.com/uG0lnqZrr5

— AHL (@TheAHL) May 26, 2015
AHL Eastern Conference Final schedule:
1 MANCHESTER 3 vs Hartford 2
2 MANCHESTER 7 vs Hartford 4
3 MANCHESTER 5 at Hartford 3
4 Wednesday, May 27 / 4:00 p.m. at Hartford
5 Saturday, May 30 / 4:00 p.m. vs Hartford*
6 Sunday, May 31 / 4:05 p.m. at Hartford*
7 Tuesday, May 2 / 4:05 p.m. vs Hartford*
*if necessary; all times PT
@kenmonarchs Monarchs now ahead 3-0 and attempt to sweep tomorrow night. pic.twitter.com/IFUcuI4hbr

— Mike Netkovick (@mikenetkovick) May 27, 2015
The Ontario Reign, meanwhile, will play a decisive seventh game in their ECHL Western Conference Final series Wednesday night after losing 2-1 to the Allen Americans at the Allen Event Center on Tuesday. Tristan King, who played at WHL-Medicine Hat with Emerson Etem, Linden Vey, Tyler Ennis and Tyler Bunz, was Ontario's only goal scorer. The winner of that game will advance to face either South Carolina or Toledo, who will also play a Game 7 at the Huntington Center in Toledo Wednesday night. I mean, if you're a Kings fan, you have to cheer for the Walleye, right?
Toledo becomes just third team in #ECHL history to force Game 7 after trailing a series 0-3 (cont.)

— ECHL (@ECHL) May 27, 2015
The @ToledoWalleye will become the first team in #ECHL postseason history to play three Game 7s in a single postseason.

— ECHL (@ECHL) May 27, 2015
ECHL Western Conference Final schedule
1 ONTARIO 2 at Allen 8
2 ONTARIO 3 at Allen 0
3 ONTARIO 4 vs Allen 1
4 ONTARIO 5 vs Allen 0
5 ONTARIO 2 vs Allen 6
6 ONTARIO 1 at Allen 2
7 Wednesday, May 27 / 5:05 p.m. at Allen
all times PT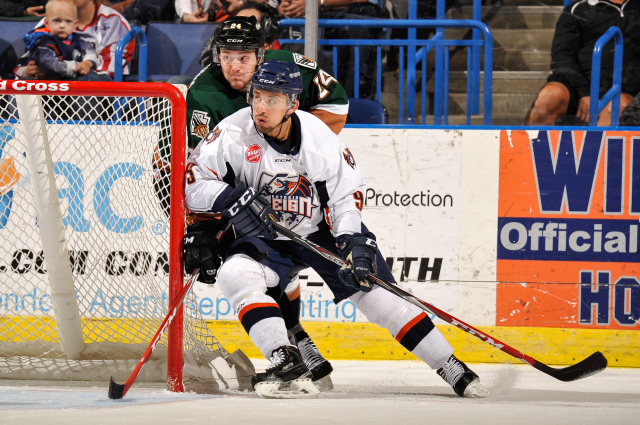 -Lee Calkins / Ontario Reign
In Quebec City, Matt Mistele and OHL champion Oshawa defeated WHL champion Kelowna 2-1 to clinch the best record in the round robin portion of the tournament, which guarantees a berth in the championship game. Mistele was held scoreless but took five shots on goal in the win.