Michael Mersch scored his ninth, 10th and 11th postseason goals as the Manchester Monarchs erased a late second period deficit with five unanswered goals in a 7-4 win over the Hartford Wolfpack Saturday night at the Verizon Wireless Center. With the win, Manchester now leads the best-of-seven series two games to none. CLICK HERE FOR BOX SCORE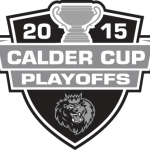 AHL Eastern Conference Final schedule:
1 MANCHESTER 3 vs Hartford 2
2 MANCHESTER 7 vs Hartford 4
3 Tuesday, May 26 / 4:00 p.m. at Hartford
4 Wednesday, May 27 / 4:00 p.m. at Hartford
5 Saturday, May 30 / 4:00 p.m. vs Hartford*
6 Sunday, May 31 / 4:05 p.m. at Hartford*
7 Tuesday, May 2 / 4:05 p.m. vs Hartford*
*if necessary; all times PT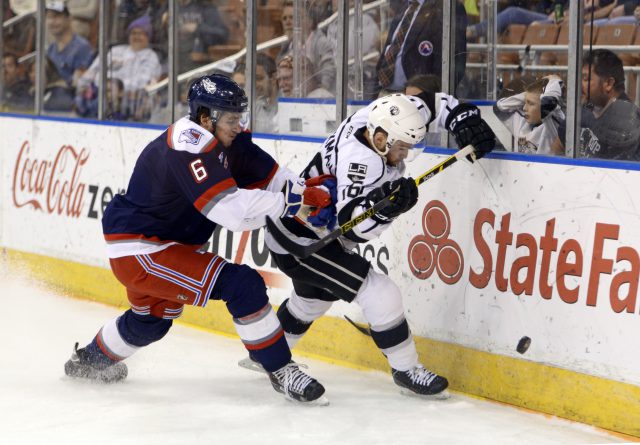 Mike Stothers, on the win and a different Game 2 from Game 1:
Well I still think this one was close. I mean some people look at the score and think that it wasn't. You know you got a 2-0 lead. You get a 3-2 lead. It's crazy how in the playoffs, you're playing a team that's very opportunistic and can score and very similar backgrounds. They don't get discouraged if they're down. And they're quite capable of being ahead and getting themselves back into it. I'm sure there were some lessons learned on both sides.
Stothers, on the importance of scoring after Hartford took the lead:
It's huge. I mean that's a big part of it. They score goals and probably the most important shift is the one right after from both sides so it was good for us. It was good for us. We got a couple. We got a real late one before we went into the second intermission. I think it was a feel good for us to build off going into the third. But again it was what, a two goal lead again? Again, you know a two-goal deficit is nothing for them. Nothing is given and you know what again, I think that is why it was a close game despite. But who would have thought it was seven to four? But it's just the way it is.
Stothers, on the big nights from Mersch, O'Neill and Backman:
I thought Backman had a real good game. I think he really wanted to improve on his performance from the first game and it was nice to see him get rewarded. He improved to the areas he needed to. He's a tenacious player. He does a lot for our hockey club. O'Neill, we know what we're going to get every night from O'Neill. He's the league MVP. Mersch, I think he had three goals tonight? I guess he's going to learn how to pass, get some assists. What can you say. He's a young kid. He's playing huge and you know what I think it's good we're getting a chance to see him now because if he keeps playing like that he's going to be playing in the show.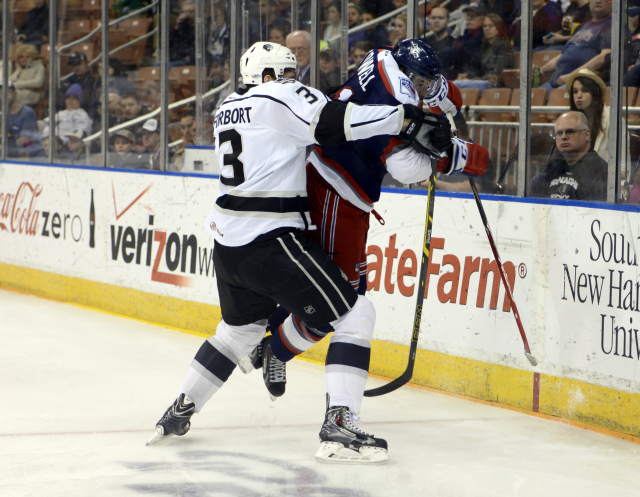 Michael Mersch, on his hat trick:
First off we played a good team game. They were able to come back in the second period and score some goals on us, but we responded well at the end and kept pushing forward in the third period. As for the hat trick, it was great. My linemates got me the puck, as you can see. When they're putting pucks on the nets, good things are going to happen.
Mersch, on Hartford's second period comeback:
I think we've just been pushing all year. Our self-confidence is not too high, not too low, it's perfect. We know we're able to score goals and come back in those types of situations, whether it be a defenseman putting a puck on net and scoring or everybody contributes, or everybody on this team contributes, which is special.
Mersch, on the go-ahead goal providing momentum:
They had a lot of life when they tied it or took the lead. They had a lot of life on their bench. You could tell just by the way they were acting. Once we got that lead, it was kind of quiet on their end. Anyways, we had a good push-back there and that was the key to the game.
Mersch, on the pivotal late second period goals:
Yeah, absolutely. Shoresy made a good play to [O'Neill]. When you beat a guy one-on-one on our forecheck and make a good play, that's something special. Those two guys are great players – everybody on our team is great players. That's why we're winning games.
Mersch, on the mindset heading out onto the road:
It's great to get the first two wins, we're enjoying it now, but come tomorrow we're going to be able to regroup and come back to the rink and look forward to those next games in Hartford.
Mersch, on scoring from outside of the crease:
Yeah, me and Gravel were talking about it. He was just kind of going over my goals this year and we counted maybe three shooting goals this year. That's what we could think of. So, guys were giving me some grief about that. It was funny.
__________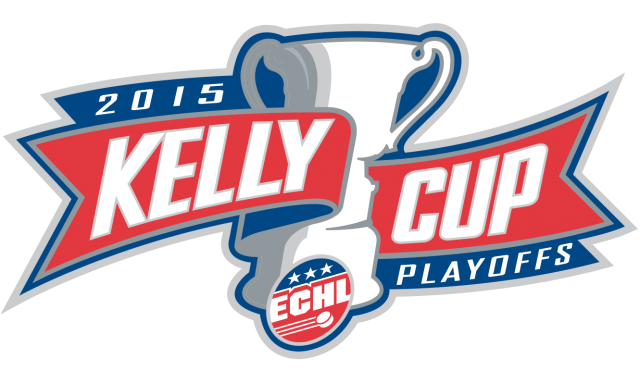 Across the continent, the #ReignTrain is on a full head of steam. Ontario is now one win away from advancing to the Kelly Cup Championship after last night's 5-0 home win over the Allen Americans. Joe Cannata stopped all 31 shtos for the shutout. CLICK HERE FOR THE BOX SCORE
ECHL Western Conference Final schedule
1 ONTARIO 2 at Allen 8
2 ONTARIO 3 at Allen 0
3 ONTARIO 4 vs Allen 1
4 ONTARIO 5 vs Allen 0
5 Sunday, May 24 / 6:00 p.m. vs Allen
6 Tuesday, May 26 / 5:05 p.m. at Allen*
7 Wednesday, May 27 / 5:05 p.m. at Allen*
-*if necessary; all times PT.
Should Ontario end the series tonight, they would advance to the Kelly Cup Final for the first time in franchise history. In the Eastern Conference Final, South Carolina has a three games to two lead over Toledo, though the Walleye have won the last two games of the series.
____________
Matthew Mistele and the Oshawa Generals opened up their Memorial Cup campaign with a 4-3 win over QMJHL champion Rimouski and will return to action this evening against tournament host Quebec. Mistele had one assist and five shots on goal in the win. Highlights and media coverage can be found here.
____________
Goaltender Alec Dillon, a fifth round draft pick in 2014, was named to the USHL's All-Rookie First Team. Dillon, who stands 6-foot-5, has committed to RPI. The 19-year-old appeared in 41 games for the Tri-City Storm, going 23-11-4 with a 2.27 goals-against average and .914 save percentage. His 2.27 GAA led the league.
USHL All-Rookie First Team (College Commitment)
F Kieffer Bellows, Sioux Falls Stampede (Boston University), Rookie of the Year
F Brock Boeser, Waterloo Black Hawks (North Dakota)
F Erik Foley, Cedar Rapids RoughRiders (Providence)
D Dennis Gilbert, Chicago Steel (Notre Dame)
D Ryan Zuhlsdorf, Sioux City Musketeers (Minnesota)
G Alec Dillon, Tri-City Storm (Rensselaer Polytechnic Institute)
USHL All-Rookie Second Team (College Commitment)
F Robert Carpenter, Sioux City Musketeers (Boston University)
F Tanner Laczynski, Chicago Steel (Ohio State)
F Tom Novak, Waterloo Black Hawks (Minnesota)
D Chad Krys, Team USA (uncommitted)
D Mitch Reinke, Cedar Rapids RoughRiders (Michigan Tech)
D Vili Saarijarvi, Green Bay Gamblers (uncommitted)
G Ben Blacker, Cedar Rapids RoughRiders (Western Michigan)