With a stick tap to Dan Ventresca and the Monarchs' media relations department, here are highlights from Thursday's 3-2 Eastern Conference Final Game 1 win over the Hartford Wolfpack.
Mike Stothers, on a "hard fought" Game 1:
It's alright. I think both teams will play better next game. I think we showed signs of a team that hasn't played in a while, and actually, I think they did too. I expect both teams to be better on Saturday.
Stothers, on resuming the playoff run after a long layoff:
When you look at it, you always try to put a positive spin on things. It was a chance to heal up a little bit. It gave us a few recovery days. It gave us a few days of preparations for Hartford. Maybe one or two days too long perhaps, but it is what it is. That's the way the schedule was laid out, and we adhere to it. When they drop the puck, we try to be ready.
Stothers, on the team trying to shake off rust at the start:
I felt great at the start. I can't speak for the guys though. I didn't really feel anything from our guys. We just do what we do. Sometimes we start fast and sometimes we start slow. It's a 60 minute game, and I look at our bench and I have confidence in our players. Usually they perform well, whether we lose or not, but these guys care about it, and try to win, and play hard.
Stothers, on Michael Mersch's two goals and his line's contributions:
First and foremost, you should be talking to Mersch because that kid is unreal. He just grows roots in front of the net. He's unbelievable. He's a tree. If you do chop him down, he battles on his knees. And if you take him down even further, he's laying flat out on his stomach trying to put pucks in the back of the net. I like to kid him because I'm not sure if hes actually shot a puck in the net from any distance this year. It's usually just laying in the blue paint. Those guys are few and far between. Guys don't want to go to that area now, but he's doing it, and he's being rewarded for it. He's playing on a really good line. As a first year guy playing with Weal and O'Neill you've got to be pretty happy, and he's going to do whatever he can to stay on that line.
Stothers, on Mersch scoring an insurance goal from his knees:
I like to say we designed that in practice, but again, it's just being determined, and he's a very determined individual. He never gives up on a puck.
Stothers, on why the team has been inclined to get off to good starts:
You guys keep asking me that questions, but honest to God, I have no explanation for it. It is not even something we discuss. It's not something we talk about before the start of each game. It's just happening. Yeah, it's great, but again, it's one of those things that you can't get too wound up about it, just like I assume they didn't get too wound up about it, when they got scored on, because there were 59 minutes left in the game. It's a 60-minute game, and you can't do that to yourself because the emotions would eat you up. It's way too tough on you. You just stay grounded, you stay focused, you stay determined, and that's what we did.
Stothers, on the Hartford Wolfpack:
It's a good hockey team. They deserve to be where they are. As I said earlier, we are going to have to be better because they're going to be better. They have a lot of playoff experience with some guys who know how to win. I wish Game 2 was tomorrow.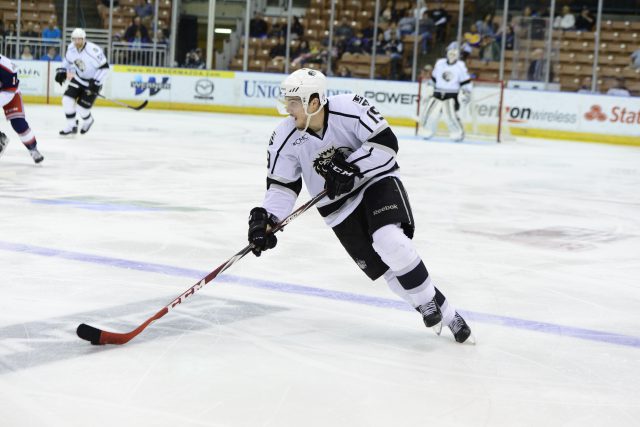 Nic Dowd, on scoring the go-ahead goal:
Yeah, you know, I mean it was obviously really real so there's a lot of hockey left for them to tie it up. It was good, at that time I think at any time it's great to break the tie and then Mersch made it 3-1, so it's obviously good to get as many goals as you can, because like you saw a good team can find a way to come back.
Dowd, on Michael Mersch's performance:
That's definitely his game and he's really good at it, you know he's been doing it all year; realistically I wasn't too surprised that he was able to do something like that, yeah when he shot from his knees, which was a great play, but I think the complement in itself is that it didn't surprise me too much. I know he's capable of making those great plays, and he plays with two great linemates. He's a guy who… and creates space for the other two and they make plays and makes his own rebounds.
Dowd, on the Hartford Wolfpack:
They're definitely one of the better teams we faced on turnovers and creating offense off of turnovers; they're good in the neutral zone. I say they match us pretty well with those line rushes: 3-on-2 and 2-on-1s and creating offense. They have a lot of high end talent that can make plays down low, which we saw it tonight. They played great, made a lot of great saves, otherwise the game could have maybe taken another turn at the point. Their power play is great. Special teams is gonna be a big impact in this series
Dowd, on keeping Hartford's power play scoreless:
It was great. Jean played awesome; obviously your goalie is your best penalty killer, and made a lot of great saves. You know we're just there to try and keep off as many pucks as possible. I thought our centers did pretty well on draws, I think we can do better, and our d-men have been a strong force all playoffs
Dowd, on whether he has any thoughts heading into Game 2:
No, just gonna get some rest tomorrow and regroup, and I think we'll come out with spirited on Saturday Night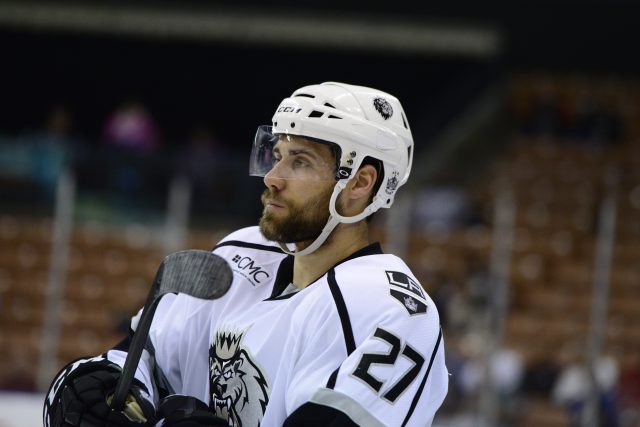 Michael Mersch, on the long layoff between series:
Well it was a first couple of days it was interesting to see how the other series were playing out. To see them battle a little bit. It was nice to get some rest and recovery. We had a little bit more time to focus on our intensity. I think it was nice to get our legs under us and recover a little bit.
Mersch, on using the break to heal and recover:
At the end of our season we had a couple of guys banged up so they were fighting through some injuries and then coming in here it was nice to get some time off and let everybody heal up so it's been good. I think like I said it's been good to have that rest.
Mersch, on whether quick starts have been emphasized:
Yeah we haven't talked about it much and everybody has been doing their job and staying focused before the game and that's sort of been our M.O. all year.
Mersch, on scoring two goals from close distance:
Yeah it's just usually where I score my goals so all around that paint area. We have a lot of good guys on this team, the way I play it is around the net but we have a lot of guys on the outside who make those skilled plays and I just screen the goalie to hope to get a whack on the puck.
Mersch, on his contributions with Jordan Weal and Brian O'Neill:
I was just saying, they are unbelievable players, I look at the stat sheets every night during the season and they're on it. But at the same time they work real hard out there and they come back into their own zone and get pucks out, and do the little stuff so that's why we win series because we got our skill guys working back in our zone taking care of their own end now they're getting rewards on the offensive side as well.
Mersch, on his reaction to scoring from his knees:
I was just kind of scrambling that entire shift, the puck was in front originally and we were just scrambling and we got a few whacks at it and their goalie made some good saves and it just popped out to our point. I was talking to Kevin Gravel who shot it on net and he said "I knew if I could just get it to you, one of you guys would put it in."
Mersch, on the team's mentality before and after breaking the tie:
It was a great play all around, he beat the guy one on one which was an exceptional play and then he was able to shoot the puck and we've been emphasizing shooting the puck and that's what [Stothers] likes. When you shoot it, it goes in and you're going to make coach happy.