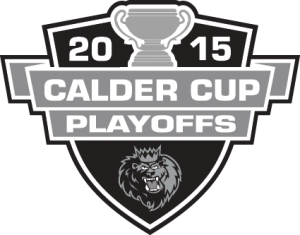 After more than a week off between the second and third rounds, the Manchester Monarchs return to action tonight when they host the Hartford Wolfpack (New York Rangers) in Game 1 of the Eastern Conference Final. After facing a pair of teams whose parent clubs had either not qualified for the playoffs (Portland – Arizona) or had already been eliminated (Pittsburgh – Wilkes-Barre/Scranton), the Monarchs will face a team that hasn't received any NHL players from the big club's roster. Hartford, which defeated the Providence Bruins three games to two and the Hershey Bears four games to two, is led by 29-year-old Chris Bourque (4-10=14), Ray Bourque's son, 23-year-old Oscar Lindberg (1-9=10) and former Colorado College standout Joey Crabb. Goalie Yann Danis, who attended training camp with Manchester in 2014, is 7-4 with a 1.97 goals-against average and .931 save percentage in the postseason.
The Monarchs were 3-0-0-1 against the Northeast Division champion Wolfpack during the regular season. The winner of this series will face the winner of the series between the Grand Rapids Griffins (Detroit) and Utica Comets (Vancouver) in the Calder Cup Final.
LA Kings Insider will provide game coverage via AHL Live tonight.
More coverage: LAKings.com | Union Leader story on Adrian Kempe | Union Leader story on David Van der Gulik | Conversation with Michael Futa
In the New Hampshire Union Leader story on Adrian Kempe, coach Mike Stothers referred to the 18-year-old Swede as "a real pleasant surprise." From Alex Hall's story:
Over the Monarchs' playoff run, Kempe said he's started to feel like he has adjusted to the differences and picked up a few things along the way.

"I've learned a lot of things with the puck in your own zone and to pick up my speed with the puck as fast as I can and just bring it to the offensive zone," said Kempe. "I think that's the biggest thing I've learned since I came here. It was pretty hard in the beginning in the couple of games before I got used to it. Now, in three or four of the last games I've played, I've felt pretty good."
Monarchs conference final schedule:
1 Thursday, May 21 / 4:00 p.m. vs Hartford
2 Saturday, May 23 / 4:00 p.m. vs Hartford
3 Tuesday, May 26 / 4:00 p.m. at Hartford
4 Wednesday, May 27 / 4:00 p.m. at Hartford
5 Saturday, May 30 / 4:00 p.m. vs Hartford*
6 Sunday, May 31 / 4:05 p.m. at Hartford*
7 Tuesday, May 2 / 4:05 p.m. vs Hartford*
-*if necessary; all times PT