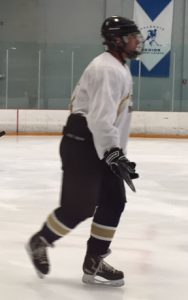 With Matt Nieto and Emerson Etem's ascendance to key roles on strong National Hockey League teams, Long Beach emerged as the representative city of Southern California's growing sway in the share of American-born hockey players.
On a cool and clear Sunday in the Santa Clarita Valley, with Los Angeles Kings High School Hockey League tryouts taking place on once of Valencia Ice Station's three sheets, and Boston Bruins defenseman Kevan Miller leading a group of established players on a separate sheet, Valencia, which is also the home to Chicago Wolves leading scorer Shane Harper, appeared ready to emerge as a second locus of Southern California's emerging talent pool.
The second day of tryouts for the Valencia district team brought 10 players onto the ice after 11 had taken the ice on Saturday. On Saturday, 19 players tried out in Oxnard for the Santa Barbara district team, which will be coached by Kings alumni Steve Heinze. There is the possibility that the Santa Barbara team may eventually become the San Marcos High School team but continue to play out of the soon-to-be completed Ice In Paradise Rink in nearby Goleta. An additional pure high school team at Shalhevet HS is in the process of forming a team as well. CLICK HERE for more information on teams and tryouts.
For players, one of the motivating factors of playing high school hockey is derived from the pride of representing one's school and playing in front of friends and peers.
"It'd be cool to play with people who are going to your school and not just people who live like 20 miles away. You can see them at school every day," said Jake Rochford, one of those who participated in tryouts on Sunday in Valencia. "I think that would take the hockey to the next level and just make it a lot more fun."
Ice Station Valencia Director of Hockey Operations and Valencia Flyers General Manager Scott Allegrini referenced a similar aspect when discussing what he believes will be a strong allure of the league.
"Some of the hockey players, they go to their high schools and they're some of the best athletes in their school. Nobody knows it. They walk through those hallways and they're just another student at a school," he said. "Whereas, now when you tie it to that school the student body starts attending and so on, these kids will start to receive that the football players, the baseball players, the lacrosse players, all of these other athletes that exist with them. Not that you're looking for accolades or anything like that, but it's nice to be recognized by your peers. The hard work that these kids put in day in and day out, to have that rewarded with 150 of your classmates banging on the glass, that I think is the bigger picture. It's got a lot branches that are going to grow off of that. More hockey fans get created, younger kids look at it and say 'I want to play for Valencia High School or Alemany' or whoever it might be, which then keeps the game growing, which is the key for all of us."
The Valencia rink has hosted a six-team high school spring league that has attracted students of local schools, including nearby West Ranch High School, which became the first school to agree to participate in the LAKHSHL as a "pure" high school team. When speaking with Allegrini, and LAKHSHL Commissioner Jim Fox, the effort is to establish a competitive balance in the league's inaugural year of 2015-16.
"The goal would be to have West Ranch and then our district based team and to go out there and show everybody that it's a league that has value, it's a competitive level of play and create a little bit of excitement within the community to then take it to the next step which would be an additional pure team," Allegrini said.
"There's been a level of excitement to it because obviously the Kings are involved. So, I guess curiosity has been the biggest thing – what is it, how's it going to work and how does it differ from club hockey? So that's where we're at with it right now is really education."
Allegrini said that 40 families attended three informational sessions on the new league.
"The buzz has been good," he said. "It's growing."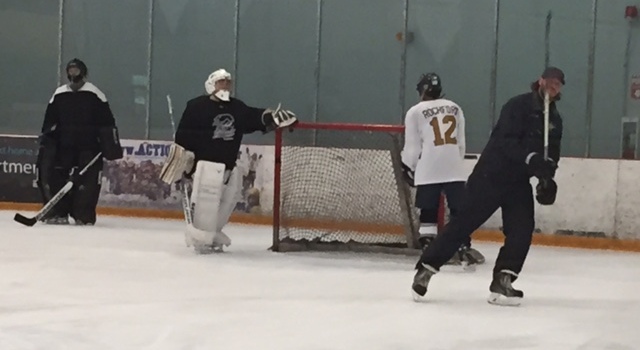 Scott Allegrini, on whether Valencia can field a highly competitive team:
I think it can over time. The beauty of this is that it's districted. There's a geography. That means that, unlike the club side, we can keep our homegrown players. Whereas, right now, we tend to lose a lot of them because we don't have the numbers to be able to form that elite team that they want to play on. My own son is an example, he's back east playing. I think with the talent level that we tend to produce, and now for the geography allowing us to keep them, I think we can be one of the stronger programs.
On whether one of the league's goals is to grow the game in Southern California:
Of course it is. To keep as many kids playing as possible and not limiting their opportunities because it's too far to travel or it's too expensive or some of the limitations that the families face. That's a small part of it, a key part. But I think the bigger picture from that is to involve it in the community and give these kids the opportunity.
Dennis Fryer, on why he is motivated to play high school hockey:
It's just that I play for the fun of it because I love this sport more than anything, honestly. I just like coming out here with my teammates and playing.
Fryer, on what drills were emphasized during the tryouts:
Passing hard enough at the right moment, like passing it in front of them. Speed was one of them, beating the other player to the puck. That's basically the majority of it, getting the good shots on net.
Fryer, on his biggest motivating factor to play high school hockey:
I just like coming out here with all my teammates and playing and getting a lot of ice time. That's what I like to do.
Jake Rochford, on having high school hockey games on Saturdays in the fall:
I actually played football, and that camaraderie is great. Then you put in hockey, that will be crazy. That will be a whole other level.
Rochford, on whether he sees built-in rivalries between schools:
Yeah definitely, because of football they're probably going to carry that on. Like Hart and Valencia are going to have one, Saugus and Valencia. I see a definite rivalry.