Meanwhile, 3,000 miles away from Manchester, New Hampshire, the Kings' ECHL affiliate is also preparing for a conference finals series. The Ontario Reign, who defeated the Utah Grizzlies in five games, will now face the San Jose-affiliated Allen Americans, who led the Western Conference with 106 points. The Americans, back-to-back CHL champions, joined the ECHL this season and are led in scoring by Swedish forward and former Northern Michigan Wildcat Greger Hansen (11 GP, 7-9=16). Puck-moving defenseman Konrad Abeltshauser spent the last two seasons with AHL-Worcester and has 10 points (3-7=10) in 11 games, while goalies Riley Gill and Joel Rumpel have split time in the crease and thus far have combined to stop 88.3% of all playoff shots faced. The Reign have never advanced to the Western Conference Final.
The Reign will play home games at the Citizens Business Bank Arena on Thursday, May 21, Saturday May 23, and, if necessary, Sunday May 24. Tickets for these home games are available here.
Reign conference final schedule:
1 Sunday, May 17 / 2:05 p.m. at Allen
2 Monday, May 18 / 5:05 p.m. at Allen
3 Thursday, May 21 / 7:00 p.m. vs Allen
4 Saturday, May 23 / 6:00 p.m. vs Allen
5 Sunday, May 24 / 6:00 p.m. vs Allen*
6 Tuesday, May 26 / 5:05 p.m. at Allen*
7 Wednesday, May 27 / 5:05 p.m. at Allen*
-*if necessary; all times PT.
Reign playoff stats: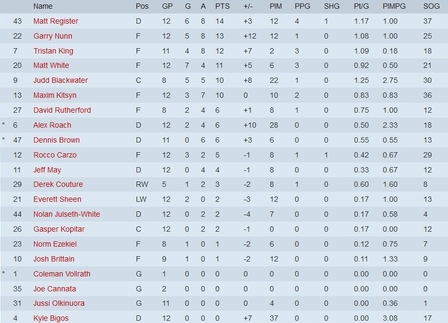 Goaltender Jussi Olkinuora, a Winnipeg Jets prospect, is 7-3 with a 2.05 goals-against average and .918 save percentage in the playoffs. Joe Cannata has also appeared in two games, going 1-1 with a 2.80 goals-against average and .833 save percentage.