Quotes from Manchester's dressing room following the club's Game 5 win over Portland on Saturday:
Mike Stothers, on Game 5:
We didn't seem to make anything easy on ourselves. We don't make it easy on ourselves and Portland showed why they belonged in the playoffs. They had to do it at the end of the year and come up with some big games and had to come from behind to do it. You know what, I think Portland should be very proud of their team. I'm more so proud of our guys. It was a hard fought battle and I think it's good for us. We had a little adversity and we battled through.
Stothers, on whether he considered replacing J.F. Berube with Patrick Bartosak:
Is there anybody in this league that has more than 37 wins? [Reporter: I'm just curious if-] No. Is there anybody here in this league that has more than 37 wins? The answer to that would be a resounding no.
Stothers, on the feeling heading into the third period after Portland had tied the game:
It's happened before. We've had to come up and score some goals and we did. Fortunately for us, we have the depth and the guys that are able to step up their game. Michael Mersch steps up his game. We've always got an O'Neill, we've always got a Weal, we've got Shore. I know I'm leaving other guys out, but that's the beauty of it. We don't get too discouraged because we know we have somebody or a collection of guys that are going to step up their game.
Stothers, on Michael Mersch:
I don't know if we have enough time for me to talk about Mersch. I just think the world of him as a hockey player, as a person. Like this kid just wants to play and plays the game the right way. You know what, he plays hard, plays heavy, goes to the areas you want him to. I think you can tell the trust I have in him. Whether it's we need a big goal or a big play, he's out on the ice. If we need to protect the lead, he's out there on defensive zone faceoffs, blocking shots. He's a guy that you can count on. The thing about him is he's just so unassuming that and he's so humble. He's just a great person. I think there's a real good future for Michael Mersch. [Reporter: It seems like it doesn't matter who he's out there with. He has chemistry with everybody.] I think if you'd see him with me and Hajter, you'd probably see his game suffer a little bit. He's good, but he's not that good. He can't work miracles. No, it's true. He's one of those guys that other guys want to play with and he doesn't care who he plays with. He's not one of those guys that has to play with certain individuals. It doesn't matter. He just plays.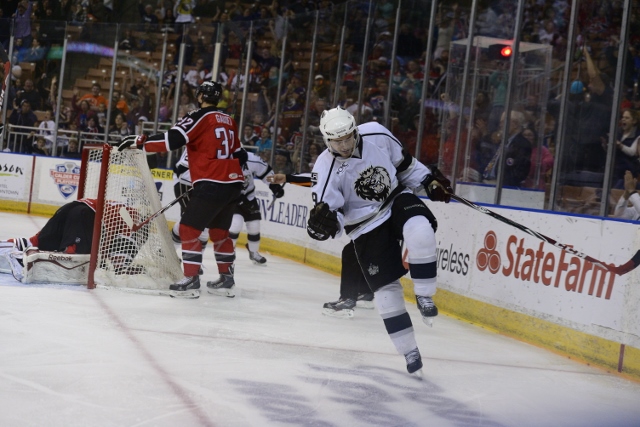 Stothers, on whether Jordan Weal has found another gear in the playoffs:
There's another one that… you know what? This kid's going to play. Well, here he is right now. Why don't you talk to him so I can get out of here. He's just an elite player at this level. He's done it for us all season long. You guys got to see it last year. I got to see him in junior. I got to see him when he was playing in Regina and I was coaching in Moose Jaw and he was a dominant player. You built your whole game plan around stopping Jordan Weal. I'm sure if you asked [Portland's] coaches, how do you stop Jordan Weal? Then they've got to go 'Well, how do we stop O'Neill? How do we stop Shore?' He's got some complimenting factors here, but this kid… You don't see that type of offense or that type of hockey sense very often, mixed in with some speed, skill, quickness. And he's pretty good.
Stothers, on J.F. Berube making key stops in the third period:
It's just a matter of you've got a pretty good feel about your players as you go through the season. They've never let me down. Each and every one of them has played hard for this team and for each other. Would he probably have liked to have a couple of them back? Sure, but players turn pucks over, guys miss assignments. So you don't just automatically pull him out. You might talk to him a little bit. You might address a little bit and say 'Do you need my glasses?' But you have faith in the people that got you to where they got you and I have a lot of faith in our team.
Stothers, on whether Manchester's history of "struggling" in the playoffs has an impact:
Well, it kind of looks like we're still struggling because we didn't make it easy on ourselves. But I didn't put too much stock in that because I wasn't here for that. What they did in the past, it means nothing to me. As a matter of fact, what we did in the regular season now means nothing to me. It's all behind us. We're on a mission and we know that it's going to be a tough thing. Everybody talks about, whether it's in the NHL or the American Hockey League, the first round is a tough round to get through. It's a three-out-of-five, so it's not easy. Again, our opponent was very good. Hey, I've already forgotten about today. Don't ask me too many more questions because I'm moving on already.
Stothers, on whether he's happy to have some rest before the next series:
Yeah, [Sunday] will be a recovery day. I'll probably look at some film. I'll probably enjoy a nice cigar, take my dogs for a walk and live a normal life for a day.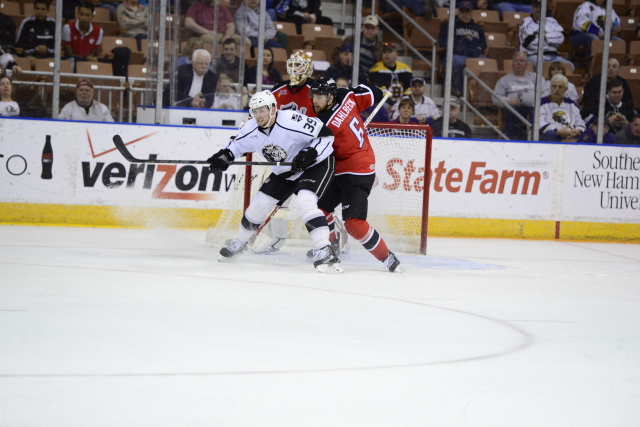 Michael Mersch, on the team's play in the first round:
We have good guys we're playing with. Whether it was O'Neill and Shore the first game or Shore and Backs the second game, whoever it is on our team. We have a really good team. Those guys create space for you and you've got to find your niche and mine's been sitting in front of the net and creating space for the other guys. So it's worked out.
Mersch, on whether his mom was going to buy his sister a puppy if he had a hat-trick:
I didn't know about that. That would've been something. I think the dog we have right now would've been a little bit jealous. I'll probably have to check Twitter for that one because I'm sure it's on there. That's funny. [Reporter: Do you think she'll be mad at you missing that empty net there?] My sister, yeah. My mom, probably not so much. But that's funny.
Mersch, on his netfront play:
I think I developed that at Wisconsin, my team before this. It just kind of evolved. Like I said, you just kind of find you niche. The way I look at it, the closer you are the better percentage it is that it'll go in the net. You just play a half-court game and play in front of the net. The puck is eventually going to go there, so that's my reasoning behind it, why I play there.
Mersch, on advancing past Portland to the second round:
We enjoyed that one. There were a lot of momentum changes in a game and in the series, too. For us, it's learning you can bounce back in different ways, just learning from it and taking it into the next series. Anything can happen, so you just have to stay the course throughout the playoffs.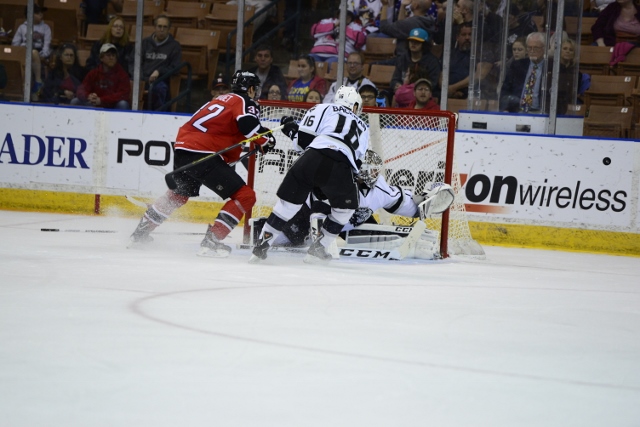 J.F. Berube, on the win in Game 5:
I think we showed a lot of adversity. We were up three-nothing. They came back. In the third, there was no doubt we were going to play our best period of the series and we did.
Berube, on whether the third goal he allowed squeezed through his legs:
Yeah, it just squeezed through. Bad goal, could've been worse, but the guys battled hard in front of me. They did it all series. I think they deserved that series. I need to bounce back next series.
Beube, on his mentality heading into the third period:
I just knew I would play good. I just told myself I need to do the things I do good and I won't have any trouble. That's what I did.
Berube, on his reaction to Michael Mersch breaking the 3-3 tie:
I was really happy, but it was early in the third so I knew there was a lot of work to be done. We know they came back all series and they're a hard working group and we have to give them credit for that, but we got the job done.
Berube, on how it feels to win the series:
Unbelievable. I didn't want to go back home. I think it's way too early to go back home and I think everyone is on the same page and everyone wants to play in June.