Los Angeles Kings (37-22-14) at Minnesota Wild (43-25-7)
Saturday, March 28, 2015, 5:00 p.m. PT
Xcel Energy Center, St. Paul, MN
Referees: #19 Gord Dwyer, #38 Francois St. Laurent
Linesmen: #57 Jay Sharrers, #88 Mike Cvik
Fox Sports West, NHL Network, KABC 790 AM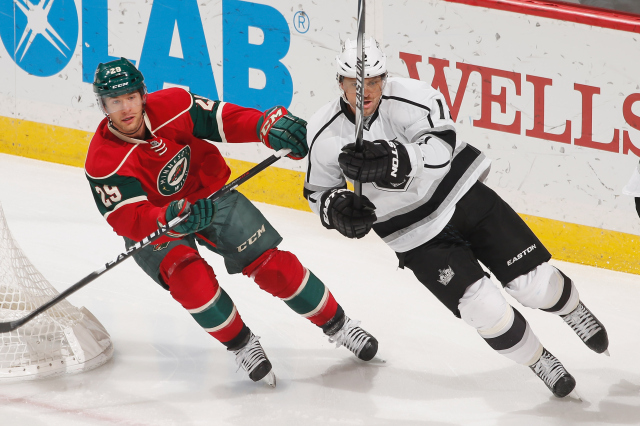 Los Angeles Projected Starting Goaltender – Jonathan Quick
2014-15: 65 GP (64 GS) / 33-19-12 record / 2.26 GAA / .917 Sv% / 6 SHO
Career vs Minnesota: 16 (16) / 9-4-3 / 2.39 / .904 / 0
Last Game vs Minnesota: 10/19/14 / 60 MP / 40-41 shots / 2-1 W
2014-15, Away: 30 (30) / 13-11-6 / 2.54 / .909 / 1
Minnesota Projected Starting Goaltender – Devan Dubnyk
2014-15: 52 GP (49 GS) / 34-11-3 record / 2.07 GAA / .930 Sv% / 6 SHO
Career vs Los Angeles: 10 (9) / 4-4-1 / 2.38 / .927 / 0
Last Game vs Los Angeles: 12/20/14 / 59 MP / 31-35 shots / 2-4 L (w/ ARI)
2014-15, Home: 25 (24) / 15-8-1 / 2.15 / .922 / 2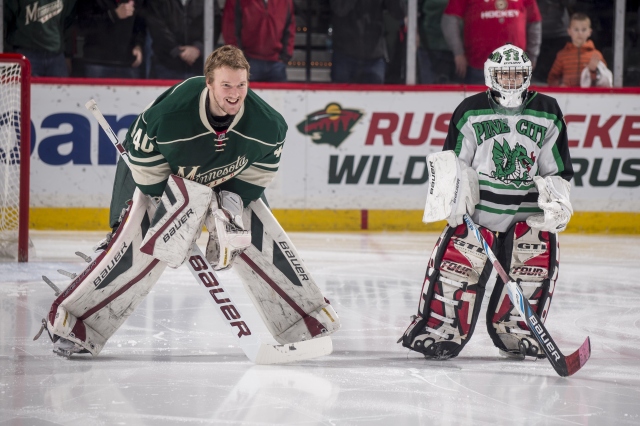 2014-15 Los Angeles Leaders
Total Points: Anze Kopitar (16-44=60)
Goals: Jeff Carter (26-29=55)
Assists: Anze Kopitar (16-44=60)
Plus/Minus: Tyler Toffoli (+21; 22-21=43)
Penalty Minutes: Kyle Clifford (83; 6-8=14)
Time On Ice: Drew Doughty (29:08; 5-36=41)
Corsi-For Percentage: Andrej Sekera (59.6%; 3-20=23)
2014-15 Minnesota Leaders
Total Points: Zach Parise (30-28=58)
Goals: Zach Parise (30-28=58)
Assists: Ryan Suter (2-34=36)
Plus/Minus: Jonas Brodin (+22; 3-14=17)
Penalty Minutes: Ryan Carter (53; 3-10=13)
Time On Ice: Ryan Suter (29:03; 2-34=36)
Corsi-For Percentage: Mikko Koivu (54.6%; 12-32=44)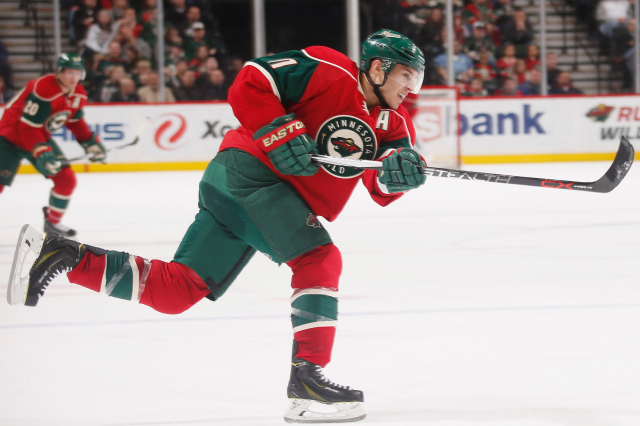 Rankings and Statistics
Goals/Game: LAK – 18 / 2.66; MIN – 11 / 2.81
Goals Against/Game: LAK – 5 / 2.39; MIN – 9 / 2.44
Power Play: LAK – t-11 / 18.8%; MIN – 27 / 15.4%
Penalty Kill: LAK – t-14 / 81.4%; MIN – 1 / 86.9%
Shots/Game: LAK – t-12 / 30.8; MIN – t-7 / 31.1
Shots Against/Game: LAK – 1 / 27.1; MIN – 4 / 27.5
Faceoffs: LAK – t-11 / 51.5%; MIN – 16 / 49.5%
Save Percentage: LAK – t-11 / .912; MIN – t-14 / .911
Corsi-For Percentage: LAK – 1 / 54.9%; MIN – t-13 / 51.4%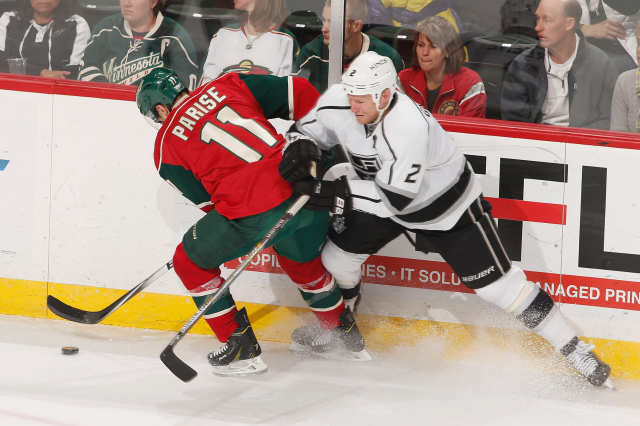 Los Angeles Projected Lines
Marian Gaborik – Anze Kopitar – Justin Williams
Dwight King – Jeff Carter – Tyler Toffoli
Dustin Brown – Nick Shore – Trevor Lewis
Kyle Clifford – Mike Richards – Jordan Nolan
Jake Muzzin – Drew Doughty
Robyn Regehr – Andrej Sekera
Alec Martinez – Matt Greene
Jonathan Quick
Martin Jones
Level of confidence in projected lineup: A. The lines above were shown during rushes at this morning's skate. Jonathan Quick left the ice first and is expected to start in net against Minnesota.
Notes and milestones: Los Angeles is 24-15-13 all-time against Minnesota, a record that includes a road mark of 12-7-7. The Kings are 5-2-3 in their last 10 visits to St. Paul. This is the final meeting between these teams in the regular season. Los Angeles is 2-0-0 thus far, having won at Staples Center 2-1 on October 19 and 4-0 at Xcel Energy Center on November 26. … The Kings are 21-11-10 against the Western Conference and 9-6-3 against the Central Division. … Los Angeles has power play goals in seven of the last 11 games, having gone 8-for-30 (26.7%) over that span. … The Kings have killed off 49 of the last 53 penalties, dating back to David Jones' second period goal in the 5-3 win over Calgary on February 12. … Los Angeles is 6-0-1 in its last seven road games. … Tyler Toffoli leads the NHL in both short-handed goals (five) and short-handed points (six). He is the first King to register at least five shorthanded goals in a single season since Pavol Demitra (five) did so in 2005-06. … Dating back to February 7, Jonathan Quick is 16-4-2 with a 1.75 GAA, a .933 Sv% and three shutouts (1302:22 min / 565 shots against / 527 saves). … Anze Kopitar has points in five straight games (2-6=8) and 15 points (4-11=15) in his last 12 games. … Jake Muzzin (1-2=3) has points in three straight games. … With 198 career assists, Drew Doughty is two assists shy of 200. … Marian Gaborik is Minnesota's all-time leader in goals (219), plus-minus (plus-54), power play goals (59), game-winning goals (43) and shots (1,694). He ranks second in Wild history with 437 points. He has three points (1-2=3) and a plus-six rating in six career games against his former team.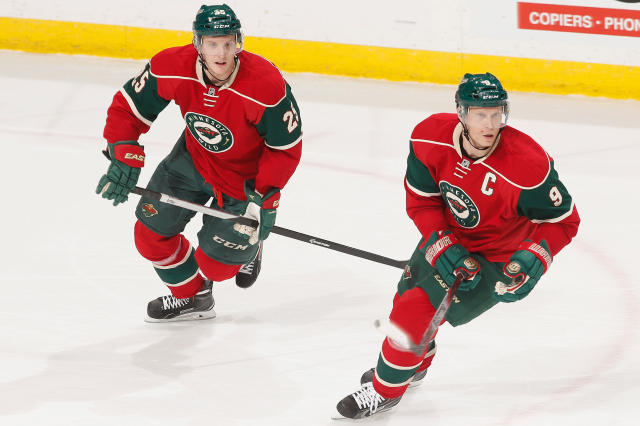 Minnesota Projected Lines
Zach Parise – Mikael Granlund – Jason Pominville
Nino Niederreiter – Mikko Koivu – Chris Stewart
Thomas Vanek – Charlie Coyle – Justin Fontaine
Ryan Carter – Erik Haula – Jordan Schroeder
Ryan Suter – Jonas Brodin
Marco Scandella – Jared Spurgeon
Jordan Leopold – Matt Dumba
Devan Dubnyk
Niklas Backstrom
Notes and milestones: Lines via NHL.com correspondent Dan Myers … Via Myers, Minnesota will be without Kyle Brodziak (upper body), Jason Zucker (IR / clavicle), Matt Cooke (IR / sports hernia), Nate Prosser (lower body) and Keith Ballard (IR / concussion/facial fractures), while Sean Bergenheim, Christian Folin and Darcy Kuemper are expected to be scratched. … With 99 career points (26-73=99), Jared Spurgeon is one point shy of 100 in his career. … Mikko Koivu has 114 multi-point games, tied with Marian Gaborik for the franchise record. … Minnesota leads the NHL with a 25-6-2 record since January 15 and has an NHL-best 47 points (23-5-1) since the All-Star Break. … The Wild will play the second game of a season-long five-game homestand. Minnesota defeated Calgary 4-2 last night. … Minnesota hasn't lost by more than one goal since January 19. … The Wild have killed off 73-of-78 power plays since the All-Star Break (93.6%). … Minnesota is 5-2-4 on the second night of back-to-back sets. … Devan Dubnyk is expected to make his 34th consecutive start with Minnesota. Since being traded from Arizona, he is 25-6-1 with a 1.72 goals-against average, .938 save percentage, five shutouts and two assists. He has allowed two goals or less in 25 of his 33 games with the Wild. … With his 30th goal of the season last night, Zach Parise became the only active American player to have six 30-goal seasons since 2005-06. He has 12 points (5-7=12) in his last 11 games.