While the Anaheim Ducks were divisional winners last season and finished a point away from being able to hang a President's Trophy banner, there were still shortcomings that necessitated roster maintenance during the 2014 off-season and as late as the 2014-15 trading deadline. While some questions may still be raised – valid questions relating to goaltending and coaching – by and large General Manager Bob Murray has provided answers for several other pressing questions surrounding the team. Ryan Kesler was acquired to keep pace with the other Cup contending teams with deep and dominant center corps and to lessen some of the burden placed on Ryan Getzlaf. Kesler was clearly a dominant player in the season series, and his overtime goal capped a breathtaking night of hockey that opened and finished with a breakneck pace. The Ducks also ranked 20th in the league with a 49.2% faceoff rate last season, and Kesler, who has won 56.0% of faceoffs this season, and Nate Thompson, who has won 53.1%, have successfully raised Anaheim's rate to the likes of traditionally successful Pacific Division faceoff teams such as San Jose, Los Angeles and Arizona. Thompson won 11-of-12 faceoffs last night, led all skaters with a game-high six hits, and provided the forward checking depth that wasn't consistently effective for the Ducks in recent years past. As noted, there are still questions surrounding the Kings' Southern California rivals heading into the playoffs, and their advanced metrics and one-goal game record do raise a bit of a red flag, and it will also be interesting to see how mid-season trade acquisitions such as Simon Despres, Jiri Sekac and James Wisniewski gel with the rest of a very good team. But while Dean Lombardi and his staff have rightfully been commended for their ability to identify areas of improvement and pinpoint players who would be of great benefit and balance, Murray and his staff should also be acknowledged for their work in bringing over players who have thus far been able to make an impact where areas of impact were needed.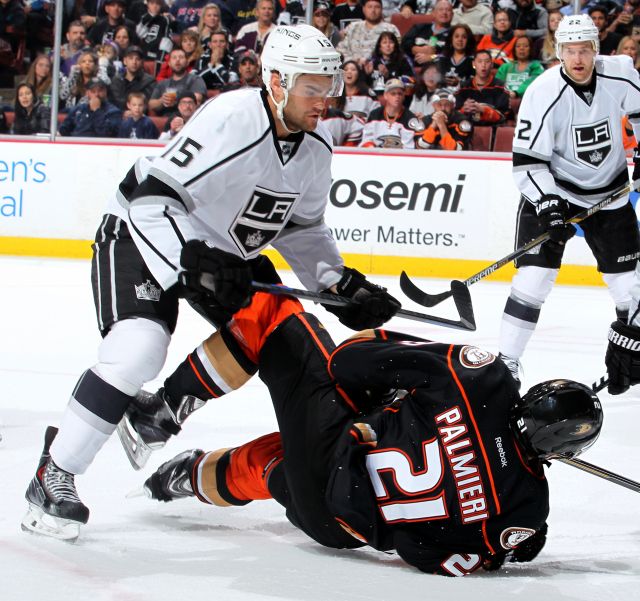 Josh Cooper of Puck Daddy wrote last night about how the Ducks are "basically getting a star in Super Mario the third period of every game they play," and that's pretty much spot on, at least in their home rink. In the three away games in the season series, the Kings have been unable to protect leads of two goals, two goals and one goal. Nine of the 10 goals scored by Anaheim in third periods have come at even strength, including all nine third period goals at Honda Center. This is a new Los Angeles team, and year-to-year stats and records don't necessarily apply amidst personnel changes, but there's a divide between Kings squads that were 126-1-11 when leading after two periods between April 4, 2009 and March 17, 2014, and the club that's 28-6-4 when leading after two periods in the 38 games since. Protecting leads and "locking it down" have been staples of Kings play in the Darryl Sutter and Terry Murray years, and that ability to wear teams down, possess the puck and play tight checking, effective Kings hockey – while still very effective – didn't regularly lead to wins over an ultra-tight season series in which Anaheim managed to win four out of five games for the second straight year.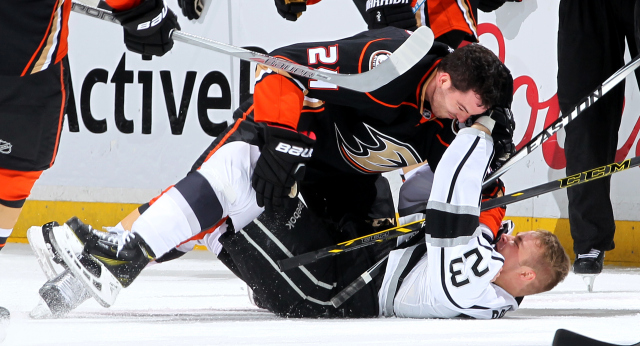 And that's not to be too down on a Kings team that played well with the lead for the better part of the first 40 minutes, showed excellent resolve and urgency late in the third period before, during and after tying the game, and relied on standout performances by most of the members of the top-six group. Though his usage throughout the year may not have generated two points every time out, the ability to play so regularly has afforded Brayden McNabb the reps to develop and grow on the ice, and his pairing with Andrej Sekera was solid for another game. Jonathan Quick has raised his game at the most important time of the year, though there's no surprise there. While the Kings had opportunities to pick up two points, one point on the road against the team that leads the NHL isn't a major cause for distress; last night was probably one of the two or three most difficult games remaining on the schedule, and points are points are points. Alec Martinez's return is coming, and there's a realistic hope that Tanner Pearson could return late in the regular season. There has been an irregular turnaround in four-on-four play – the Kings outscored opponents 7-3 in four-on-four play last year but have been outscored 8-3 this year, bizarrely – but neither four-on-four overtime nor shootouts exist in the playoffs, and the Kings are a combined 3-14 in such games in the regular season. Of course, Los Angeles will need to qualify for the playoffs before we start putting too much faith in how the numbers balance out, and Saturday's game against Vancouver is the biggest game of the season – as will be virtually every game between now and April 11.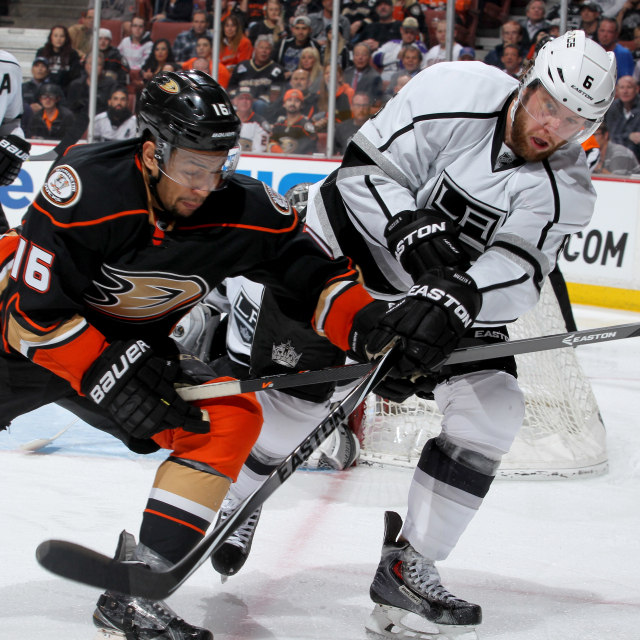 The team is off today, so I'm taking a recovery day as well. James Nicholson will have The view from Anaheim up shortly after noon, and I hope you'll follow along with the event that's taking place at Discovery Cube Los Angeles later today as a 3,000+ square foot Kings-themed "Science of Hockey" exhibit opens to the public. Tyler Toffoli, Luc Robitaille, Kings color commentators, Bailey, the LA Kings Ice Crew and the Stanley Cup are scheduled to be on hand to promote the partnership between Discovery Cube and the Kings Care Foundation. @LAKingsPR and @LAKings will have multimedia from the event, and I'll share audio and will provide a write-up tomorrow morning. Enjoy your Thursday, Insiders.