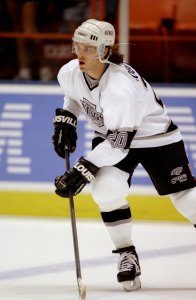 While being honored at Fleming's Wine Bar and Steakhouse inside L.A. Live, Luc Robitaille captivated a Legends Luncheon crowd with stories from his playing days, beginning with his early training camps with Los Angeles, his first NHL goal, his immediate rise to prominence and his two returns to the Kings amidst a decorated 19-year Hall of Fame career. Even the two fights against Chris Chelios in a March, 2001 game against the Red Wings were covered.
At 6:00 p.m. today, Robitaille will be honored when a statue outside Staples Center bearing his likeness will be unveiled. The nearly 19-foot bronze depiction of the highest scoring left wing in National Hockey League history will join the statues of Wayne Gretzky, Magic Johnson, Jerry West, Kareem Abdul Jabbar, Chick Hearn and Oscar De La Hoya.
"It's a huge honor," Robitaille said of the statue. "I know what Magic represents. I know what Jerry West represents…I knew Kareem Abdul-Jabbar. I actually knew him from that movie Airplane!. But probably the biggest thing for me is I remember being 13 years old and having Wayne's picture in my room because that was my favorite player. That was my idol. That was the guy. When he was 18 he came in the league and anytime Edmonton had a game I would stay up and watch him. That was the guy. So to say they put a statue of Gretzky and they're going to put one of me next to him, it's really, truly for me like unbelievable in a way. If I think back in 1979, it's so far-fetched. I'm watching Gretzky, idolizing the guy, copying everything he was doing on the ice. And then next week I'm going to walk by and go 'That's pretty cool.' Like here's Wayne and here's me. That's pretty neat."
Robitaille will share more memories during today's ceremony, which will be televised live on FOX Sports West at 6:00 p.m. Wayne Gretzky, Mario Lemieux, Rob Blake and Jerry West will also be on hand.
"When you go to Staples Center, whoever thought of that at the beginning to put in a few statues, it makes it cool," Robitaille said. "You walk in and you read about who is there and you see their history and it makes it special. It represents L.A."
Earlier this week I spoke with Robitaille about his Kings legacy from his earliest days in the organization through the Gretzky years and the transition into Staples Center. That conversation is below.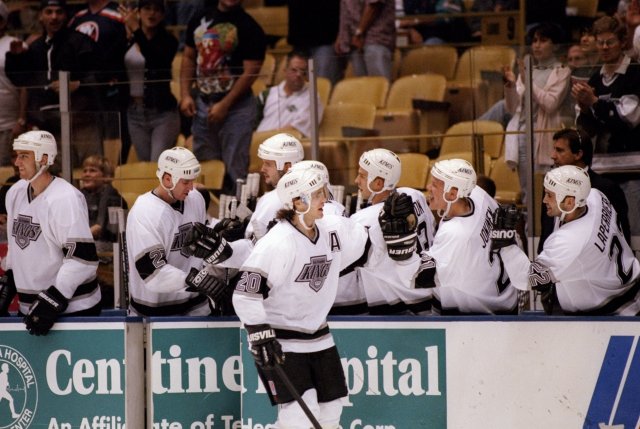 Luc Robitaille, on whether he had a particularly acute focus early in his career:
Yeah, I think I always had that as a kid. Everything I've done, I've always been – kind of to a point, a detriment – hyper-focused, where you try to become better every day. It doesn't mean you do everything right every day, but it's always been my point. What else can I do to be better? That was always my thing. I never took for granted if I had a good game, 'Oh, I've arrived.' I've never felt that way. Maybe it's an insecurity thing. But it's always been 'What else can I do to be better tomorrow?' Like some days, it was 'I've got to rest' so in practice I would be like almost dogging it to protect myself because I knew we had a game the next day. But that was my way to be ready for the next game.
Robitaille, on his early days playing at The Forum:
I remember coming in, and I loved to come in early, so I'd always read the stat sheets and I always read stuff about the Kings. I remember running, maybe it was my second or third game, running into a statistic of the Kings crowd. And at the time I think we were averaging 13,500, about that. And then I look and a sellout is 16,005. That was a sellout at the Forum. I remember thinking 'We only need 2,500 more fans and we'll sellout every game.' I'm thinking that this team has never, ever won. They've never gotten by the second round. They still draw 13 to 14-thousand every game. What people forget too, those days after Christmas, we were selling out every game and I'm like 'We're really close.' I remember thinking even like there are some teams back East, like we would go on the road, even the Islanders which had won the Cup like a couple years prior, they weren't selling out every game. We're playing a few other games and I can't recall who right now, but [their attendance was around] eight or 10-thousand. I'm like, 'We're better here.' I really remember thinking that.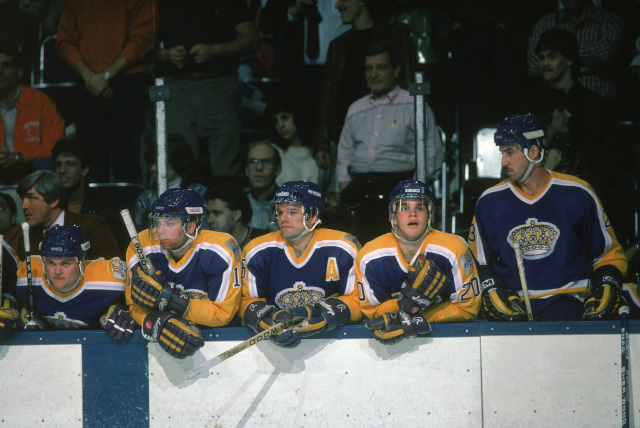 Robitaille, on assuming a larger role when Wayne Gretzky was injured in 1992-93:
I do remember when Barry asked me to be the captain, and I remember the way he asked me. He goes 'Well, Gretz is not going to be here.' He says – this is at camp – he goes, 'We're going to need a captain.' What I didn't know was that Barry knew that Wayne was going to be gone, they thought he was going to be gone for the whole year. So, I'm like, 'We need a captain? Wayne is our captain.' He goes, 'No, he's gone, Luc.' I was like, 'Really?' I was shocked. He goes, 'Who do you think it should be?' I go, 'Dave Taylor.' He goes, 'No, he's near the end of his career. Who else would you think?' I'm trying to think and Barry looks at me and Barry always had a little smirk, he goes, 'Well, I'm thinking of you. That's why I'm asking you, dummy.' He says something like that. I go 'Really? Great.' Then I remember he asked one thing, he says, 'I'm going to make you the captain, but you need to be my hardest working guy every day.' And I looked at him and I asked, 'What do you mean?' 'Every practice you need to work at your hardest.' I go, 'OK.' He goes, 'Even when you're tired.' I go, 'OK.' That was like the deal he wanted to make with me and it meant a lot. So I think we all knew as a group that year that Wayne wasn't coming back so we had to be, we couldn't count on the best player in the world. So we had to play more as a team and we had to count on each other more. So I think that's why we ended up making that run, because by the time Wayne came back we were better. We all believed more in each other and then you add the best player in the world to that group. That's why we were a team that just kind of rolled through the playoffs that year.
Robitaille, on the 2000-01 Kings:
We were very, very close. At that time, I really felt we were very, very close. We had some great players – Ziggy, Adam Deadmarsh – and we had a great D. We had traded Rob, but we were so good on D – Matty Norstrom, Aaron Miller, Matthieu Schneider. We were as good as anybody. When we got Felix Potvin, I thought we were one center away from being like a force.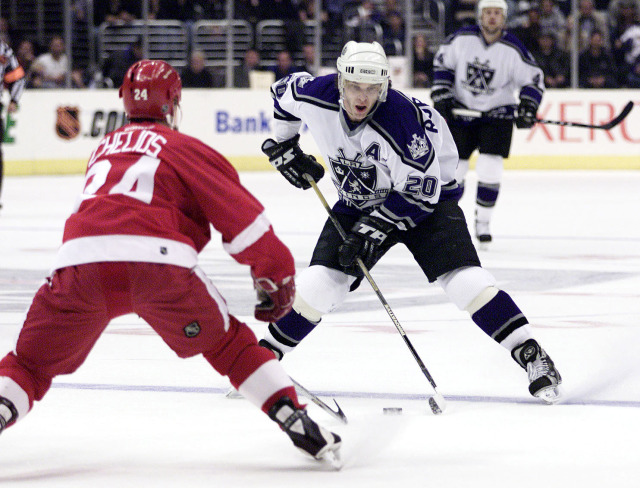 Photographs of today's Legends Luncheon, courtesy of Andrew D. Bernstein: