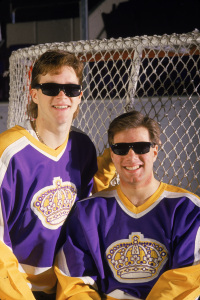 Two big points will be on the line when the Kings face the Pittsburgh Penguins on a night in which Hall of Fame left wing Luc Robitaille will be honored with a bronze statue on top of a granite pedestal that totals nearly 2,500 pounds and stands nearly 19 feet tall outside the north entrance to Staples Center. The ceremony will take place between 6:00 p.m. and 6:30 and will be broadcast live on FOX Sports West and on the videoboard inside the arena. A limited viewing area will also be set up near the statue.
The statue, created by renowned artists Julie Rotblatt Amrany, Omri Amrany and Itamar Amrany will join other iconic sculptures of celebrated sports superstars Wayne Gretzky, Earvin "Magic" Johnson, Jerry West, Kareem Abdul Jabbar, Chick Hearn and Oscar De La Hoya. Abdul Jabbar's statue (dedicated November 16, 2012), West's statue (dedicated February 17, 2011), Johnson's statue (dedicated February 11, 2004) and Hearn's statue (dedicated April 20, 2010) were also created by Julie Rotblatt Amrany and Omri Amrany.

The ceremony, which is open free to the public, will be highlighted by speeches from Luc Robitaille, members of his family and other individuals who were his teammates, colleagues and friends during his unprecedented career and will conclude with an incredible unveiling of the statue.
I'll have lots more today from Luc, but here's an excerpt from a chat I had with him earlier this week.
"I never thought I'd get a statue," Robitaille said when asked about what his earliest recollections and goals were from his rookie season with the Kings in 1986-87.
"It was more like I remember when I went to junior and I was in Hull. I looked at the record of that [Kings] at the time and when I stepped on the ice, I remembered once I made the team I said, "Ok, now I want to make a difference for this organization." That was my first feeling. When I got into LA and I knew I made the team, we were playing the first night, I think it was against St. Louis. At the morning skate, I remember I stepped on the ice and I looked up, and if you remember the old Forum, it was the old bars going to the scoreboard. I looked at those bars and I thought [it was different.] I had never seen that in a stadium. I remember looking up and thinking, 'I want to help make a difference for this organization. This is my place.'"
Statue Unveil tomorrow will be No. 7 – Gretzky, Hearn, De La Hoya, Magic Johnson, Abdul-Jabbar and West…. pic.twitter.com/rZK1wEQQDl

— LAKingsPR (@LAKingsPR) March 6, 2015
Robitaille, the highest scoring left wing in NHL history, totaled 668 goals and 1,394 points in his 19-year NHL career. In 14 seasons with the Kings, he totaled 557 goals and 597 assists; his 1,154 points rank second in franchise history.