There wasn't much at all to like about the Kings' performance on Sunday in their 5-2 defeat to a Winnipeg Jets team that isn't only playoff bound, but could make some noise in the postseason if their goaltending holds up by virtue of a big and heavy offensive group and a deep and versatile defensive corps. Enough of Winnipeg; Los Angeles was sloppy. And Darryl Sutter was right. It wasn't necessarily the Jets' forecheck that was causing the Kings' issues, it was simply unforced errors and missed contains. Los Angeles' struggles for much of the afternoon to break the puck out of its own zone wasn't necessarily predicated on stiff pressure from the other direction, it appeared to be based on five-man groups that weren't working in concert. When I get the sentiment (on Twitter, in real life) that there are complaints about the Kings' "passing," that to me is an indication that the five-man groups are not working in unison. I'm not sure if that was the case Sunday, but there were passes at skates and turnovers that added to Winnipeg's zone time. Errors were compounded by other errors: When Tyler Myers slipped past Dustin Brown at the right point on the Jets' second goal, no one stepped forward to take space away from the offensive-minded defenseman, maintaining the screen directly in front of Jonathan Quick. The Kings were scrambling in their own end when Bryan Little evaded Justin Williams inside the blue line, leading to Andrew Ladd's garbage-collecting first goal. Whether this was based on the four games in five and a half days, it doesn't matter. The Kings picked up zero points on Sunday. Keep in mind, though, that each game isn't played in a vacuum. I'm not sure how much the team had in its mental/physical tanks yesterday.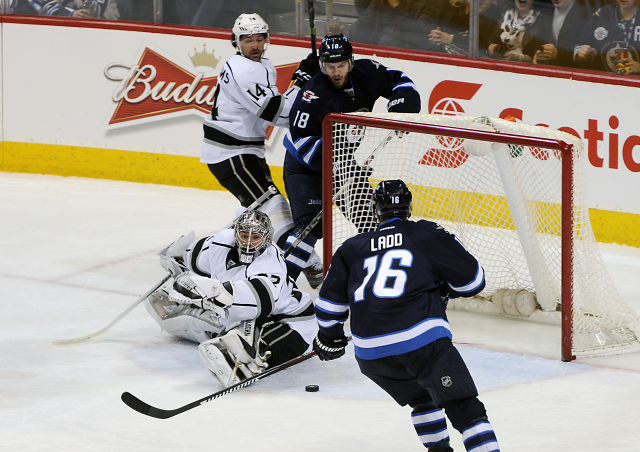 Robyn Regehr had a rough outing – he was minus-four through two periods and finished with a minus-three – and Darryl Sutter altered his pairings so that by the end of the game, Regehr was paired with Drew Doughty, Jake Muzzin was with Matt Greene and Brayden McNabb was with Andrej Sekera. As Sekera becomes more comfortable with the club and the switch to the right side, it'll be interesting to see how the defensive pairings align. There's a chance we could see Jamie McBain re-enter the lineup against Edmonton, but he's not a player who's going to earn much more than 12-to-14 minutes, so temper any expectations of a profound shift in the club's play with him in the lineup. It'll be interesting to see what the defensive pairings are at practice today, should the full team take the ice.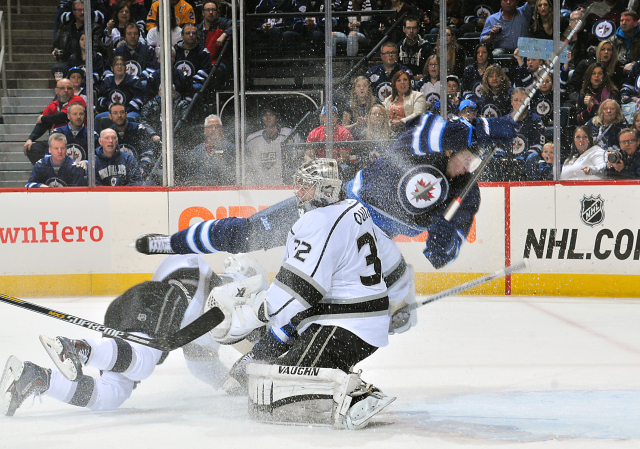 Good on Andy Andreoff for goading Winnipeg captain Andrew Ladd into a slash late in the first period and taking one of the Jets' best players off the ice for two minutes. If he's going to stay in the lineup, those are the types of plays that'll keep him in. Andreoff had played four games since October and hadn't drawn into the lineup since February 3, and given his pest-like contributions on Sunday, it'll be interesting to see if he plays against Edmonton on Tuesday.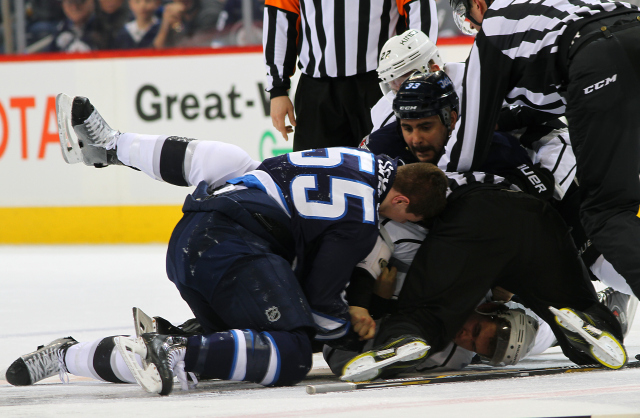 As noted earlier, don't expect the Kings to be particularly busy today. The Kings are "listening" to offers, via a source within hockey operations, but they feel that they "plugged a hole" by acquiring Andrej Sekera from Carolina. At this point, they're waiting for players such as Alec Martinez and Tanner Pearson to heal from injuries, and those players could serve as trade-like acquisitions once they return. Lots more to come from today's practice at Rexall Place.