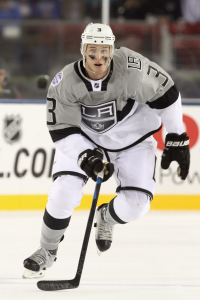 Throughout his junior and professional career, Brayden McNabb has provided a hybrid mix of stalwart physicality and secondary production from the point, often on the power play. An unexpected widened opportunity with Los Angeles has allowed him to grow into an important role this season, and, by and large, he has done just that. There are occasional growing pains, as would be completely expected with any young defenseman adapting to a new team and a new conference amidst the backdrop of heightened expectations derived from playing for a club that has won two of the last three Stanley Cups. But as the season has progressed, so have his contributions, and on Friday night he scored the second goal of his NHL career when he wristed a puck from the left point towards the front of the net, where it caromed off Anaheim defenseman Hampus Lindholm and past John Gibson with Dustin Brown causing a screen.
"It took me long enough," said McNabb. "Yeah, it's been a while. It was nice to get one, but we didn't get the two points, so it's frustrating that way."
With 26 points in 92 career games, McNabb's production is naturally off the production he showed in the Western Hockey League (.68 points per game) and the American Hockey League (.64 points per game). But that production rose in February as he recorded five points (1-4=5) in 10 games. He took only seven shots on goal this month, though six shots have come over the last four games, and as the saying goes, good things happen when you throw the puck at the net — his goal in Anaheim serving as a fine example.
Though McNabb has been an off-again, on-again member of the team's second power play unit, he hasn't recorded a power play point since the win at Arizona on December 4. "It's hard to put guys on the power play who have zero goals," Darryl Sutter said this morning.
It's part of a glass half-full or half-empty line of thinking. Are McNabb's even strength contributions an asset, or should someone who averages over a minute of power play time per game be expected to chip in more regularly?
"I mean, numbers are numbers," McNabb said. "For me, it's taking care of my own end. That's where I've got to make a living. I've got to be really good in my own end before I start worrying about numbers."
Though Sutter said that McNabb's first marker as a King was "good to see," he also noted that the team's defensive scoring has been an underappreciated asset despite Slava Voynov's absence, Alec Martinez's injuries, and only five goals from Norris Trophy candidate Drew Doughty.
"Our defense overall – I know we talk a lot of that with Voynov, and even though Drew's goals are down – we've been a top-10 to top-12 goals-from-our-defense team for a team that's not looked at as a high scoring team. So we need more of that," he said. "[McNabb's] got one goal. I'm not going to kick my heels over that one."
Brayden McNabb, on his goal against Anaheim:
Kopi made a great play coming around the net and found me open. I just wanted to get it by the first guy, and Brownie did a great job in front. I think it went off their guy and in.
McNabb, on playing four games in five and a half days:
Yeah, I mean, it's a tough grind in the schedule. We're all pros, we know how to handle it. You've just got to take care of yourself. These are big games, divisional games. We've got to win, especially tomorrow.
McNabb, on whether Winnipeg's "big and heavy" labels are justified:
They're big and strong, and we know they're skilled and fast, too. So we've got to be ready to bring the juice and we've got to give it right back to 'em.
McNabb, on how this year's Winnipeg team is different from previous Winnipeg teams:
They've always had a hardworking team. This year they've kind of put it all together. They're starting to win games, and they've got a lot of confidence, so it's a team you've got to be ready for whenever you play 'em.