Forecheck, forecheck, forecheck. It comes hot and heavy – especially on the road – when playing Pacific Division foes Anaheim and San Jose, and for periods of Friday night's 4-2 Ducks win, the Kings had real struggles adapting to it and exiting their zone. They weathered it admirably early, though for the first seven or eight minutes of the game it provided a major barrier to L.A.'s intent to advance the puck as a unified group. The numbers showed how continuous the forecheck was; the Ducks totaled 52 hits, 38 of which were administered by forwards.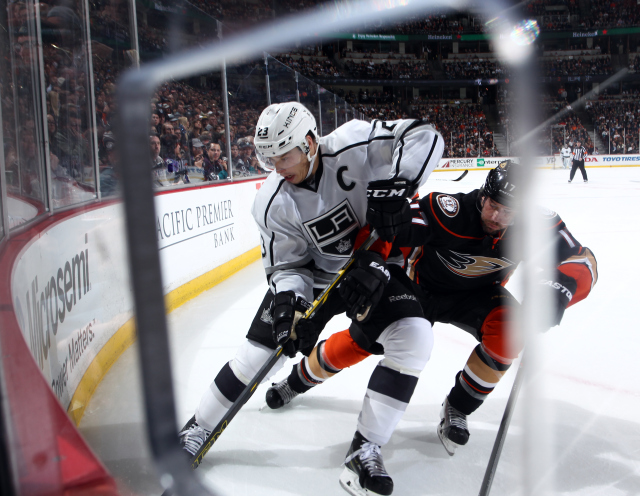 After handling Anaheim's forecheck for the first half of the first period without allowing a goal against, Los Angeles etched out its most sustained pressure of the night over the remainder of the opening 20 minutes. Trevor Lewis opened the scoring during an outstanding individual effort as he shook off a Francois Beauchemin hip check before cutting to the center of the ice above the crease and beating John Gibson down low. That pressure did not carry into the second period as Anaheim again suffocated the Kings with heavy pressure, leading to an Andrej Sekera shift of over three minutes as the visitors struggled to leave their own zone and forced an icing in which they couldn't change up their personnel. When Los Angeles eventually doubled its lead, they did so opportunistically and against the run of play as Brayden McNabb scored his first goal as a King on a wristshot from 57 feet that banked off Hampus Lindholm's leg and in on the team's first shot on goal of the period. While L.A. led 2-0 at that point, the overall chances slightly favored Anaheim in a game in which Martin Jones was excellent for 40 minutes. Credit Lindholm for closing in on Justin Williams' partial and contested late second period breakaway while denying a Grade-A chance with Gibson out of position by channeling wide a shot attempt towards a mostly open net.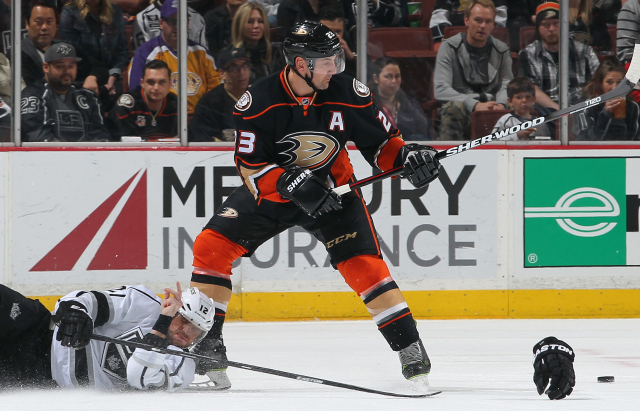 Andrej Sekera logged 21:32 of ice time in his first game as a King, though the total was inflated due to the extended shift in his own zone during the second period. There's nothing to read into at this point, and a greater sense of what he'll mean to this Kings team will come after multiple practices and a handful of games with his new teammates. Having switched back to the right side as a left-shooting defenseman, he abruptly had to change his reads and the shoulder he needed to look over when receiving the puck, and those fundamentals will all return to the mobile defenseman quickly. He showed good instincts with the puck in the offensive zone and should eventually help a Los Angeles power play that's 2-for-26 over its last 10 games (though it looked terrific in the win over Detroit on Tuesday).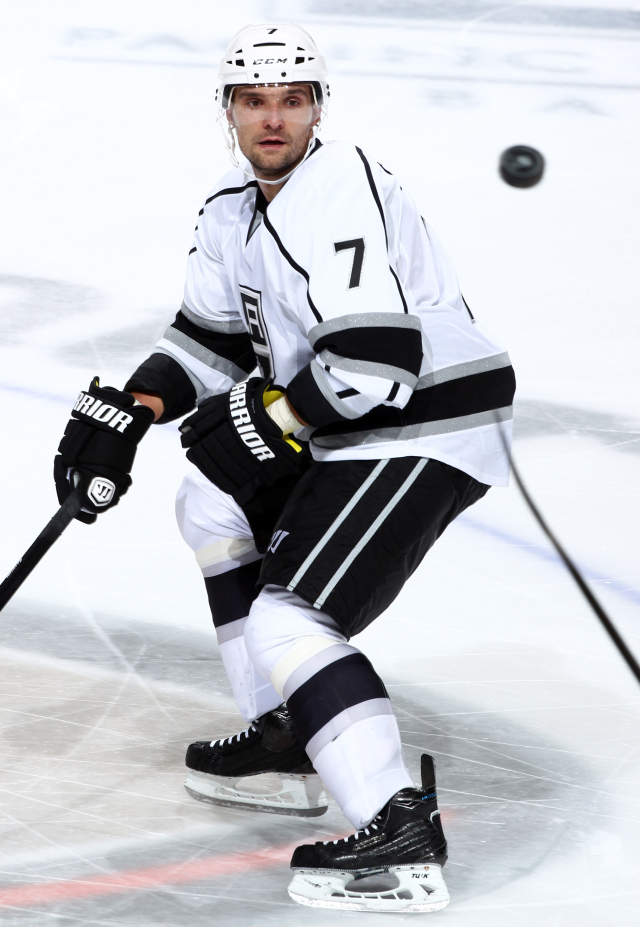 No rest for the weary: The Kings report to practice at 10:00 a.m. today, an hour earlier than usual on mornings after games. They'll travel to Winnipeg to face a heavy Jets team for a mid-afternoon Sunday affair to complete a compacted four-games-in-five-and-a-half-days stretch, so a real gut-check lays ahead.